I've had some of the most epic weekends of my life at bachelorette parties – and my bachelorette party in Cabo San Lucas was no exception! While of course location/guest list/budget are important to planning an amazing bachelorette party, it's inevitable that things will go wrong. You can't control everything (especially if someone else is planning), but with these tips you can transform even the most aggressive of itineraries into something doable.
By: Jordan Landes-Brenman

Photo: Fernanda for Flytographer
1. Welcome Bags
Welcome bags are the universal equalizer – everyone loves a gift. They should be travel-friendly,  echo the tone of the weekend, and be full of items that your girls can put to good use immediately. Plus, handing out welcome bags to everyone when they arrive is a great way to break the ice. Some people may not know each other, others may have had a rough flight. Gifts help replace jet lag with excitement, and get the party going. 
For my bachelorette, I curated the gift bags as my thank-you to everyone for making the trip. I started with these personalized bags from Mark & Graham, which I stuffed to the brim with some of my vacation favorites from: Victoria's Secret Bridal, Maaji Swimsuit, Big Mouth Float, Mark & Graham Striped Towel, Instatouch Polaroid Camera, Neutrogena, Ardell, and Liquid IV.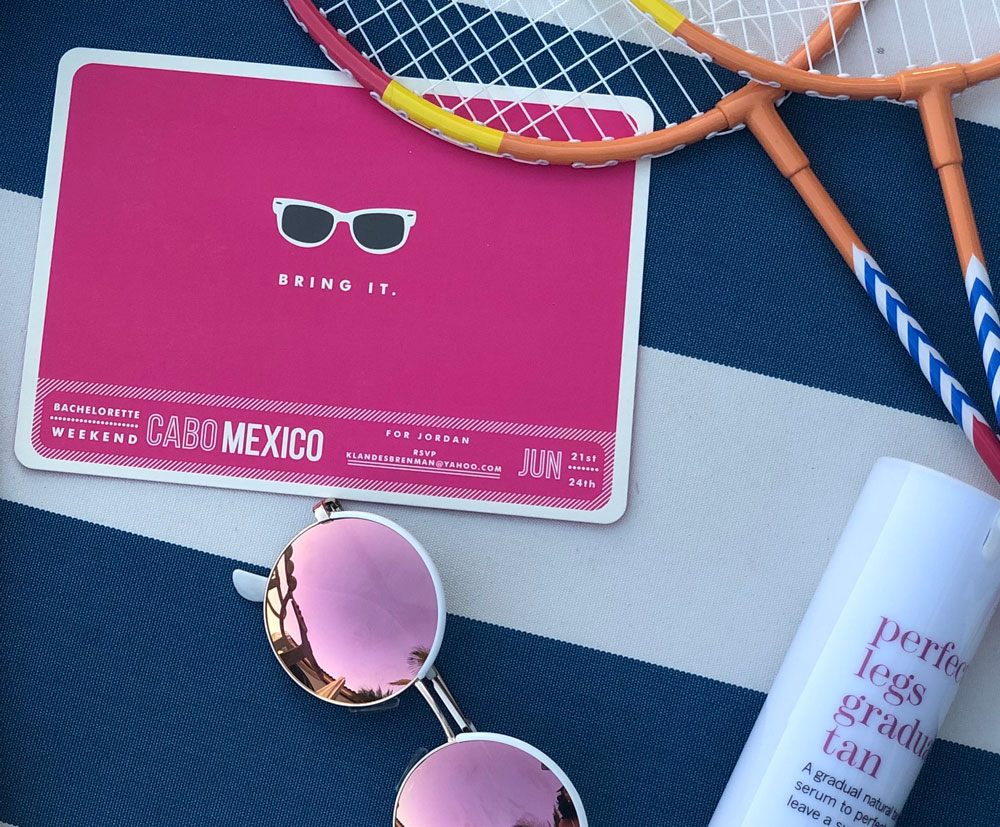 Photo: Fernanda for Flytographer
2. Personalized Details
I appreciate a personalized moment, and these hot pink invites from Minted were perfect for my Bachelorette. I also created these frosted plastic glasses on For Your Party, and love how they turned out. They can customize anything (I also used their matchbooks for my Bridal Shower), and also have pre-made items.
3. Outfit Theme Nights
Everyone loves a theme! I highly recommend picking a theme for every night of your bachelorette for these reasons: 
The bride-to-be can make her outfit stand out. It looks better in pictures if people wear similar shades. It ensures no one is under, or overdressed. It's FUN!
For instance, for my bachelorette, the girls followed these themes (and I wore white):
Night 1: neutrals
Night 2 - Sparkles (our "big" going out night)
Night 3 - Retro poolside glamour
Pro Tip: The bride-to-be should wear some flair! If wearing all-white and a sash isn't your thing, wear a cute headband or tiara instead! I found some adorable versions by Eugenia Kim and BHLDN that were great for making me stick out as a bride-to-be, and kept my hair out of my face. 

Photo: Fernanda for Flytographer
4. Lingerie Shower
One of my favorite traditions is to have a lingerie shower for the bride-to-be during the bachelorette weekend. It's a great way to pregame for the night, and we always make the bride guess which piece of lingerie is from each person.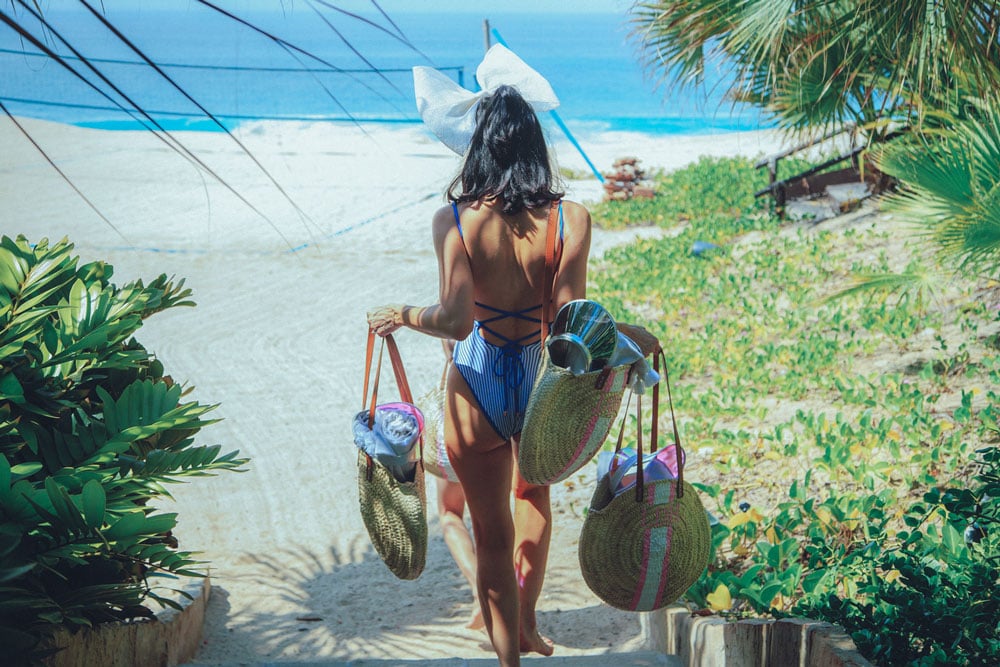 Photo: Fernanda for Flytographer 
5. Video Message
Even though you may be having too much fun to miss your fiancé, it's always special to have the groom create a surprise video. If the groom is camera-shy, have him email over a simple 20 second clip of why he's excited to marry the bride, and compile it with short video messages from bridesmaids and friends. It ALWAYS results in tears, laughter, and is a thoughtful gift that the bride-to-be can treasure forever. 
No matter where you're having your bachelorette party, these takeaways will ensure your bachelorette is the best weekend EVER! 
– Jordan Landes-Brenman is an NYC-based fashion and beauty blogger at HauteHouseFlower.com, with an Instagram following of more than 280K. She is currently planning her October 2019 destination wedding to her fiancé/photographer in Florence, Italy. 
For more bachelorette party inspiration, visit 10 Must-Do Ideas for Your NYC Bachelorette.