Join us every Friday for our Q&A column, where editor-in-chief Diane Forden answers one reader's biggest etiquette question. 
Q: I want to make sure that the first dance, toasts, cake-cutting and other activities proceed in a timely manner at our reception. Are there any specific guidelines to follow?
A: It depends on the length of your reception, but you're smart to plan ahead and not leave details to chance. A great party has what's called "flow." Naturally, with a reception lasting four hours or longer, you can schedule things at a more leisurely pace than you would for a shorter event. And once you've mapped out exactly what you and your groom would like to do at your celebration, you can notify your maître d', DJ and other wedding pros about your preferred activities and the times they should occur. Keep in mind that your reception site manager and wedding consultant (if you have one) can assist you with advice on planning and pacing. To help you get started, here's a basic rundown of scheduled events for a four-hour reception:
Hour one:
Bride, groom, attendants and family members pose for wedding pictures. The receiving line is formed as the bridal party arrives. Cocktails and hors d'oeuvres are served.
Hour two:
Guests take their seats for the first course, kicked off by a champagne toast that's usually offered by the best man. Others, such as the bride's father or maid of honor, may also say a few words. Some couples prefer to have their first dance now, followed by the father-daughter and mother-son dances.

Photo Credit: Maria Angela Photography
Hour three:
If they haven't already, the bride and groom may enjoy their first dance. This is also the time for other noteworthy dances. The main course is served, and guests mingle and dance.

Photo Credit: Muriel Silva Photography
Hour four:
The cake is cut and served. The bride tosses her bouquet, and the groom tosses her garter (optional). Guests begin to leave.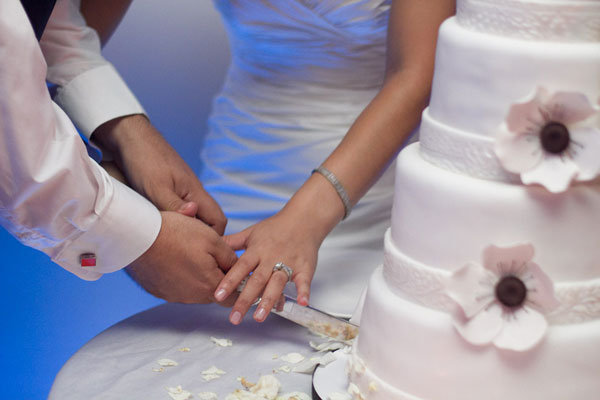 Photo Credit: Casey Fatchett Photography
Remember, these are just guidelines. You're free to schedule your reception in whatever way you like. For example, some couples like to have their formal portraits taken before the ceremony and not during the cocktail hour, and some newlyweds prefer having a receiving line immediately after the ceremony instead of at the cocktail hour — so they can join the fun. Others decide to forgo the receiving line altogether and greet guests at their tables during the reception. Whatever you decide, plan your party in a way that's most comfortable for everyone.
—Diane Forden