Congratulations, brides-to-be! Perhaps some of you are newly engaged, while others are well into the throes of wedding planning. But no matter how far along you are in the process, you'll find an abundance of fabulous fashions, smart planning tips and to-die-for honeymoon destinations in our May/June 2014 issue.
Have an iPad? Be sure to check out our digital edition! Get one issue for $5.99 or a one-year subscription (six issues) for just $9.99. Click here to download the Bridal Guide Magazine app from the App Store. 
If you're on the hunt for the perfect dress, we've got your style — from floral-accented beauties: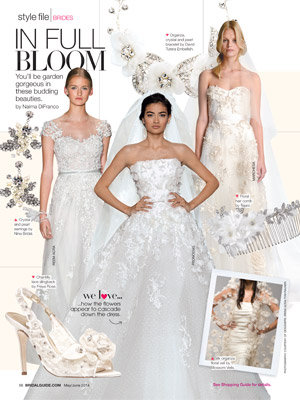 to breezy, romantic dresses...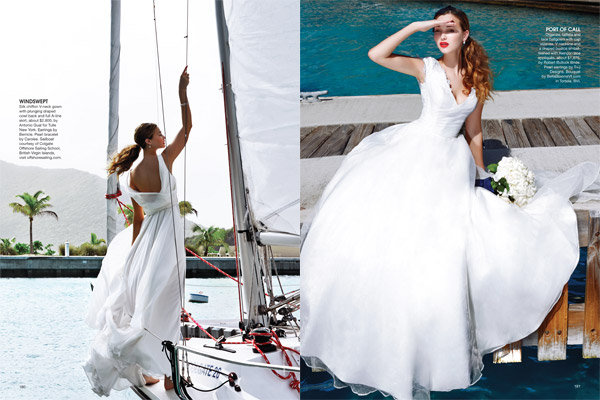 and luxurious lace gowns.
And (drum roll, please) you'll also discover some of the best bridal buys under $100! Shoes, hair accessories, jewelry, bags and makeup — we show you our top picks to guarantee that luxe-for-less big-day look.
Of course, looking your absolute best is uppermost in every bride's mind. Check out some of the hottest hair and makeup trends from the runways for inspiration. Today, anything goes, whether you decide on an up-do or long waves, super-glam makeup or a soft, natural look.
If you've ever wondered what the real cost of a wedding is, guess no more. We went right to the pros in every part of the country to get a breakdown of wedding expenses, along with some of their invaluable money-saving tips. Trust me, you'll want to take note and plan accordingly before deciding on how to allocate your dollars.
And don't forget about the ceremony! After all, it really is the most important part of the day — those heartfelt moments when you and your fiancé exchange vows to become husband and wife. "Standing on Ceremony" offers tips on how to secure the marriage license, write vows, choose your officiant and more.
One of the most popular trends in weddings today is the couple's commitment to ensuring their guests have a fantastic time. The standard-issue wedding is a thing of the past, and in "The Fun Factor," you'll be amazed at some of the ingenious ideas that brides and grooms and wedding pros have come up with to guarantee an unforgettable celebration. I know you'll be inspired to create a few of your own fabulously fun ideas!
Of course, in between all the dress shopping and planning, you'll also be setting up your gift registry, so be sure to take a look at terrific new items that will make your everyday dining and entertaining a joy.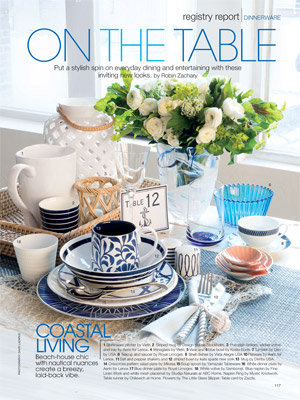 But before you start dining at home with your BFFs, the two of you will want to go on a honeymoon you'll remember for years to come. Perhaps you dream of an exotic escape to a destination like Tanzania:
or the Galapagos Islands:
Or maybe a getaway closer to home is more to your liking. Mexico has plenty of sun and surf, as well as a popular wine and tequila scene:
Another top honeymoon spot is Hawaii, and each of its islands boasts its own special vibe, from Oahu's vibrant city scene to the "Garden Isle" of Kauai. Discover which one suits you best.
If being "connected" 24/7 has you stressed to the max and fantasizing about the pre-internet 1970s, you'll love our story on the gorgeous resorts in the Caribbean where you can happily unplug. Just think: no cell calls, texts, emails. After maybe a day two of tech-withdrawal, you'll happily immerse yourselves into this strange new world and no doubt plan another off-the-grid escape in the future.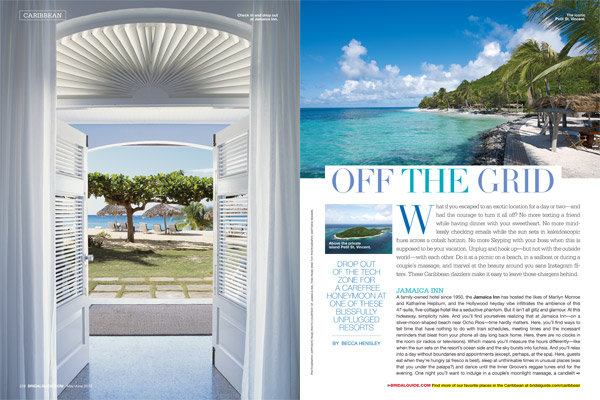 There's much more in this issue: bridesmaids' dresses, rings, DIY ideas and top-notch etiquette and planning advice. So enjoy the issue — with our help you're guaranteed the best day ever!
—Diane Forden