Have we got an amazing new issue for you! Check out our March/April magazine: Our cover model is wearing a gorgeous replica of Bella's elegant, vintage-inspired gown (an homage to Edward's Victorian era) from The Twilight Saga: Breaking Dawn - Part 1.
This Alfred Angelo gown is authentically styled—from its deep-V neckline in front to the long, tapered sleeves and dramatic, lace-edged, cut-out back. 
We also have other incredible fashions from our ever-popular "Runway Report" featuring the latest trends:
As well as lavish ballgowns…
…and pretty, sexy mermaids. There's a gown for everyone no matter your shape or budget.
Speaking of budget, I know you have money on your mind as you plan your party of a lifetime. Let's face it, weddings can cost a bundle, and knowing just how you can save is a plus, which is why you must read "Get the Picture for Less!"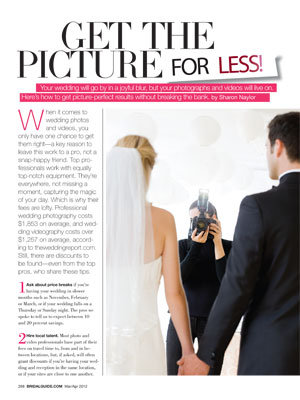 Here you'll discover some pretty cool tips from photographers and videographers themselves on how best to trim costs without compromising the results. And for more budget tips, go to bridalguide.com/budget.
Another cause for concern as you plan your wedding might be unwanted advice, demands or just plan meddling from your nearest and dearest. With other people weighing in on what they think you should do, you'll soon feel overwhelmed. "Keep Calm, Carry On" offers great advice on how to handle all kinds of situations minus the drama.
Another favorite story in the issue is "Weddings, American Style," which gives a coast-to-coast report on how brides celebrate all across the country.
There really are different customs and traditions in various regions, and you'll no doubt get inspired to incorporate some of them into your own wedding.
Of course, one of the best parts about getting married is planning the honeymoon! You'll love our separate "Honeymoon & Destination Wedding Guide" packed with the most fabulous getaways.
If you're looking for an island escape, we've got it:
Maybe you want to mix it up a bit with lazy days on the beach combined with a few more city-type activities. The perfect spot? Mexico!
Or perhaps a European trip is more to your liking:
No matter where you want to go—from honeymoon-perfect spots in the U.S.A. to more exotic locales—we give you the scoop on where to go, where to say and what to do.
Have fun reading the issue! You'll also find fantastic accessories, ideas for a stunning winter wedding, tips from David Tutera and much, much more. 
—Diane Forden