In just a few days, The Great Gatsby will arrive in movie theaters everywhere, and Gatsby-mania has been building for weeks. TV commercials inundate the small screen, and 20s-inspired fashions are everywhere. (We saw lots of beautiful Gatsby-esque gowns and accessories at the April bridal shows.) Baz Luhrmann's 3-D film promises an über-glamorous version of the 1920s — that glorious, free-spirited time when those with means let their money and champagne flow as they partied with wild abandon. 
Well, we may not all have the carefree, moneyed lifestyle of Daisy Buchanan, but we can certainly incorporate some fun Gatsby-esque details into our own celebrations. Sarah Lowy and Jodi Cohen of JOWY Productions in Los Angeles have created chic, elegant weddings that would have undoubtedly been met with Jay and Daisy's approval.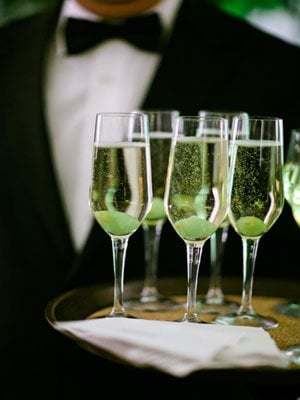 They have also come up with some clever ways to have a Gatsby-inspired bridal shower or party. Here, Sarah and Jodi's tips:
1. Host a 'Roaring Twenties" bash in the daytime (late afternoon taking you into the evening) in your own backyard, and infuse your fête with timeless charm, elegance and glamour. Dress your backyard with long wood tables and mason jars filled with white garden flowers, or have tables covered with white, crisp linens surrounded by wood chairs. Think lots of lace and doilies!
2. Invite guests to come dressed in their favorite Gatsby fashions by stating "Roaring '20s Attire. Come Dressed to Impress!" on your invitation.
3. Create a password for entry into your party. Have a person stationed at the entrance to ask guests for the secret password.
4. Set up an area where guests can play croquet and place a few chess sets around for anyone interested in a little friendly competition.
5. On a round, square or small rectangle table, create a champagne pyramid for a wow focal point, as well as a memorable point of service for your bubbly.
6. Create specialty drinks inspired by the Prohibition, such as the Sidecar, gin & tonic, vodka gimlets and mint julep served in a mint julep cup.
7. Have a photo booth with a 1920s-inspired black and white backdrop. Provide props such as feather boas, vintage parasols and fedoras, English driving caps, straw boaters, long pearl necklaces, headbands with feathers, cloche hats and elbow-length gloves to set the scene.
8. To truly surprise guests, set up a projector and show a few different silent movies of the time (or earlier versions of The Great Gatsby).
9. Menu items can include crab stuffed mushrooms with Parmesan cheese, deviled eggs, shrimp cocktail, oysters on the half shell, finger sandwiches, "speakeasy" spinach dip and a Waldorf salad.
10. For dessert, have a candy bar with sweets popular in the 1920s, angel food cake and ice cream, Jell-O and a passed tray of mini rice puddings.
—Diane Forden