There's a crisp, brisk early-morning chill in the air these days that readily conjures up all the sights and scents of the season for me (baked apples, cinnamon, pumpkin-spiced lattes!). I find autumn an especially beautiful time of year to marry. The colors are gorgeous and the décor ideas are plentiful.
We asked noted floral designer, Rene van Rems, spokesperson for Lily Occasions, for flower tips for fall weddings. Rene suggested using a few flowers that you might not normally think of as fall blooms, such as calla lilies, Asiatic lilies, Oriental lilies and gladiolus. "Mini Calla lilies are clean simple and elegant and won't wilt out of water for days!" says Rene. "They come in more than 20 colors including bronze, deep purple, cream and burnt orange — quintessential fall hues.
Another favorite of Rene's, the Asiatic lily is grown in greenhouses year-round and is the perfect size for carrying or to display in centerpieces. "The colors are too many to mention. If you can imagine the color, there is a bloom!" (just no blues or lavenders.)
The large "show stopper" lily is the Oriental lily. It has a strong scent unlike the unscented Asiatic lily and comes in a deep burgundy, red or soft yellow to brighten your display.
Another year-round choice recommended by Rene is the gladiolus that "is in vogue again." "This spiky flower is available in deep purples, terra cotta, oranges or every hue and can be used on their long stem or cut in pieces," says Rene.
Rene likes to mix these blooms together for a baroque looking collage of color, form and texture. "And if you simply add some fall leaves, branches or ornamental grasses you'll have a more rustic, country look."
These orange calla lilies are especially charming in small, textured silver vases:
Or pair long and shorter stemmed lilies together in two bright colors for a striking display:
Fill a nook with dramatic calla lilies and pine branches in earthenware vases:
Or go thoroughly modern and chic with calla lilies paired with exotic blooms in a large round vase or smaller silver container:
As Rene says, adding other elements of nature, like tree bark, imparts a totally cool, rustic-chic vibe.
Talk about getting noticed — these deep burgundy-hued blooms absolutely pop when placed in a variety of all-white containers.
The perfect bridal bouquets for autumn: Calla lilies in yellow, orange and fuchsia tied with a purple satin ribbon:
And another in shades of orange dressed up with seasonal berries:
Calla lilies nestled in wooden bowls are another rustic-chic idea.
Star-shaped Asiatic and Oriental lilies create a striking display when paired with tall-stemmed calla lilies and placed in vintage-style vases:
And I love the vivid contrast of orange and yellow blooms in this gray, cable-knit sweater-style container.
Amber-hued glass vases perfectly complement these flowers: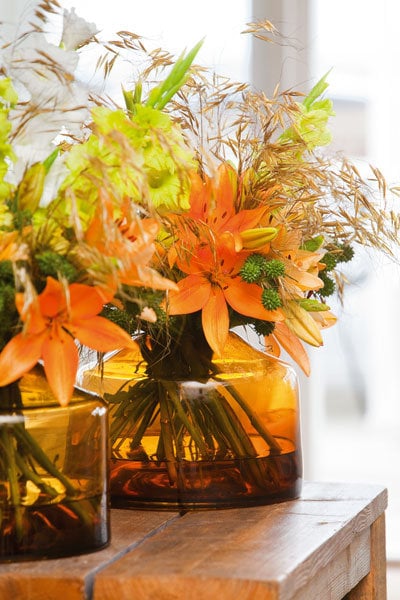 And these tall gladiolus mixed in with Oriental lilies, calla lilies and green leaves are a standout:
Don't forget to use flowers in different areas of your venue to make a statement. Here, atop a mantle, brightly colored gladiolus are mixed with Asiatic and Oriental lilies in shimmering gold and matte gray vases.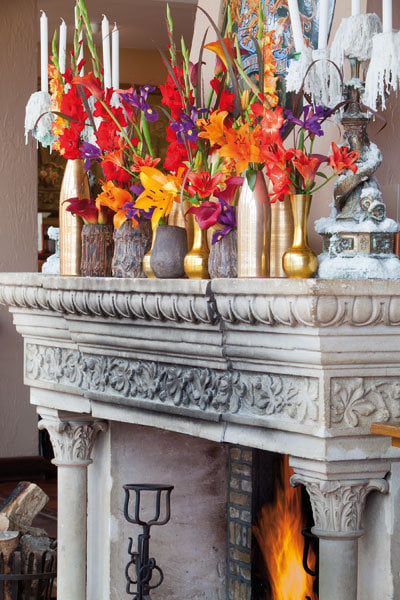 And why not display your spirits on a table decorated with festive blooms like this?
One last tip from Rene: Keep in mind that many flowers are sold when closed with only a little of their color showing, so be sure to ask you florist/designer about the right color and then plan on 5 to 7 days for full, open impact. For more inspiration, go to lilyoccasions.com and enjoy choosing your blooms.
—Diane Forden