Obsessed with celeb weddings like we are? We've broken down the most popular tuxedo trends, as seen on some of the biggest names out there. Dress your groom like an A-lister, and paparazzi will be chasing him down the aisle.
The Classic Tuxedo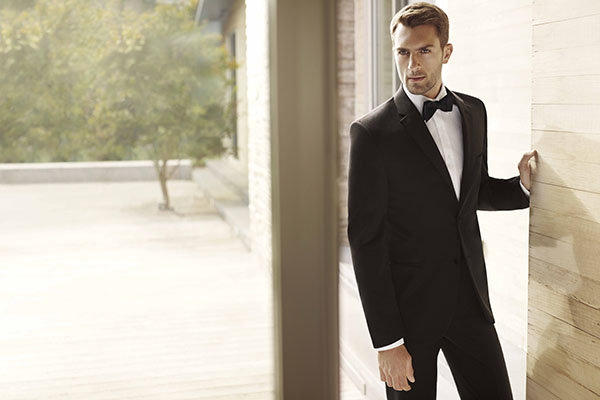 Tuxedo by Black by Vera Wang
Hollywood's leading man may no longer be available, but Matthew McConaughey looked quite dapper in his 3-piece Dolce & Gabbana tuxedo at his wedding. The actor appeared ever-so-handsome in a black jacket, black bow tie and white shirt. For a man who made being shirtless a trend, we're quite impressed at how well he cleaned up! Whether your groom's as smooth as James Bond or as laidback as McConaughey, the timelessness of this style makes the classic tux a perfect choice for just about anyone.
The Statement Tuxedo

Tuxedo by Savvi Formalwear
Funnyman Nick Cannon is known for his vibrant personality and humorous lines. But we sure weren't laughing when we saw how handsome he looked while renewing his wedding vows to wife Mariah Carey. Save for a black tie and shoes, Cannon donned a stark white ensemble. Romantic styles like this look absolutely debonair and are so eye-catching. Cannon looked so elegant that he may have even outshined Mariah, the diva herself!
The Modern Tuxedo

Tuxedo by Savvi Formalwear 
Known for wearing tee shirts and hoodies, it's a rare site to see the CEO of Facebook, Mark Zuckerberg dressed up at all. But on the day his status changed to "married," Zuckerberg donned a black suit and a skinny tie. The outfit perfectly matched the mogul's nerdy-chic style and was a fresh take on the classic tuxedo. If your man is the type who prefers an unfussy, simpler style, the modern tuxedo is a perfect choice.
The Casual Tuxedo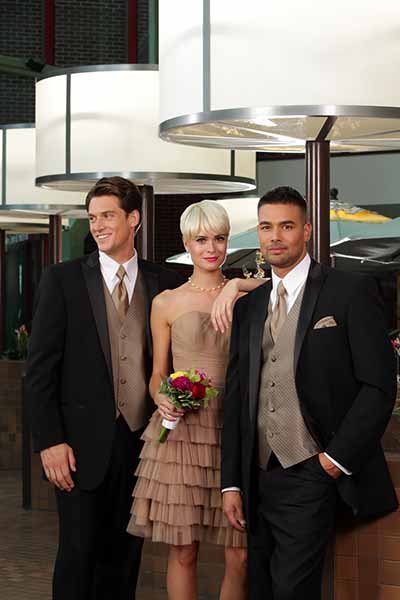 Tuxedo by Oleg Cassini
Colorful vests and ties are great alternatives to the classic black tuxedo; they're slightly more casual, yet still wedding-appropriate. Take a cue from country singer Blake Shelton, who wore a gray vest and tie at his Texas-style shindig. The vest-tie combo can even coordinate with the colors of the bridesmaids' dresses or flowers. A little pop of color goes a long way!
—Leyat Elkobi