Plan your wedding (and honeymoon too!) at this romantic, ultraprivate island.
By: Stella Katsipoutis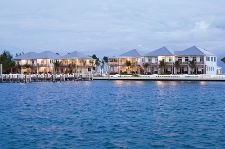 With over 100 miles of pink sand beaches, sparkling blue-green water and loads of private places, Eleuthera, an island in the Bahamas, is a location seemingly made to order for the marriage of a diva. No wonder that singer Mariah Carey and actor Nick Cannon chose to host an intimate wedding celebration at the pop star's private villa there.
Consider basing your stay in a private villa, too—try the Powell Pointe Resort at Cape Eleuthera, a gated community with 37 luxury homes and 30 traditional Bahamian oceanfront villas, all of which provide panoramic views of Exuma Sound's transparent turquoise waters. Stay in one of the homes and enjoy colonial-style furnishings, like four-poster beds and tables fashioned from dark wood. Each house—whether beachfront or ocean view—offers decks and patios furnished with cozy rattan couches. Guests have access to all amenities, including the marina with a dive and snorkel center, two restaurants, a cute island shop and daily housekeeping services. Also available on site: massages, sunset cruises and private beach picnics.
If you crave seafaring adventures, head to the marina, where you can try your hand at reeling in bonefish, marlin and tuna. The Powell Pointe coves are considered one of the Caribbean's best locations for deep-sea fishing. Or snorkel among the coral reefs and observe parrotfish, turtles and dolphins. Divers will want to explore centuries'-old shipwreck sites. On land, check out the Glass Window Bridge, a 30-footwide rock formation that spans the narrowest section of this slender isle and affords breathtaking ocean views. You can also take a guided nature walk, where you may spot more than 100 species of birds, including the rare Bahamas Parrot.
Powell Pointe's laid-back Barracuda Beach Bar & Grille serves up the island's freshest seafood. Try the Cape Eleuthera Lobster Tail, seasoned with the chef's own blend of spices. After dinner, satisfy your sweet tooth with the tropical tastes of rum cake and key lime pie at the Bahamas Coffee Company bakery. Then take part in Eleuthera's favorite pastime: sitting on a starlit beach and listening to the water lapping softly on the sand (villa rental rates start at $400 a night; capeeleuthera.com).
Photography: (from top) Bruce Gifford, filmmagic.com; courtesy of Cape Eleuthera.