Attending at least one wedding this summer? BG staffers' calendars are jam-packed with fun shindigs that are coming up soon! But once the excitement of receiving a wedding invitation settles in, there's one inevitable question to answer besides checking off "will attend" and "won't attend" on the RSVP card: What are you going to wear? It can be difficult to determine what's appropriate for each affair. That's where we come in — whether it's a black-tie, semi-formal, or a beach wedding, you'll be sure to look stunning in this season's editors' picks featured below.
Black-Tie
This is the most formal wedding dress code so pull out all of the stops for this glamorous affair. Long evening gowns or fancy cocktail dresses in dark colors or neutrals are de rigeuer. Don't be afraid to be dramatic with your hair and makeup, whether it's a slicked-back bun, red lips, or smokey eyes. From jewelry to shoes, accessories should polish off your look.
Shopping credits from left to right:
Saison Blanche tulle trimmed gown in Black ($330)
Pronovias high-low gown in Blue (price available upon request)
Eden Bridals one shoulder gown in Teal ($268)
Semi-Formal or Cocktail
These occasions allow you to be a little more flexibile with your ensemble than a black-tie wedding. Opt for shorter dresses in darker formal colors for an evening wedding and lighter colors for a daytime wedding. This is the perfect opportunity to whip out your tried-and-true LBD.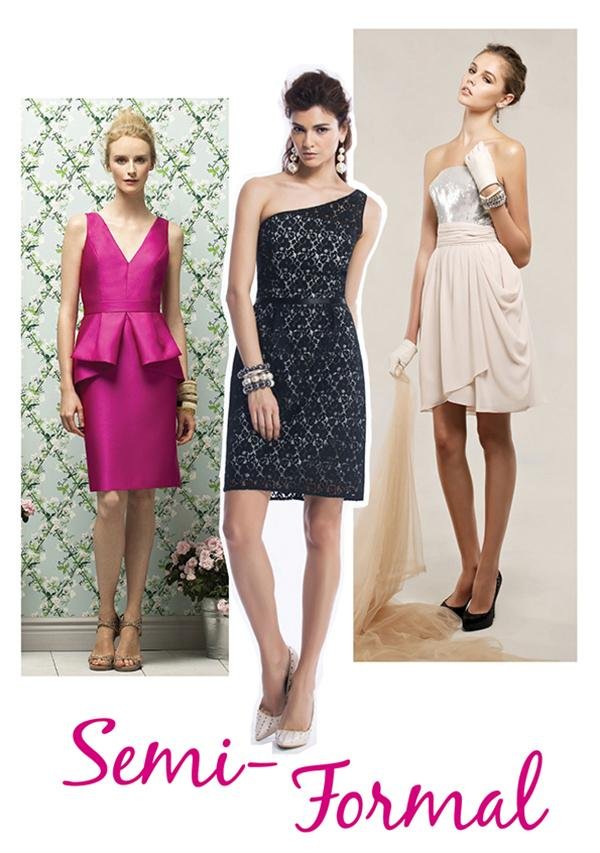 Shopping credits from left to right: 
Lela Rose peplum dress in American Beauty (price available upon request)
Jasmine Bridal one shoulder lace dress in Noir/Grecian ivory ($186.50)
Bill Levkoff sequin top dress in Silver/Champagne (price available upon request)
Garden Party
Take your style cue from the beautiful blooms around you by choosing flirty frocks in pastels, florals, and jewel tones in light, breathable fabrics. High heels can sink into the grass, so wedges are a safer bet.
Shopping credits from left to right (all prices available upon request):
Amsale strapless chiffon dress in Grass
Alfred Sung one shoulder cocktail dress in Firecracker
Lela Rose strapless sweetheart dress in Marigold
Beach Wedding
Beach weddings can be casual or formal, so it might be helpful to ask the bride or wedding party what's appropriate. You're going to be outside so it's crucial to take the heat into account. Wear loose flowing gowns in styles that are knee-length or maxi, in soft fabrics like chiffon (think sundresses that you'd wear to a nice dinner or party). Again, ditch the stilettos and choose wedges or jewel-encrusted sandals to make walking on sand easier.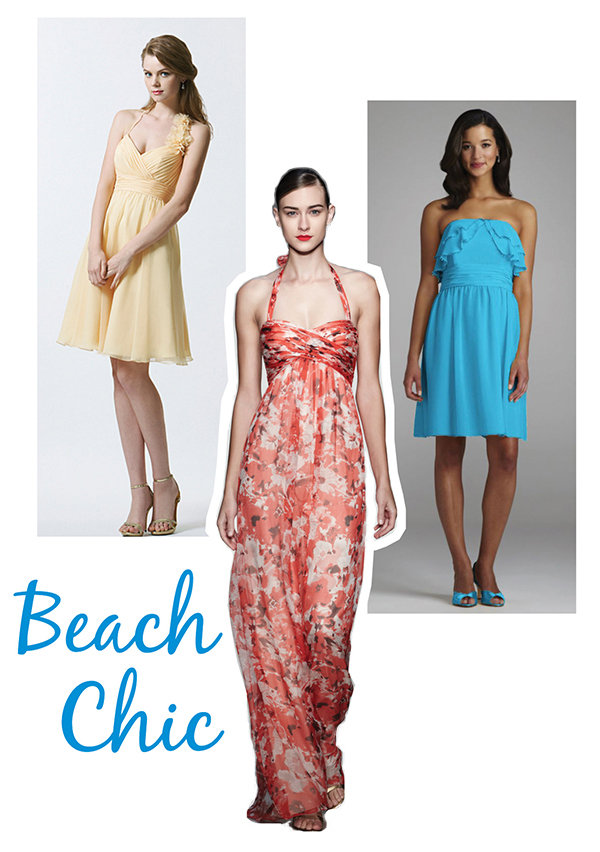 Shopping credits from left to right:
Eden Bridal one shoulder flower dress in Moonglow ($170)
Amsale floral print maxi dress in Coral ($370)
David's Bridal strapless ruffle dress in Malibu ($59.99)
Daytime Casual
Daytime or casual weddings allow for a more laid-back style. While you are not required to wear something formal, it's a good idea to shy away from jeans (just because it isn't a black-tie affair, that doesn't mean it's not a special occasion). You can't go wrong with a bright-colored dress or a dressy skirt and top. 
Shopping credits from left to right:
Nicole Miller cap sleeve lace dress in New Cobalt ($245)
Kenneth Winston sleeveless lace dress in Rose/Blush ($198)
Moonlight Bridal knee length ruffle dress in Sunny Day ($199)
If you're still having trouble deciding what is or isn't appropriate for a wedding, don't hesitate to reach out to the bride or the wedding party. When in doubt, it's better to be overdressed than underdressed!
—Marisa Russo