There's no question that all eyes will be glued on you as you walk down the aisle in your beautiful wedding dress and take it for a whirl during your first dance. However, the second most fabulous woman in the room will be the person who helped you get to this point — your mother!
MOBs and MOGs (mothers of the groom) have tons of great options available to them while shopping for their child's big day. Check out some of our favorite on-trend styles to help Mom look and feel her best.
Fit-and-Flares
This sophisticated and versatile silhouette can be adjusted to suit different body types. Accentuate Mom's waistline with a belted look or try a dropped torso if she's slightly short-waisted. Most importantly, make sure that the dress still allows for plenty of movement so she can dance the night away!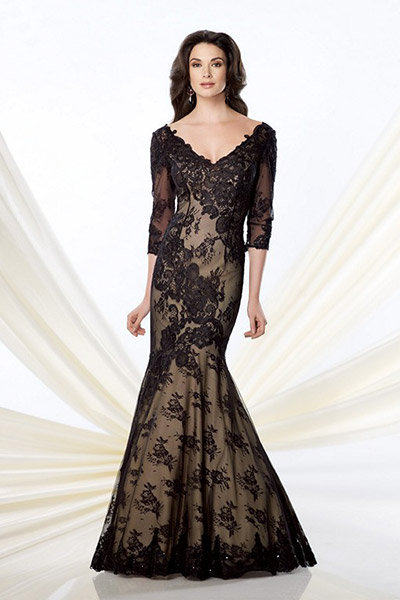 Dress pictured at left by: Special Occasions by Mon Cheri (Style 213895) / Dress pictured at right by: Montage by Mon Cheri (Style 214953)
Peplum and Separates
Instead of the age-old sash, have Mom try on a peplum top, which has a more fresh and modern feel. Both styles featured below are great for elongating the torso. For a daytime wedding, skirts to the knee or to the ankle are appropriate, whereas if you're having an evening affair, she may want to opt for a long gown. (A long trumpet skirt helps to balance out the severity of the peplum.)
Bonus: Separates are a great choice for moms who are different sizes on the top and bottom since they can purchase these pieces separately. (We suggest choosing them from the same designer so that her look is cohesive.)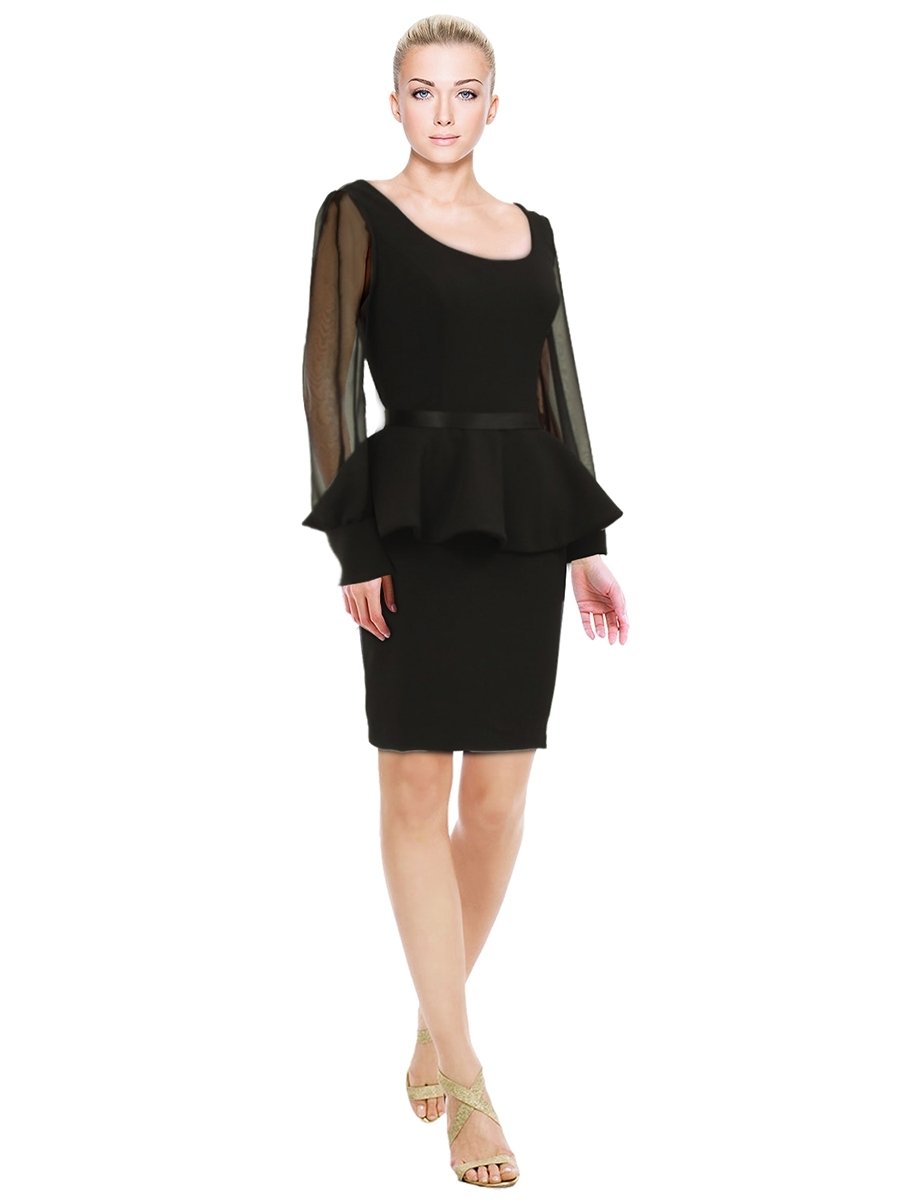 Dress pictured at left by: Rose Taft (Style 7001) / Dress pictured at right by: Melanie Harris (Style Rhony)
Off-the-Shoulder
If your mom loves glamorous looks, consider outfitting her in an off-the-shoulder dress. This neckline shows off her collarbone and shoulders, and she can easy accessorize it with her favorite jewels. Try a three-quarter length sleeve or one that hits slightly above the elbow in order to avoid showing too much skin.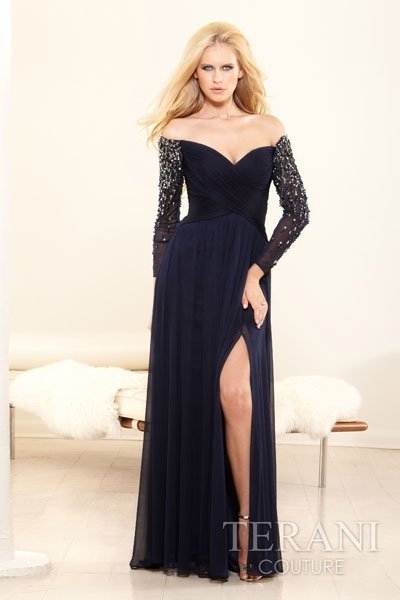 Dress pictured at left by: Melanie Harris (Style Catherine) / Dress pictured at right by: Terani (Style M3496)
Embellishments
Moms, don't be afraid to go bold with beading and embellishments — accents are there to accentuate! Lace inlays draw the eye to her favorite qualities whereas draping and ruching helps smooth everything out.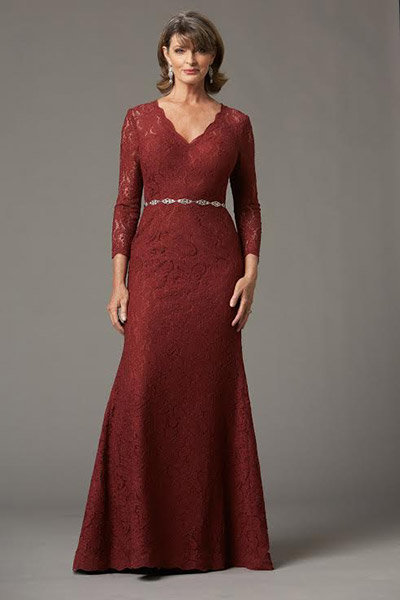 Dress pictured at left by: Watters (Style 72257) / Dress pictured at right by: Daymor (Style 707)
Color-blocking
Dresses with a dark, contrasting color on the sides create the illusion of a slimmer midsection. Conversely, if your mom has a pear shape, she might want to try a lighter color on top, rather than on the skirt. Using color-blocking is an effective way to give Mom that coveted hourglass shape.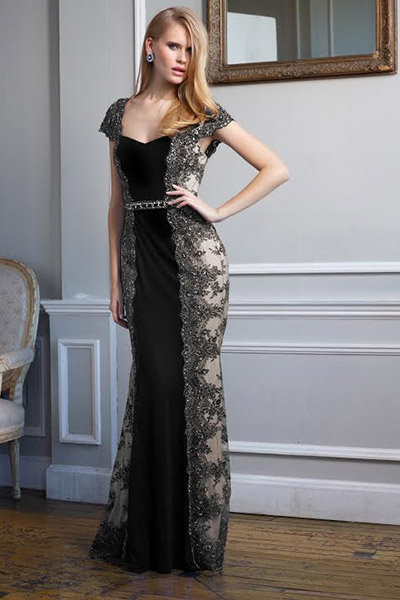 Dress pictured at left by: Terani (Style M1818) / Dress pictured at right by: Daymor (Style 818)
Vertical Lines
Horizontal styles tend to make women look a little bit wider, whereas vertical stripes lengthen a torso. Steer clear of horizontal drop-waist styles that cut Mom off at her widest point. The editor-approved picks below are not only figure-flattering but they also feature beautiful embroidery detailing.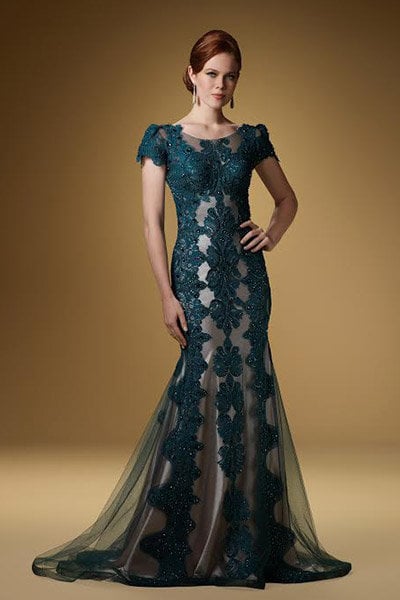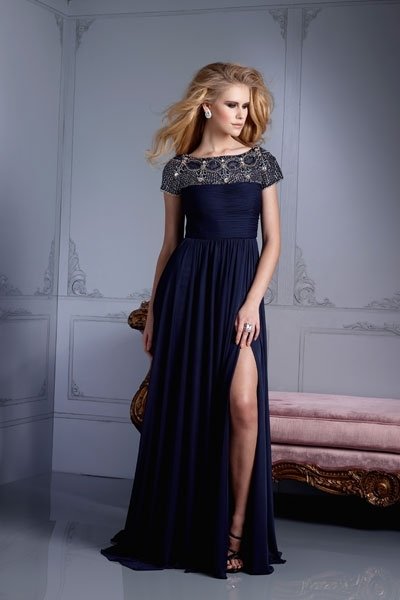 Dress pictured at left by: Rina Di Montella (Style 1501) / Dress pictured at right by: Terani (Style M2214)
Empire Waist
An empire bodice cuts right underneath the bust, slightly above the waist, which emphasizes décolletage and helps to camouflage the tummy. This look is perfect for a beach or garden wedding, especially when paired with a flowy chiffon or georgette skirt. 

Dress pictured at left by: Cameron Blake by Mon Cheri (Style 212694) / Dress pictured at right by: Alyce Paris (Style 29634)
Tell us: Which style do you think would look best on Mom?
—Samantha Silverman