Clinton Kelly, the former host of TLC's series What Not to Wear and current moderator for ABC's The Chew, is known for providing fabulous style advice. Now, in collaboration with Macy's, Clinton Kelly will be lending his advice via a new online hub – Weddings with Clinton Kelly. I sat down with "Wedding's Best Man" and got his style advice for Bridal Guide readers.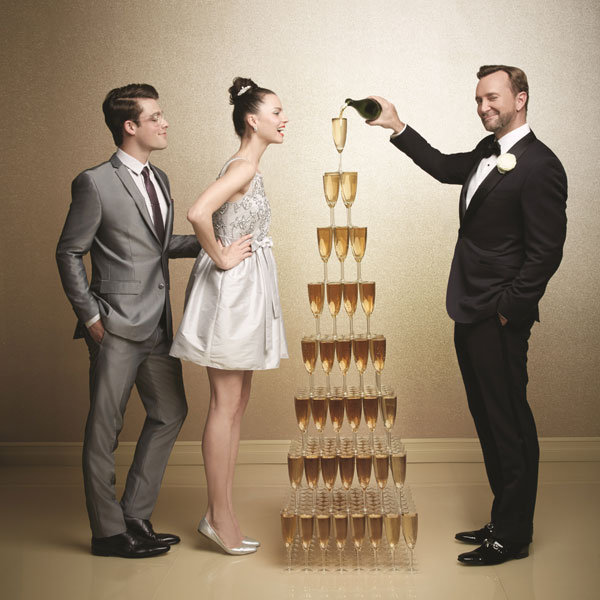 Q: For the bride choosing her dress, which styles or silhouettes do you find most flattering for different body types…pear, triangle, apple?
A: To be honest, I recommend wearing whatever dress makes the bride feel most beautiful. Of course, I have my own opinion about what looks best on her, but I'm not the one who's dreamt about this wedding since kindergarten. However, let's assume that every woman wants to look balanced — that's what I strive for when dressing a woman for any occasion. By "balanced" I mean that the upper body and lower body look proportionate with each other, and ideally there should be a narrowing at the waist, thereby creating the hourglass shape.
That being said, if your body is disproportionate, the best way to create the illusion of proportion is to streamline certain parts while adding a little "oomph" to your smaller parts.
A woman who carries her weight in her lower half might want an A-line or ballgown style, both of which would camouflage the hips, thighs and butt. If she had a smaller bust, she could create a little more action on top with a sweetheart, off-the-shoulder, Queen Anne or asymmetric neckline.
Personally, I think women with large busts look best in dresses with V-necklines, which always open and elongate the neck, thereby de-emphasizing the bust. In still photography, big busts can look good in strapless, straight-across styles, but when the bride hits the dance floor, I always feel like it's a wardrobe malfunction waiting to happen. If the bride has small hips, she can create the illusion of curves with a mermaid or trumpet silhouette.
The biggest piece of advice I can give fuller-figured women is to strive for that hourglass shape. If you're not smallest at the "natural waist" (right around the navel) you're probably smallest around the ribcage. Get the best bra that money can buy and some comfortable shapewear. Find your narrowest spot and look for a dress that brings attention to that spot, whether it's via a seam, a sash, ruching, pleating or detailing. Once you do that, the hourglass should fall into place.
Q: When it comes to hair and makeup — any style advice for the bride?
A: When I see a bride walk down the aisle, I want her to look like an exquisite version of herself. I don't want to turn to the person next to me and say, "Who the heck is that?" So, if you're a natural kind of girl, have your makeup artist focus on perfecting your skin and use softer colors like pinks and corals. If you're a glamour-puss, you can be more dramatic with your makeup, but pick a focus – eyes or mouth.
As for hair, so much depends on personal style, texture, venue and anxiety level. Up-dos are obviously easier to set and forget, whereas soft curls might need touching up throughout the course of the evening, or they might frizz out. You know your own hair best. If you're the type of woman who spends most of her days in a clip or scrunchie because you can't deal with having your hair down, you should consider wearing your hair up for the wedding.
Q: For a bridal party with girls of various shapes and sizes, which bridesmaid style do you find most universally flattering?
A: When it comes to dressing a bridal party, my advice has always been and always will be: Determine which of your bridesmaids has the trickiest body to dress and ask her to go shopping with you. When you find a dress that is flattering on her, chances are it will look good on the rest. I've been to so many weddings where dresses were so unbecoming to some of the bridal party that I couldn't help but feel uncomfortable as they walked down the aisle. In general, V-necks work on all body types, as do simple A-lines. Don't put your future sister-in-law, who's got a F-cup, in a strapless, backless dress. She'll hate you forever.
Q: Which bridesmaid's colors do you think are trending right now?
A: You should choose colors that make you happy and support the overall mood you're trying to achieve. In 20 years, you don't want to look back at your photos and say, "Wow, we were trendy back then." You want just to think that everyone looked so beautiful.
Q: For the groom, any suggestions or style tips for picking out a suit or tuxedo?
A: For the love of all things holy, unless you really know what you're doing stylewise, choose a classic suit or tuxedo. If you can afford it, buy your groom's outfit as opposed to renting it so that you can have it tailored to within an inch of its life by an expert.
— Naima DiFranco