I've never particularly enjoyed getting my hair done for events — I always get this nagging feeling that I could've done a better job myself (and saved a ton of money). So for my sister's wedding, three of my cousins and I decided to skip out on the morning salon trip and do our own hair (with my sister's blessing, of course!). We spent hours trolling Pinterest for ideas we felt were within our capabilities, scheduled a day for trials a few weeks before the wedding, had a Target shopping spree for curling irons, bobby pins, and combs, and got to work.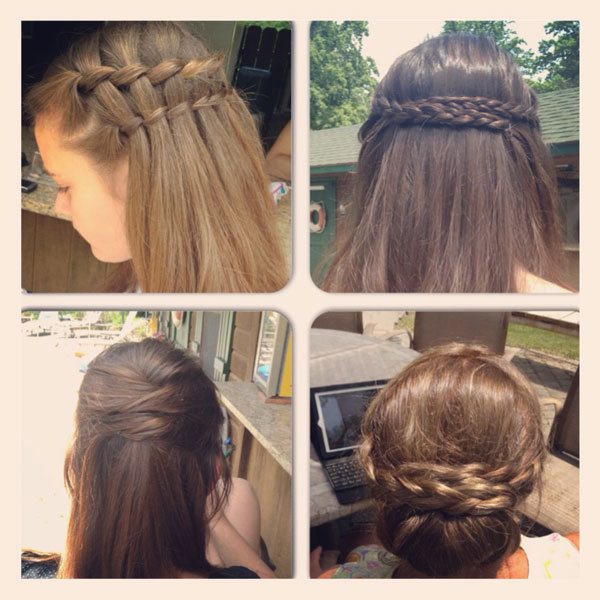 If you're thinking about doing your own hair, either as a bride or as a bridesmaid, here are the most important things we learned:
Practice, practice, practice
Yes, it sounds obvious. But when I say practice, I don't mean trying the hairstyle once or twice. I must've practiced my hairstyle at least 10 times before the wedding — and I was going for a very simple look. Try following the same timeline as the wedding day — do your hair in the morning, then see how it wears throughout the day. That way, you can troubleshoot any problems.
Also, make sure that you practice every detail of the hairstyle — including the curls. I made the mistake of not testing curling my cousin Rachel's hair, and the curls practically fell out before the ceremony (sorry, Rachel). At least the top still looked good!

Left to right: Nicolena, Rachel, Katie, Kristen, and Nicole
Use twice as many pins as you think you need
My cousin Nicolena, who's 12, was a junior bridesmaid. We decided to give her a fun waterfall twist hairstyle. What you don't see, though, is that there are pins between each twist, holding everything in place. That way, if one part came loose, we wouldn't lose the whole style.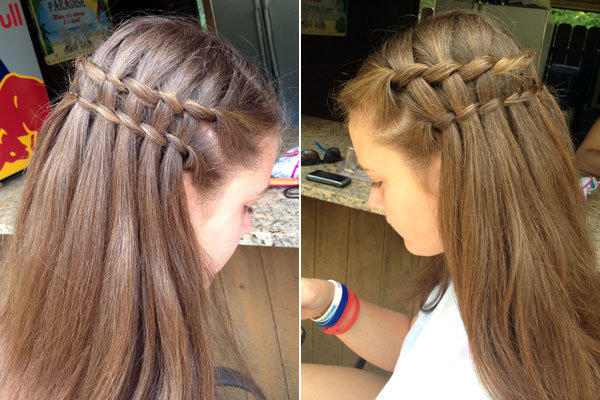 Enlist help
DIY doesn't mean you have to do it all yourself. If your friend is an expert at curling hair, ask her to lend a hand. After I styled the top of my hair, Rachel took care of the curls (since clearly that's not my forte). 
Enlisting help also helps to minimize how much time you'll need. Since Nicolena has such thick hair, we knew we'd need plenty of time to curl it all. To avoid having to start at 6 a.m., we decided to curl her hair at the same time Rachel was working on mine.
Have a backup plan
Sometimes, your hair just doesn't behave the way you want it to, regardless of how many times you practice before the big day. A low side-swept bun or ponytail is a simple yet elegant solution.
Take advantage of hair accessories
A hair comb or clip instantly glams up any style. But they're especially useful for DIY styles because you can use them to hide bobby pins. That way, you can secure your hair without worrying as much about making sure each and every pin is covered, since your accessory will cover it up anyway. I incorporated this stunner from USA Bride:

Mollie Rhinestone & Pearl Comb, $69.95
Tell us: Would you consider doing your own hair on your wedding day?
—Kristen O'Gorman Klein