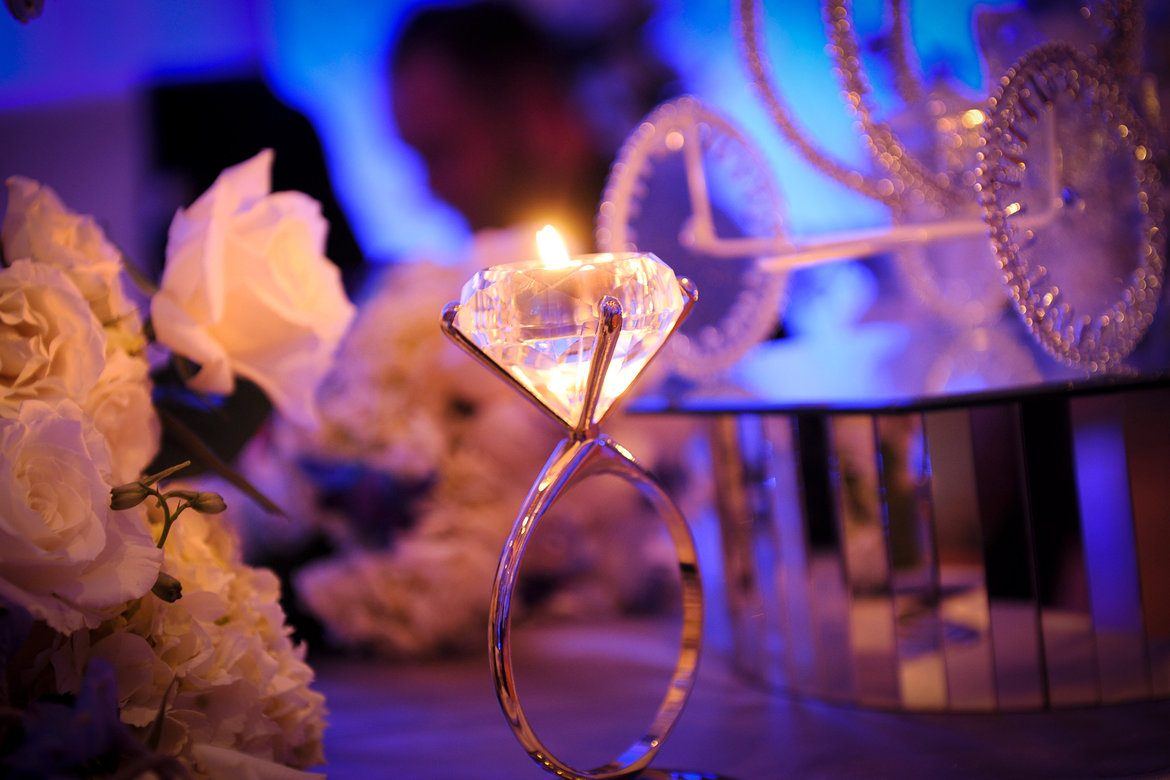 Photo Credit: A Magic Moment Photography and Video
Q: "My friends are asking if my fiancé and I will be having an engagement party. Who is responsible for planning this event and sending out the invitations?" 
A: "Just about anyone, friend or relative, can plan an engagement party for you and your fiancé, but most often it is the bride's parents who take the initiative. If your parents are from out of town, however, there's no reason that your fiancé's mother and father shouldn't give the party if they wish to do so. The type of engagement party your hosts choose to have is entirely up to them. It can be a cocktail party, a buffet, or even an outdoor barbecue. As for the invitations, they should be sent out by the hosts. If your announcement is to be a surprise, they needn't mention the reason for the gathering. If most people have heard the news, though, then the invitation should clearly state the purpose of the occasion. It can either be an informal handwritten note or a formal printed invite with the words 'In honor of (bride's name) and (groom's name)' at the top."
Q: "My fiancé and I are not sure who is supposed to host the engagement party. My parents, who are paying for the wedding, claim it is up to his folks, but they insist that my parents are responsible. Can you please help?"
A: "Traditionally, it is the bride's parents who host the engagement party. However, today just about any friend or relative can do the honors. Keep in mind that an engagement party is not a requirement; it's supposed to be a fun way for members of the bridal party and both families to get to know each other before the wedding. You two can even host the party yourselves, and if you plan a very casual and low-key celebration, like a cookout at home, your expenses will be minimal. But before this disagreement escalates into a major family feud, you should decide what type of affair to have and whether it's worth having a party at all. Your parents have plenty to pay for already, and they may be too stretched financially to take on any more costs.
Often guests will elect to bring gifts, although this should not be expected. Whatever presents you do receive should be promptly acknowledged with a handwritten thank-you note."
Q: "On our engagement party invitations, is it appropriate to let guests know where we are registered?"
A: "No, it is not appropriate to include the names of the places where you are registered on engagement party invitations. The only place registry information should be mentioned is on a bridal shower invitation.
However, since it is very likely that some guests will want to bring gifts to your engagement party, it is perfectly acceptable for you to inform close friends and relatives of your registry preference in case they are asked. And keep in mind that unless all of your guests bring gifts to the party, it's best to open your presents in private — after the festivities — to avoid embarrassing those who have not brought anything. (And don't forget the thank-you notes!) Also, those invited to your engagement party should be on your wedding guest list as well."
Q: "We have both a son and a daughter marrying next summer. It would be efficient and fun to have one party since the couples are close friends, but is it appropriate to entertain our friends at one engagement party for both couples? Because one wedding will be smaller than the other, some of the party guests would be invited to just one of the weddings."
A: "It's perfectly fine to have one engagement party for both of them. The only tricky part is that your invited guests may assume they will be invited to both weddings and bring a gift for your son and daughter only to discover later on that they will be attending just one wedding. So, I would advise you to request no gifts on the invitation to avoid this confusion. 'Your presence is the only gift necessary' or something to that effect will let guests know that you do not expect them to bring presents. You can also spread the word among your friends and relatives that you would prefer they not bring gifts. However, in spite of your request, some of your guests will no doubt bring gifts anyway — but that is their choice."
Plus, check out 25+ Ways to Throw a Memorable Engagement Party.
—Diane Forden