Many brides choose to plan their wedding in gorgeous outdoor locations — after all, countryside nuptials have irresistible appeal. Who wouldn't want to dance the night away under the stars? But planning a Western-themed wedding comes with its own unique considerations; here are ten things to keep in mind throughout the planning process:
1. You can host a country-themed affair in almost any setting, but a barn, ranch, farm or meadow are natural choices to make the most of your theme and to incorporate the setting's natural beauty. Remember that all venues aren't created equal and to keep practical logistics in mind when selecting the perfect place for your wedding. For example, will you need additional power, restrooms, or water? Or does the venue provide all of the site necessities and it only requires fabulous décor? Check out 11 questions to ask your reception site.

Photo Credit: Otto Schulze Photographers
2. Colors can range from wildflower blues and purples to vibrant reds to muted earth tones. The palette options are limitless with a country-themed wedding because you're working with natural surroundings, as opposed to a ballroom, where your flowers and linens might clash with the carpet or other preexisting elements.

Photo Credit: Kate Holstein
3. Keep the décor clean and avoid too much kitsch. In the wise words of Coco Chanel, "Before leaving the house, a lady should look in the mirror and remove one accessory," and this also applies to wedding decorations. Lace, burlap, and Mason jars are fitting for some venues, but be sure to use these types of items sparingly so that they enhance the feel of your event as opposed to overwhelming the space. It's all about balance to create a sophisticated ambiance and not just a purely "country" wedding.

Photo Credits: Jason + Gina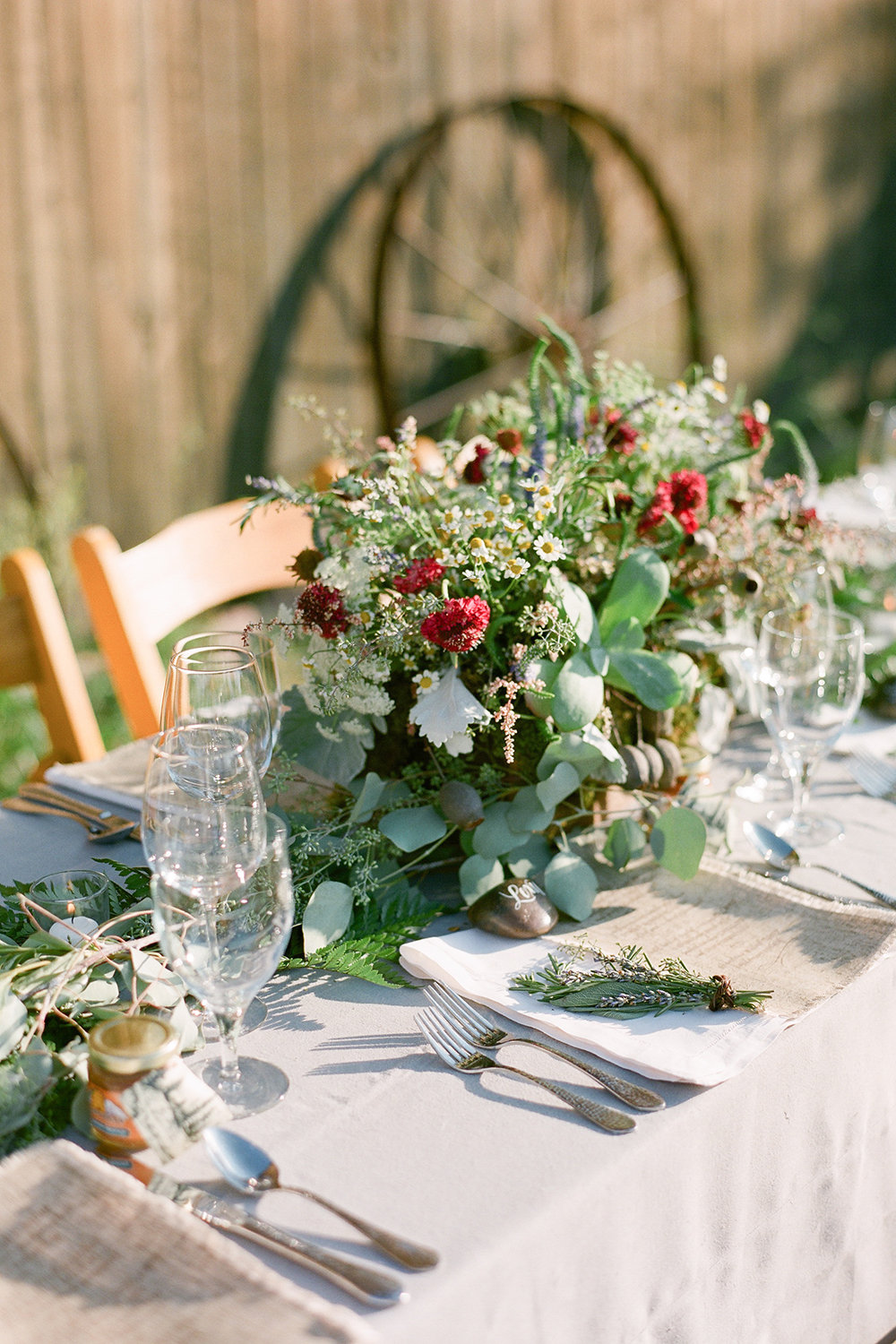 Photo Credits: Laura Murray Photography
4. Incorporate unique items that you can find in or around your venue. For instance, if you're getting married in a barn, use old wagons as beverage and food stations, and farming tools or horseshoes to decorate the escort card table. Instead of a stretch hummer limo, a vintage car or horse and wagon may fit your grand departure better.

Photo Credit: Kate Holstein

Photo Credit: Kate Holstein

Photo Credits: Laura Murray Photography
5. A country band or bluegrass band can create the perfect ambiance for this special occasion. (If you prefer to have a traditional wedding band, consider having a country musician play during just the cocktail hour to get guests in the festive spirit.) Classic country hits for the first dance include "Then" by Brad Paisley, "Only You Can Love Me This Way" by Keith Urban or "Bless the Broken Road" by Rascall Flats.

Photo Credit: Kate Holstein
6. Keep your venue in mind — specifically, what the ground is like — when selecting shoes and the size of the skirt on your dress. Seven-inch stilettos look fabulous but they might sink into the soft grass, and you want to be comfortable walking down the aisle and dancing the night away. Additionally, if you're the type of bride who might fret about getting dirt on your dress, choose something with a lower profile skirt.

Photo Credit: Jason + Gina
7. Offer your guests a more refined menu than standard country fare. Dress up the ribs with a unique sauce or serve a local tenderloin. Remember that presentation is key! The red and white checked paper from years past, although festive and fun, could be replaced with simple china to create a slightly more elevated and chic farm-to-table feel.

Photo Credit: Laura Murray Photography

Photo Credits: Kate Holstein
8. Let your guests know that they are in for a fabulous time by sending invitations and save-the-dates with "We're getting hitched!" wording. Print your invites on burlap or include fun illustrated icons. Be sure to use a creative font: Jackpot, Bleeding Cowboy, Smokum, Old Western, Nashville and Dry Gulch are just a few of our favorites. (P.S. Whether you choose casual cowboy attire or a more formal dress code, note this information on your invitation or include an insert card. The appropriate attire will not only make your celebration more festive but will also ensure comfortable and happy guests.)

Photo Credit: Kate Holstein
9. Most outdoor and "country" venues have minimal lighting, so this is something to think about. Twinkle lights or bistro lights can look very beautiful strung from rafters, or you can get creative and hang Mason jars with LED lights in them.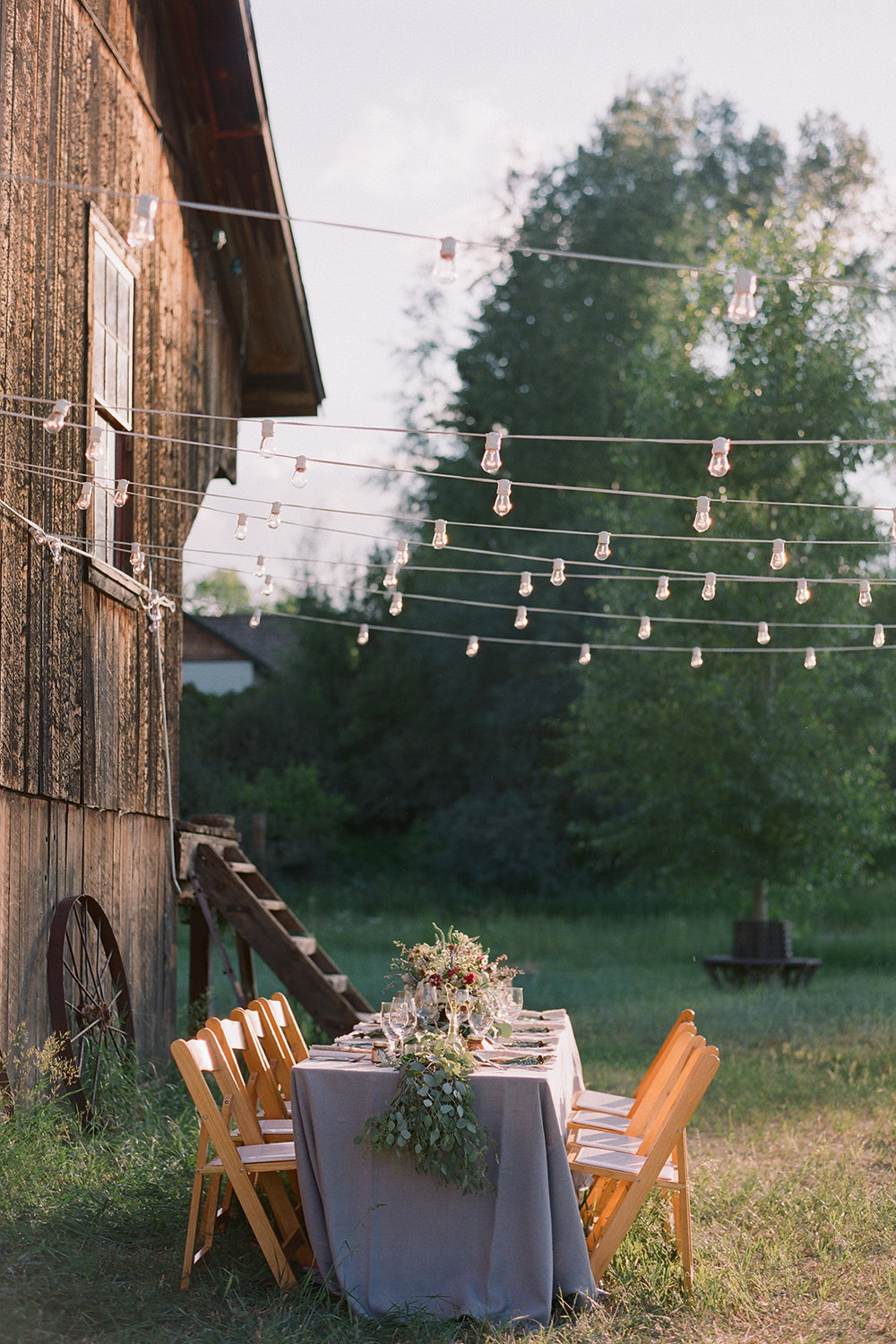 Photo Credit: Laura Murray Photography
10. The most important thing to remember when planning is to keep to keep the country influences as an accent, as opposed to an overwhelming theme. Blend the elegance of a traditional wedding with the natural rustic influences of your venue. Simple, personalized details will elevate the affair and ensure your guests will walk away exclaiming how unique and different your special day was.
—Virginia Edelson
Virginia Edelson is the founder and principal of Bluebird Productions. She adores the outdoors and all that the Roaring Fork Valley has to offer. Based in Colorado, Bluebird Productions specializes in the highest quality personal service. They know that the details are everything- and they begin by designing an event that speaks to who you are and the magical moments you want to share with those you love. Their events are exquisitely styled, carefully detailed and ultimately memorable. Their clear communication, personalized service and desire to have fun makes the wedding-planning process easy and enjoyable!