In honor of April Fools' Day, unleash your inner prankster by playing one of these innocent tricks on your wedding guests. 
A Surprise Wedding
The ultimate shock would be to pull off a secret wedding — invite all of your guests over for an "engagement party," and then reveal that you're actually getting married that night! (Wedding planner Tracie Domino recommends letting your parents and siblings in on this secret to avoid hurt feelings).

Photo Credit:Jennifer Weems on Petal Wishes via Lover.ly
Shake Up Your First Dance
Start off your first dance by swaying to a lovely, romantic tune. Pre-arrange for your DJ to shut off the music halfway through. As you shoot him a quizzical look, he switches to a fast-paced party jam, and you and your groom break out into a choreographed dance!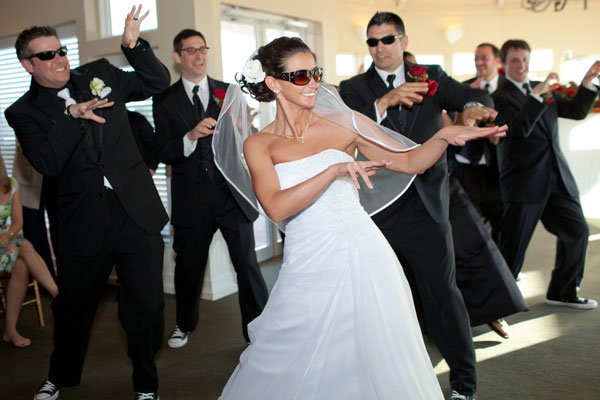 Photo Credit: Shoreshotz Photography
Another idea: Choose a song with completely misleading lyrics, like "She's Having a Baby" by Dave Wakeling. "The bride and groom planned that about 30 seconds into the song to have the band stop, joke about playing the wrong song and then played their actual first dance," said Domino. "The look on the guests' faces was priceless!"
Toss a Multiplying Bouquet
Talk to your florist about creating your bouquet in multiple pieces. When it's time to toss it to all of the single ladies, discreetly remove the ribbon keeping the pieces together so that your bouquet splits as it flies through the air.

Photo Credit: Kylene & Ryan Studios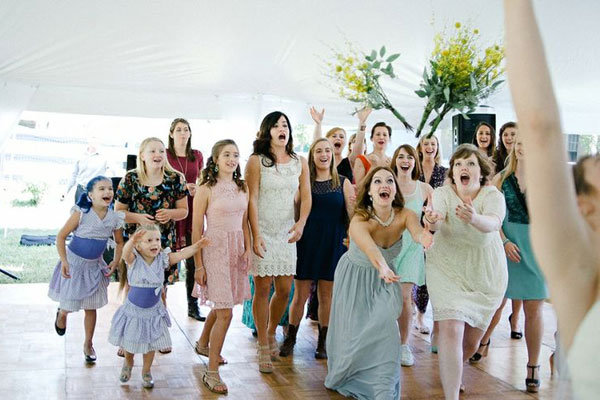 Photo Credit: BJ Enright Photography
Switcheroo Garter Removal or Bouquet Toss
The garter removal is one of the most-skipped wedding traditions these days, but there are so many ways to have some fun with it. We've heard of grooms pulling out enormous underwear, a guest's wallet, and even a doll.

Photo Credit: Birdseye Photography
For your bouquet toss, throw a rubber chicken first instead of your flowers.

Photo Credit: Ken Stabile Photography
A Famous Guest
Celebrity wedding crashers are always making headlines. Fool your guests by hiring an impersonator to "crash" your wedding.

Photo Credit: Christina Sanchez Photography
Tell us: What are the funniest pranks you've seen played at weddings?
—Kristen Klein