Don't be afraid to be unique and let your personality burst through on your wedding day! Some of the best weddings are the ones that bring something new to the table for the guests to enjoy. When choosing the wedding venue, it's becoming more popular for couples to seek out locations that really reflect who they are as a couple. Here, 5 of the most unexpected places to tie the knot.
Museum
Getting married in a venue that holds everything you're interested in will really give your guests a feel for what you and your partner are all about. Call up your favorite museum and see which galleries and exhibition rooms can be rented for events. You could find yourself saying your vows among the dinosaurs, in front of your favorite painting, or inside a planetarium!

Photo Credit: Lizzy C Photography on Polka Dot Bride via Lover.ly
Are you a movie buff? Seek out a museum dedicated to your favorite flick. At the Warner Bros. Studio outside of London, you can hold your reception in Hogwarts' Great Hall from the Harry Potter series! Complete your guests' experience with a guided tour and wand-waving lessons.

Photo courtesy of Warner Bros.
Underwater
Take the plunge like a mermaid and merman in an underwater wedding (don't worry, you won't have to hold your breath!). Many scuba diving companies will work with you to make your underwater dreams a reality. Tip: make sure you're wearing waterproof makeup and a lightweight wedding dress that won't weigh you down in the water.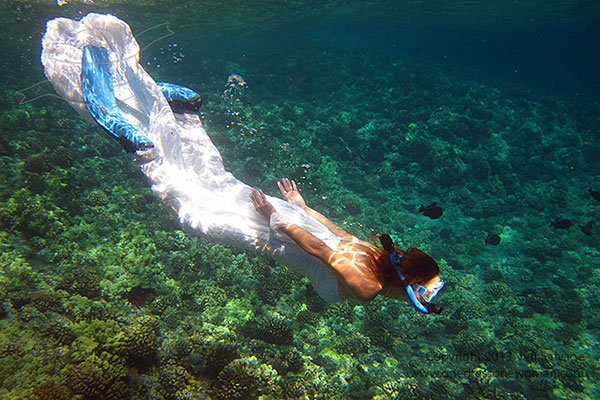 Photo courtesy of onedressonewoman.com
Not in love with the idea of getting wet? Consider an aquarium instead, where you can dine and say "I do" with glass separating you from the sea life.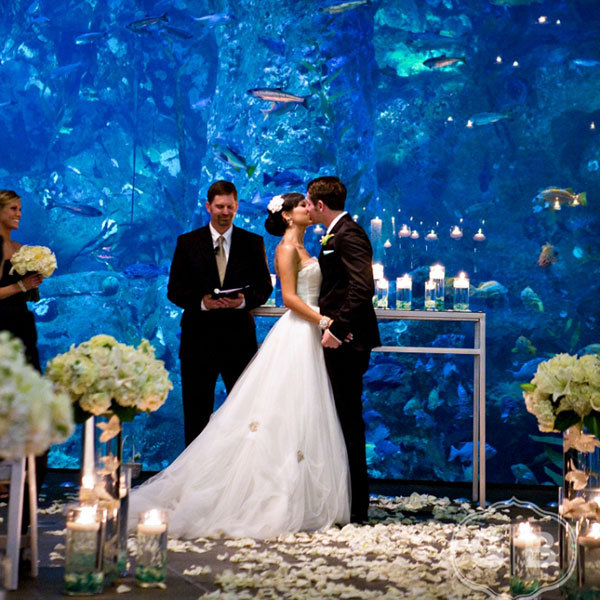 Photo Credit: Gabriel Boone Photography
Carnival
Seek out a real funfair setting, where you and your guests can have a night of fun and games to celebrate your newly-wedded life. Or you can create your own carnival atmosphere by renting a tent, setting up some games, and even booking a carousel or stilt walkers.

Photo Credit: Lauren Fair Photography on Bridal Musings via Lover.ly
Theater
From an opera house to an old-fashioned movie theater, there are plenty of theater and event venues that are more than happy to put their exquisite stage settings up for hire. Get married in a way that turns your love story into a piece of dramatic art!

Photo Credit: Mulberry Lane Studio
Zoo
For animal lovers, the zoo is a fantastic place to host your wedding. You can enjoy a day of fun around the people you love and the animals you love, too! Most zoos have an event space available, and after exchanging vows, you and your guests can explore the animal exhibits. 

Photo Credit: Sarah Kate Photographer
Tell us: What else would you add to our list? Are you considering an unconventional wedding venue? 
—Jennifer Smith, content writer for Ivy Ellen Wedding Invitations