We're swooning over this gorgeous green and white inspiration shoot from Michael Paul Photo. Featuring with shamrocks, horseshoes, crafty DIY projects, and plenty of luck and love, this styled shoot is filled with fun ideas you can copy for your own St. Paddy's Day celebration. Take a look!
The bride accented her beautiful gown with a shimmering green bolero and a matching sash around the waist. 
The bride's real shamrock tattoo is the perfect accessory for a St. Patrick's Day wedding!
In keeping with the old superstition, the bride placed a sixpense in one of her (incredibly gorgeous) shoes. As the story goes, a sixpense will bring the couple a life filled with good fortune. 
"To see the bride put on her shoe with the sixpence coin was just another reminder of how traditions can make all the difference in your special day," said the photographer.
Any one of these gorgeous bouquets is a perfect choice for a green and white wedding. Which is your favorite?
The beautiful table décor was filled with shamrocks, candles, and rustic flowers.
The horseshoe, a symbol of good luck, is perfect for place cards—guests can take their horseshoe home with them for a life filled with good luck. Legend says that, in order to keep the luck from running out, the horseshoe must be hung in the home with the ends facing up.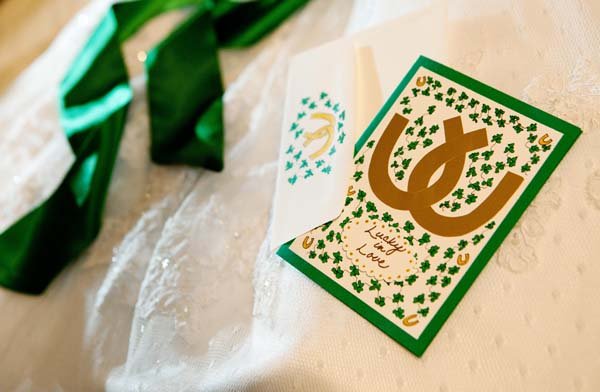 Sweet treats were topped with shamrocks, and the cake was surrounded by green Trix flowers.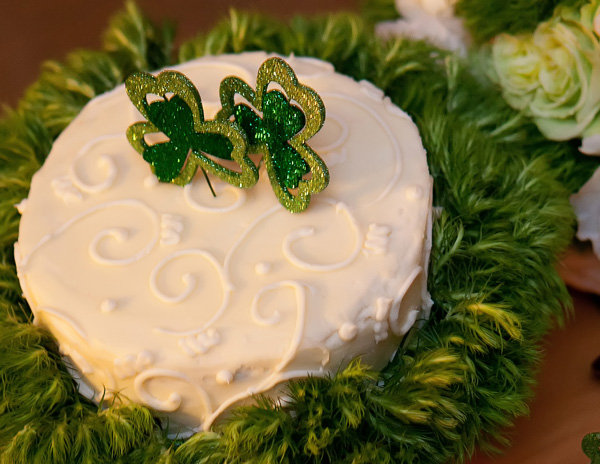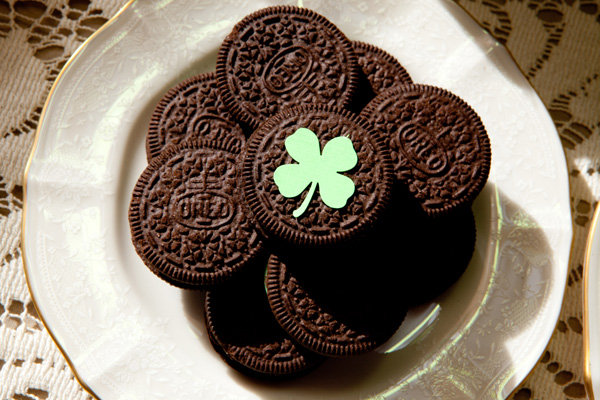 Send each guest home with a little jar of personalized green and white M&Ms—accessorized with a shamrock, of course!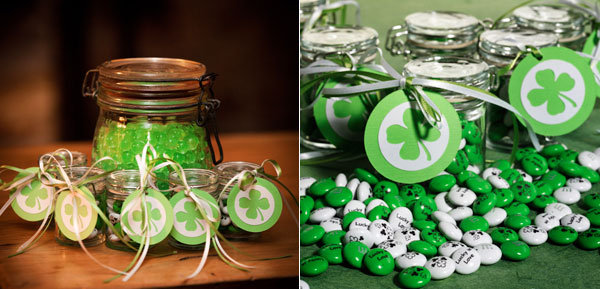 "With the couples' excitement came a chance to be creative and realize that this couple is not only lucky to have each other but lucky to be in love," said the photographer. "We, as a team of wedding professionals, also felt very lucky to be a part of this truly magical and blessed day."
Vendors:
Photography: Michael Paul Photo
Hair Stylist: Salon Tres Chic
Floral Designer: Floral Affairs
Dress Store: Aliber's Bridal
Jewelry: Imagine Jewelers
Bakery: Hager Bros. Farm Market
Ironwork: Morrell Metalsmiths
—Kristen O'Gorman Klein