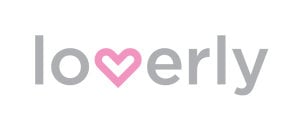 Loverly is the heart of weddings: a visual inspiration search engine designed to help brides discover ideas, people to hire, and things to buy. Loverly makes finding beautiful wedding inspiration easier than ever! Their images are powered by the best wedding publishers and wedding shopping partners on the web. Find Bridal Guide on Loverly >>
Theme weddings are perfect for the sports-loving couple, and while we love a good navy and white color palette to honor the Yankees or choosing to say your vows in the field where your favorite team plays, we prefer the more subtle nods to your love of the game. Simple touches here and there are elegant and charming, without being over the top. Here are 8 ways to honor your favorite team without sacrificing style.
1. Your guest book is a treasured keepsake and a great place to add a bit of fun into your big day.

Photo Credit: Andi Grant Photography on Heart Love Weddings via Lover.ly
More creative guestbook ideas >>
2. We love this beautiful ring, showcased in true fan fashion.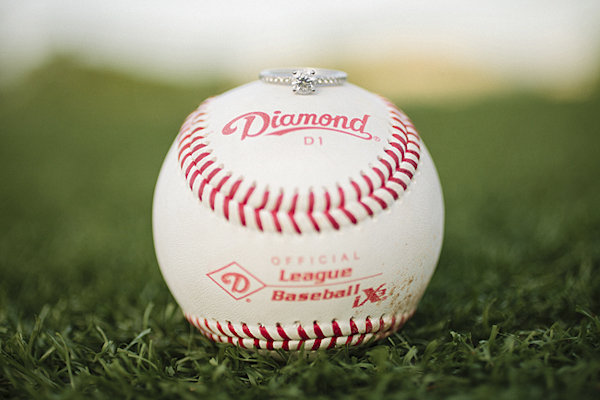 Photo Credit: Love by Serena via Lover.ly
Gorgeous rings, stunning shots >>
3. Here's a fun way to offer your guests a late-night snack, stadium style!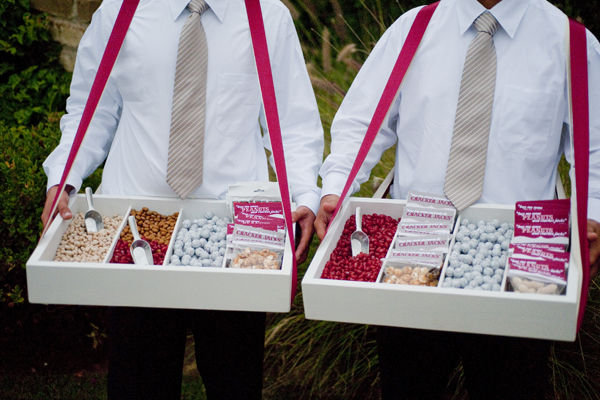 Photo Credit: Schnack Studios on Heart Love Weddings via Lover.ly
Late night snacks your guests will never forget >>
4. Who says you need sparklers or bubbles? Show your team spirit with festive pom poms as you make your grand exit.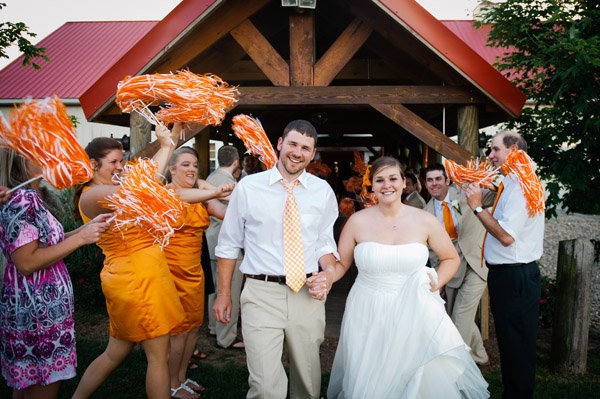 Photo Credit: KPL Photography on Southern Weddings via Lover.ly
Ride off in style in a vintage getaway car >>
5. Instead of clear vases or wooden boxes for your centerpieces, how about a trophy cup?

Photo Credit: Mike Larson Inc. on Panacea Event Floral Design via Lover.ly
Get inspired with seasonal table décor >>
6. Give your sweetie a sexy surprise when he goes for the garter.

Photo Credit: S.C. Photography on S.C. Photography via Lover.ly
Show a little leg with a sexy lace garter >>
7. Looking for the perfect gift for your groom? He'll love custom cufflinks he can wear on the big day and for years to come.

Ravi Ratan 'Baseball' Cuff Links From Nordstrom via Lover.ly
Get ideas for your guy's wedding day accessories >>
8. And a little something for you — add some "charm" to your bridal accessories.

New York Yankees Primary Logo Charm Bangle From Alex and Ani via Lover.ly
Shop for your wedding day jewels >>
—Annie Lau