They say it's good luck to have rain on your wedding day...but we know that's little consolation to the bride who always dreamed of having an outdoor wedding and has to move it inside at the last minute. On the plus side, though, there's something so beautiful about a photo in the rain. As we gear up for yet another rainy weekend here on the East Coast, we asked two of our favorite photographers to share how they work with the rain to achieve stunning wedding pictures.
Don't Be Afraid to Get a Little Wet

Photo Credit: Hoffer Photography
"If you're trying to take photos in the rain while keeping your dress dry, you might as well forget it," said Tony Hoffer of Hoffer Photography. "The reality is that if you're going to get cool photos in the rain, you're going to get a bit wet. That's the fun part! Get out and act like you're on the poster for The Notebook. It looks way more interesting that way anyway!"
"Playing in the rain has always been one of my favorite things, and puddle-jumping is even more fun with a camera," said David Shirk of Unplugged Photography. To quote renowned photographer Sam Abell: "Bad weather makes good pictures."

Photo Credit: Unplugged Photography
The Best Kind of Rain: A Downpour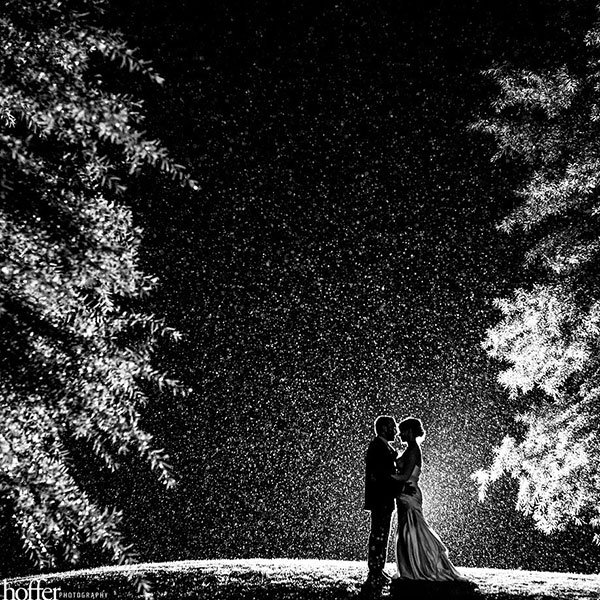 Photo Credit: Hoffer Photography
"We've shot in hurricanes, blizzards and complete downpours, but it's helpful to be realistic about it. A downpour is the best looking kind of rain, but you really can only get a few seconds at a time before everything (equipment included) gets completely ruined," said Hoffer. "We'd always rather shoot on a day with thunderstorms than a day with a slow and constant rain." 
But be smart: If you see lightning, head back indoors, advises Shirk. And be aware of your surroundings: "Reflections on the asphalt of a quiet city street can look amazing, but you don't want to be anywhere with traffic."
Time it Right
"Twilight and night provide the best opportunity to take amazing rain picture," said Shirk. "A remote flash hidden behind a couple enables the photographer to freeze the raindrops and make the them look magical. City lights and streets are amazing during and just after the rain, and storm clouds can make for a dramatic background for pictures."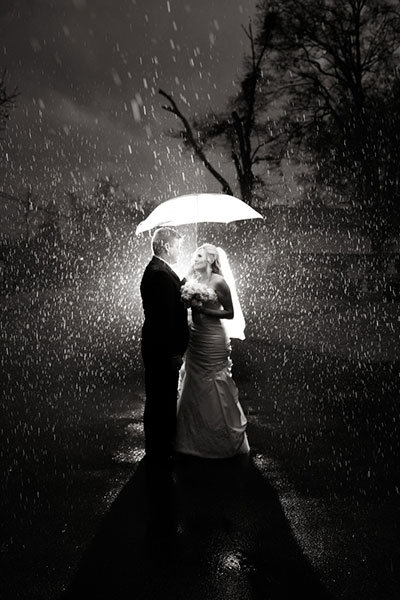 Photo Credit: Unplugged Photography

Photo Credit: Unplugged Photography

Photo Credit: Hoffer Photography
How to Prepare
If you're worried about rain, bring it up while interviewing photographers, advises Shirk. "Ask about whether they have experience making the most on rainy days — or if they're willing to learn." 
As for you and your groom, all you'll need is a sense of adventure, said Hoffer. "We work mostly with really laid-back clients, so most people embrace getting a little wet for the sake of a cool photo."
"Shooting in the rain is usually best when it's spontaneous, so we usually don't plan much for it," said Hoffer. "If we can, we'll shoot one-handed and with an umbrella, but usually our equipment gets wet, and that's part of the fun. Most professional equipment is built to last (at least that's what we tell ourselves), so a little rain can't hurt, right?"

Photo Credit: Hoffer Photography
Cheat a Little
Take advantage of an overhang, pack some oversized umbrellas, or take a photo in a car. "In some locations, a large doorway or patio near the rain will be sufficient to give the effect," said Shirk. 

Photo Credit: Unplugged Photography

Photo Credit: Hoffer Photography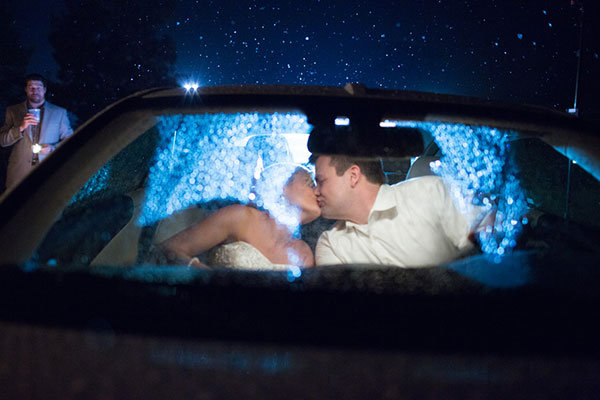 Photo Credit: Unplugged Photography
Or, just save your rainy wedding photo for the last shot of the night— who cares if you get wet then?!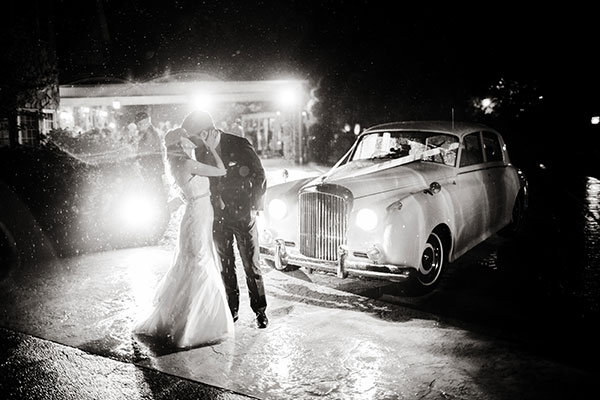 Photo Credit: Unplugged Photography
—Kristen O'Gorman Klein