If you've spent any time on Pinterest, it probably feels like every couple does a "first look" before the ceremony these days. But the truth is, 77% of BG brides stick to the tradition of not seeing each other before the ceremony. Wondering if a first look is the right choice for you? Here, the biggest benefits and drawbacks:
PROS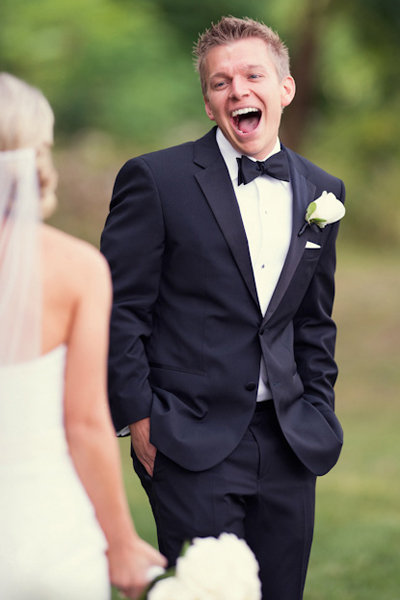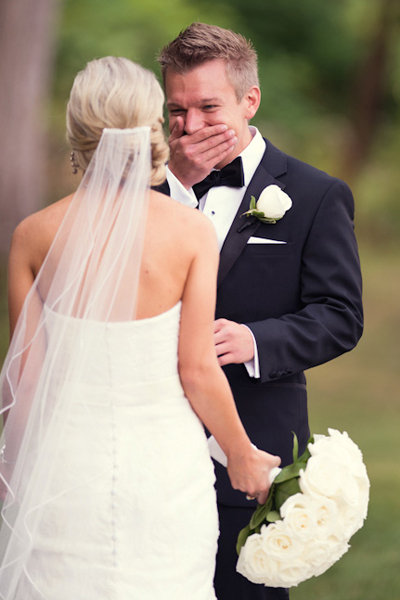 Photo Credit: Joe Elario Photography
You'll have more time for photos
When you can't take any photos together until after the ceremony, you're putting yourself on a serious time crunch — especially if your ceremony and reception are held in the same location, meaning you only have the cocktail hour to get all of your shots. It may sound like plenty of time, but rallying the troops for your group photos can be harder than you'd think, leaving you with barely any time to get photos of just the two of you. But when you have a first look, you ensure that you capture plenty of sweet photos of you and your beloved. An added bonus: Your hair and makeup will be perfectly fresh and photo-ready for all of your photos.
You'll quell any nerves
Even brides who are 100% confident in their relationships can have a momentary "what if he doesn't show up?!" freak out. Seeing each other beforehand lets you know that he will be there waiting for you at the end of the aisle. And even if your nerves have nothing to do with wondering if he's getting cold feet, seeing each other before the ceremony can be a huge source of comfort and will help you feel more relaxed for your walk down the aisle.
You get to experience that special moment in private
If you're a private person, you may not want to have a big emotional reaction when you first see each other in front of all of your closest friends and family members. During a first look, you can really let the emotions run free. Plus, you'll have the chance to talk to each other, which you can't do during your ceremony. 
See our favorite first look photos ►
CONS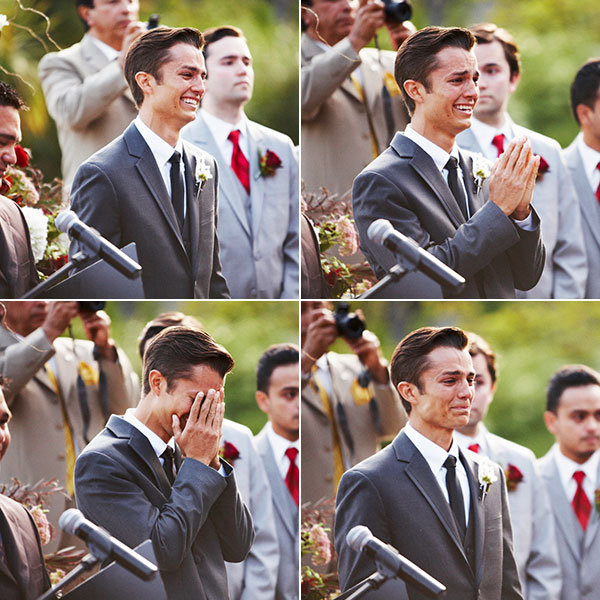 Photo Credit: Josh Elliott Photography
You'll need to start your day earlier
Taking photos beforehand moves up the entire timeline of the day. You'll need to wake up earlier, get your hair and makeup done earlier, and possibly even have your limo booked for a longer period of time so that it can take you to the photo location, then the ceremony, then the reception.
The ceremony may feel anticlimactic
If you've always dreamed of sticking to tradition and having your groom see you for the first time as you walk down the aisle, a first look can take away some of that excitement. And not every groom has an overly emotional reaction during the first look — if you have your heart set on that and it doesn't happen, you could end up disappointed that you gave up the big ceremony reveal.
The moment can feel staged rather than spontaneous
When you do a first look, you're very aware that your photographer and videographer are standing two feet away from you, ready to capture every emotion. Of course, there are many, many more people watching you during your ceremony, but you have more distance from your spectators than during a first look.
See more emotional reactions from grooms during the wedding ceremony ►
Tell us: Will you do a first look before the ceremony?
—Kristen Klein