It's official: Kim Kardashian is expecting her first child with Kanye West in 2013! Get all of the details here; plus, check out other high-profile couples who are rewriting the "first comes love, then comes marriage..." equation.  Check out more celebrity predictions for 2013 here!
1. Kim Kardashian
During a performance in Atlantic City last night, the 35-year-old rapper blurted out the happy pregnancy news to over 5,000 concert-goers. "Stop the music and make noise for my baby mama," he said, referring to his girlfriend of eight months, 32, who was in the audience. Naturally, the Kardashian clan was quick to confirm, tweeting congratulatory messages shortly thereafter. Big sister Kourtney wrote, "Been wanting to shout from the rooftops with joy and now I can! Another angel to welcome to our family. Overwhelmed with excitement!" Grandma-to-be Kris Jenner revealed that she is "A happy girl!!!!!!!! Wowza! Oh BABY BABY BABY."
The reality show star has been vocal about her desire to have kids: During an episode of Keeping Up, she received fertility treatments. Back in September, during an appearance on The View, Barbara Walters asked if she wanted to conceive with boyfriend West. Kim responded, "At the space that I am in life now, kids are definitely something I want...I think I fell in love so quickly and wanted that to be my life so badly [before dating West] but I just didn't take the time to find someone." E! News reports that Kim is about three months along, but there's a catch—she's still legally married to Nets forward Kris Humphries. In February, they will continue their divorce proceedings, so once that chapter of her life is finally over, we predict she won't wait long to become a Mrs. again.
2. Jessica Simpson
On Christmas Day, the singer and fashion designer, 32, confirmed that she is expecting her second child with football player and fiancé Eric Johnson, 33. She gave birth to their daughter Maxwell eight months ago. The Weight Watcher spokeswoman will reportedly resume the healthy eating program after giving birth; for now, she's just enjoying a family vacation in Hawaii. The holiday jaunt has sparked rumors that Simpson is planning a secret destination wedding. A week ago, she served as Maid of Honor in best friend Cacee Cobb's nuptials.
3. Angelina Jolie
Brangelina got engaged back in April after being pressured by their brood to get married already. The actress and humanitarian, 37 and her fiancé, 48, have six children: Maddox (11), Pax (8), Zahara (7), Shiloh (6), and twins Vivienne and Knox (4). So when's the big day set to take place? "The time is nigh. It's soon. I got a good feeling about it," Pitt told reporters a month ago at the premiere of his new film, Killing Them Softly.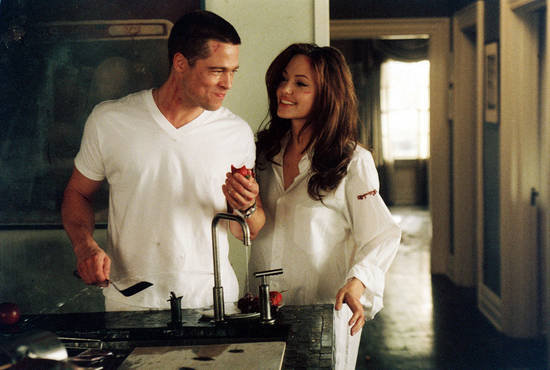 4. "Snooki" Nicole Polizzi
The former Jersey Shore reality star, 24, gave birth to son Lorenzo in August. The reformed party girl quickly adapted to her new lifestyle as a Mom, trading late nights out with friends for late-night diaper changes and feedings. She says she couldn't do it without the help of father and fiancé Jionni LaValle, who is very hands-on. "Lorenzo has made me a better person. I'm so much more mature. He's just my life," Polizzi told People magazine. Her newfound maturity may have made her better-equipped to walk down that aisle.
TIE: Kristin Cavallari or Kristen Bell 
Kristin Cavallari welcomed son Camden with Chicago bears quarterback Jay Cutler, 29, in August. The former Hills reality star, 25, told E! News that although she and her fiancé know where they want to get married, they may hold off on the wedding to have a second child together. "Everything's just sort of up in the air and our world is just based on Camden right now. So it depends on how that goes."
Kristen #2 has been engaged to actor Dax Shepard, 37, since 2009. The House of Lies actress, 32, confirmed that they will welcome their first child in the spring of 2013, but they have pledged to remain unwed until gay marriage becomes legal.
—Stefania Sainato