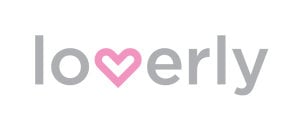 Loverly is the heart of weddings: a visual inspiration search engine designed to help brides discover ideas, people to hire, and things to buy. Loverly makes finding beautiful wedding inspiration easier than ever! Their images are powered by the best wedding publishers and wedding shopping partners on the web. Find Bridal Guide on Loverly >>
Forget "chicken or fish?" —wedding food no longer has to be boring. Flavor and presentation are equal players on these plates, even if the budget doesn't allow for a celebrity chef. We eat with our eyes first, and serving a piece of crispy, buttery halibut on a paper plate just won't cut it. Go a step further with your passed hors d'oeuvres and offer small bites in a soup spoon or an antipasto platter on wooden plank carving boards. Here are 10 of our favorite inspiration images of delicious food and stunning presentations.
1. Start off the evening with passed hors d'oeuvres that pack as much style as flavor. Ever thought of serving soup in a single-bite (or, slurp) spoon?

Photo Credit: Steve Steinhardt on Inspired By This via Loverly
2. Get creative! We love these simple paper cones much better than small plates.

Photo Credit: Steve Steinhardt on Inspired By This via Loverly
Get ideas for creative late night snacks >>
3. Take your antipasto course up a notch with wood planks and carving boards as your serving dishes.

Photo Credit: Flory Photo on Snippet and Ink via Lover.ly
Our favorite rustic-chic weddings >>
4. Move over, iceberg lettuce — a simple dinner salad packs a ton of personality with dark greens and colorful vegetables.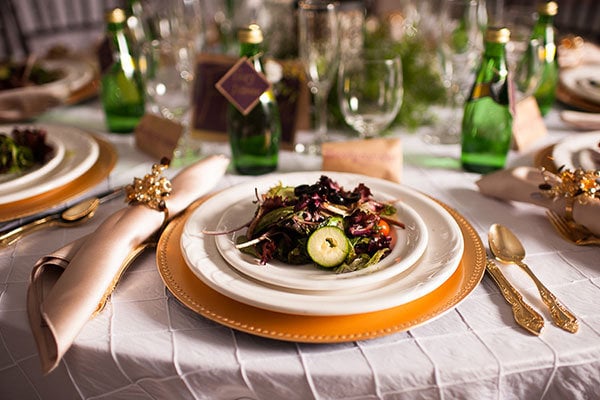 Photo Credit: Laura Yang Photography on Every Last Detail via Lover.ly
Wedding day inspiration for eco-friendly couples >>
5. Nothing says togetherness like a family-style table. Here, the couple chose exotic dishes filled with colorful root vegetables and leafy greens. Our mouths are watering!

Photo Credit: Dominique Bader on Snippet and Ink via Lover.ly
First looks that will warm your heart >>
6. Serving pasta? Add a few heirloom tomatoes or even colorful grape tomatoes to the dish for an instant eye-catching kick. And we love these small-bite bowls!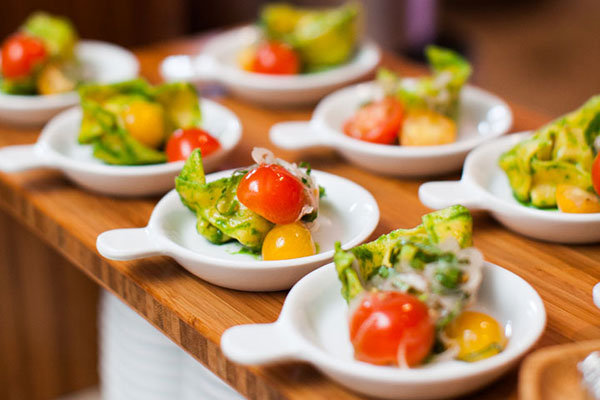 Photo Credit: The Popes Photography on Lisa Dupar Catering via Lover.ly
Keep warm during your chilly winter wedding >>
7. Choose a culinary theme close to your heart and let the food put on the show, like this gorgeous silver dish of buttery shrimp and grits. Yes, please.

Photo Credit: Spindle Photography on Southern Weddings via Lover.ly
Southern weddings are just peachy keen, y'all >>
8. Colorful food, like this fancy fare from a gourmet taco bar, stands out on simple white china.

Photo Credit: Mr.Haack on Inspired By This via Lover.ly
Ole! Fiesta flare done right >>
9. Buffets don't have to be bland! Try doing mini-buffets at each table for a homestyle, cozy feel.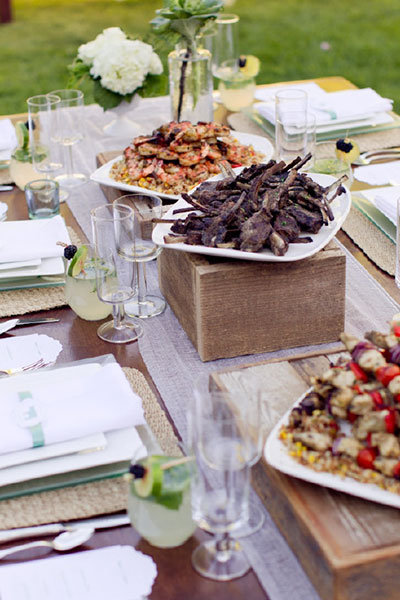 Photo Credit: Cameron Ingalls on Canvas and Canopy via Lover.ly
You'll love these campground weddings >>
10. Mason jars are trendy for summertime cocktails, but how about using them for food? Loaded mashed potato bar, anyone?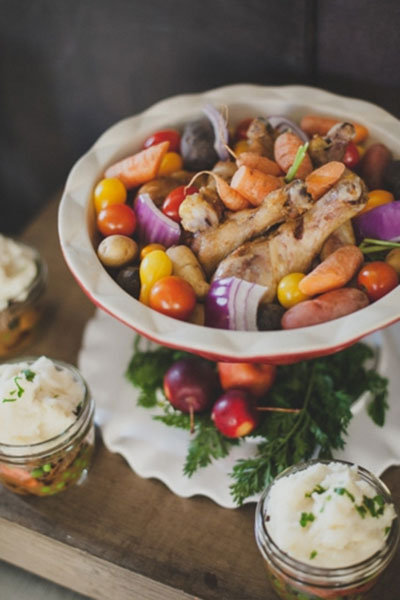 Photo Credit: Chaz Cruz Photographer on Every Last Detail via Lover.ly
Our favorite shades of summer for beach brides >>
—Annie Lau