Guest blogger: Emma Arendoski, founder and CEO of Emmaline Bride, The Wedding Guide for the Handmade Bride, a website dedicated to all things handmade for weddings. Launched in 2009, the site has grown into the leading online voice for handmade weddings. Emma's mission is to empower her readers to support handmade through the use of handcrafted wedding items for all parts of the wedding planning process.
Here, she shares an excerpt from her first book, The Handcrafted Wedding: More Than 300 Fun and Imaginative Handcrafted Ways to Personalize Your Wedding Day (Sellers Publishing, October 2012).
When giving a favor to guests, consider functionality as well as individuality. Tie these two elements together, and guests will hold onto your favor long after the wedding day.

Photo Credit: © 2012 Michelle Gardella Photography with Kathleen Glass of Sassafras Vintage
Book of Recipes
My mom and sister included a blank recipe card with my bridal-shower invitations, asking guests to contribute a favorite recipe to a recipe book at the shower. As a result, I have a collection of the most delicious passed-down recipes from my family and friends; each recipe card is handwritten, with helpful hints about how he or she perfected the recipe over time or why it is his or her favorite. My recipe book is one of my most cherished gifts, one that I reference on a regular basis. Give guests a similar gift by including a handmade booklet of your and your spouse-to-be's favorite recipes, printed from your computer and finished with a patterned paper cover (made from scrapbook paper or card stock).
Pencils
There are few things sweeter in autumn than falling leaves, apple cider, donuts, and freshly sharpened pencils for the first day of school. If you're planning a wedding with a school theme, consider this favor: create a kraft tag with your monogram or "thank you" stamped onto the front. Punch a hole on the side and string twine through it. Wrap the twine around a pack of five no. 2 pencils (personalized with a fine-tip marker, or ordered from an online source) and place it at each setting, along with a place-card apple.
Wedding CD or DVD
Keep guests singing along to your handpicked wedding playlist with a CD. Order personalized CD stickers from a print service (like beau-coup.com) that include your names, the wedding date, and track listings. Or, before the wedding, compile a thank-you video to tell guests what their attendance at your wedding means to you. The video should be short and sweet (a minute or two in length) and completely heartfelt. Gift the video as a DVD for guests to watch after the wedding.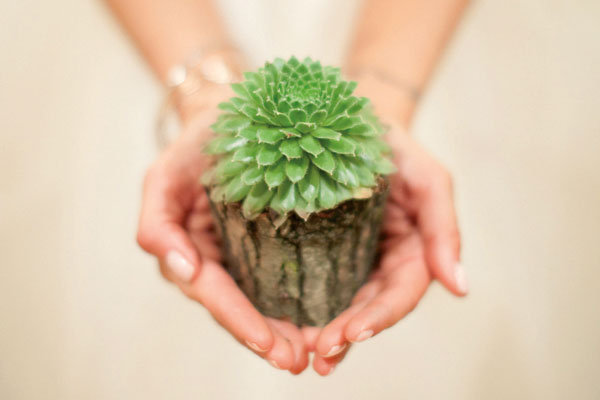 Photo Credit: © 2012 Joey Kennedy Photography with Jayne Weddings and Events
Succulent Favors
A succulent is a long-lived, easy-to-care-for plant, which makes it a great wedding favor. You can purchase succulents online in bulk from So Succulent (blossomfarm.com). You can even order the plants in small galvanized pails or miniature watering cans, ready for gifting. Include care instructions for guests, along with a thank-you tag.
Seed Packet Favors
Seed packets make terrific wedding favors because they are useful and inexpensive. To create a unique favor, customize muslin drawstring bags with a floral stamp, and place a seed packet inside. Print a message on kraft tags, telling guests, "Love Has Bloomed," punch a hole in the tags, string twine through it, then tie it around the muslin bags. Secure it with a bow.
Or, design your own custom seed-packet favors. At earthlygoods.com, you can custom design the front and back of a seed packet to include your names and wedding date.
Soap Favors
Soap is one favor you know guests will use. Place a handful of miniature soaps in a small spice bag (my favorite source for these is regencywraps.com) you've customized with a thank-you stamp. Look for unique soap shapes at www.soapsationalsoaps.etsy.com: cowboy boots for a Western wedding, Eiffel Tower soaps for a Parisian theme, starfish for a beach wedding, or sailboats for a nautical theme.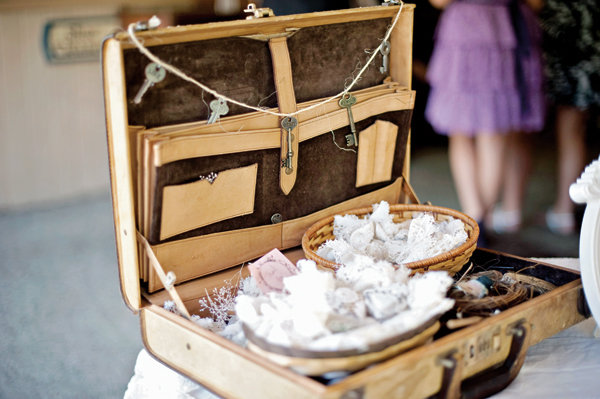 Photo Credit: © 2012 Thomas Gardella for Michelle Gardella Photography, soap by Soap For Your Soul
Ornaments
If you're having a winter wedding, you can create ornament favors. Buy clear plastic, round ornaments, craft paint, and coordinating ribbon. Remove the metal ornament hook, pour a small amount of paint inside the ornament, and gently swirl the ornament to allow the paint to spread across the surface. Keep rotating until the color covers the entire surface; if needed, add more paint. Allow the paint to dry overnight by standing the ornaments upright in cupcake wrappers; once it's dry, reattach the metal hook and tie a ribbon loop to the hook for easy hanging.
Or purchase unfinished wood-frame ornaments at a craft store. Paint the wood using a sponge brush and craft paint; once it's dry, insert a photo of you and your fiancé, or a printed message that says thank you, or leave the frame empty for your guests to fill as they wish. A decorative ribbon finishes the piece.
Matches
Give guests matchbox favors to symbolize how you and your spouse are "A Perfect Match." Places like foryourparty.com allow you to order matchboxes in a wide range of patterns, colors, and sizes, and with custom text.
You can make your own match "box" favors using loose wooden matches, small glass jars (with a cork or plastic topper), kraft tags, a hole punch, and ribbon. Fill the jars with matches and close. Print your own "Perfect Match" tags and secure them to the jar by punching a hole in the side of the tags and threading a ribbon through it.
Coasters
You can create unique fabric-covered coasters with 4-inch cork rounds (available in a bulk pack of about 24 for under $15 on Amazon.com). Use a pencil to trace the cork round on the back side of a piece of fabric and cut. Secure the fabric to one side of the cork round with a thin layer of hot glue; smooth the fabric with your fingers to eliminate any wrinkles. To waterproof, apply a layer of glue sealant (Mod Podge works great) with a sponge brush over the fabric; when it's dry, apply a second coat.
Feeling artistic? If you have pretty penmanship, use a gold or silver metallic paint pen to draw, write, or stencil a design on top of a cork coaster. To prevent the design from fading, coat the top with a few layers of a glue sealant. Tie four coasters together in a set with ribbon. You can also make coaster favors using inexpensive ceramic tiles (4¼ inches square) found at home-supply stores. Buy enough tiles to gift four coasters per person. Cut patterned scrapbook paper to fit the top of the tile surface; apply glue to the tile using a sponge brush. Attach the paper, using your fingers to smooth out any wrinkles. Apply a coat of glue sealant over the paper; when it's dry, apply another coat. Attach two adhesive felt dots (look for these at a hardware or home-supply store) to the bottom of each tile (to protect table surfaces). Tie each set of four coasters together with twine or ribbon.
Or, create a set of decorative coaster favors using ceramic tiles, acrylic paint, stencils, a sponge brush, clear sealant, and adhesive felt dots. Paint the tops of the ceramic tiles and let them dry, then set a stencil on top and apply another color with a sponge brush. Wait until they're dry, then apply a second coat. Finish each with a clear coat of sealant. Place two adhesive felt dots on the bottom of each tile.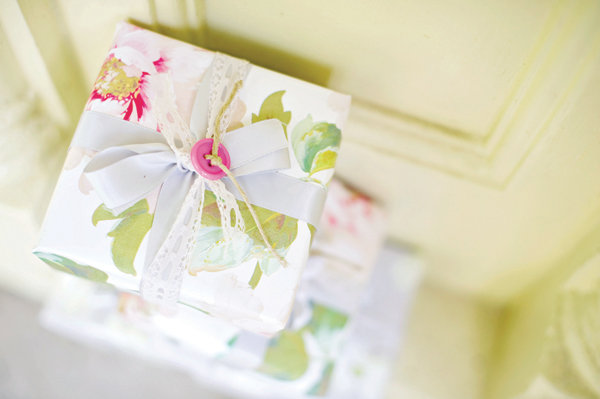 Photo Credit: © 2012 Michelle Gardella Photography 
Lanterns
For a favor that doubles as outdoor décor, consider creating Mason jar lanterns. Use them to add a romantic glow to your reception site or to light pathways to the parking lot or restroom area. After the last song is played, announce to guests that the lanterns may be taken home as favors.
Use one-quart Mason jars. Wrap wire around the mouth of each one to create a sturdy handle, adding beading for a decorative touch, if you like. Fill each jar one-third full with clean sand and snug a votive down into it, then tie a thank-you tag around the top. If you'd like to be able to hang the lanterns inside a tent (or you want to be extra careful), don't bother with the sand, and instead set a battery-operated candle in each jar.

Photo Credit: © 2012 Michelle Gardella Photography
Plant a Tree
Instead of a take-home favor, give back to nature and plant trees in your guests' honor. Create a note for each guest on card stock, thanking him or her for attending your wedding and sharing the news of the tree being planted in his or her honor.
A Donation
In lieu of spending your budgeted money on favors, why not contribute to a cause about which you are passionate? For instance, if you are an animal lover, consider a donation to a local animal shelter. Or, if you are inspired by music, contribute money to a local children's-music program toward purchasing sheet music, instruments, or supplies to keep music playing in your town.
If you can't donate money, an equally valuable donation is your time. Volunteer at a children's hospital to teach a craft, read a book, or sing a song. Or volunteer to plant trees or flowers in your community park. If you decide to donate money or time, print the details on card stock to share with your guests — help you'll be helping to promote their awareness of a particular charity.
For more great ideas, check out The Handcrafted Wedding: More Than 300 Fun and Imaginative Handcrafted Ways to Personalize Your Wedding Day (Sellers Publishing, October 2012).