We celebrated the upcoming Hunger Games movie release in the best way we know how at BG—by putting together a wedding inspiration board, of course. Suzanne Collins' bestselling trilogy is undeniably an unlikely source for wedding planning. (Even Lionsgate thinks so; they declined to comment on this story.) But if you can look past the twisted premise (a televised survival competition where districts must battle to the death for the sake of entertainment), you'll find that at the heart of it all is an incredible love story that sparks a revolution. 
The Invitations 
In lieu of traditional invitations, send lottery tickets to the reaping. Printable party invites by ClickableParty.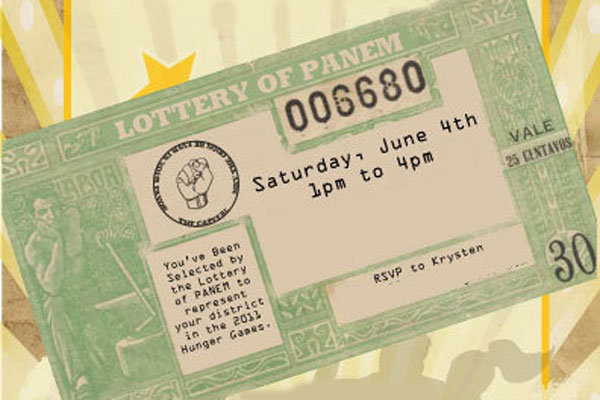 The Seating Arrangements
Sort guest tables into each of the 13 districts using this handy map.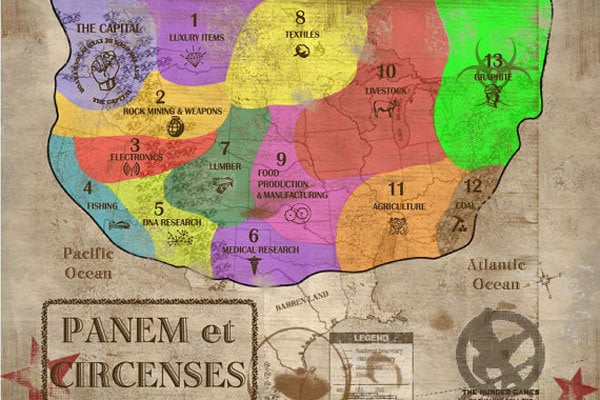 Photo Credit: ClickableParty
The Wedding Colors
Use the 12 official Hunger Games nail polishes by China Glaze (dubbed "Capitol Colours") to help you select a wedding color palette that evokes everything from Katniss's blazing Capitol appearance ("Riveting" and "Electrify") to fond memories hunting with Gale ("Agro") and coal, the symbol of District 12 ("Smoke and Ashes"). 
The Dress
Stylist Cinna's winning wedding dress is described as being covered with pearls and sleeves that touch the floor. This ethereal Pronovias design would make the Capitol gasp in awe.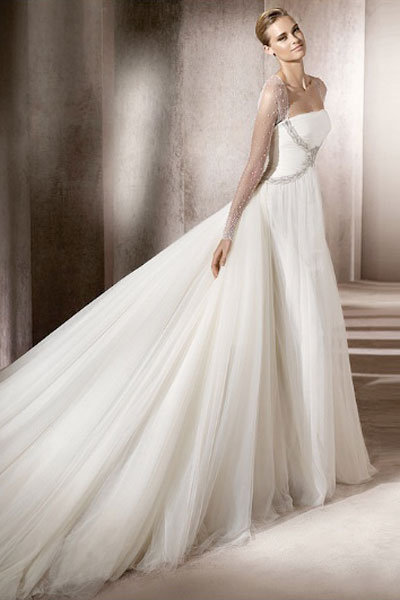 The Bridesmaid Dress
Who could forget Katniss's interview with Caesar Flickerman, where she becomes "The Girl on Fire"? The Jim Hjelm bridesmaid dress below lives up to its namesake. 

Photo Credit: Lionsgate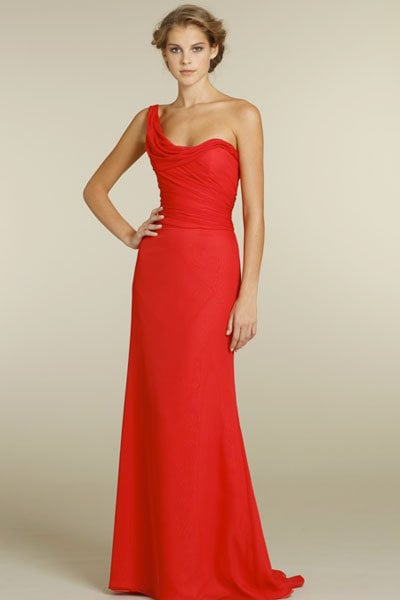 The Hairstyle
Katniss's eponymous braids, with some fresh flowers added for good measure (a fitting tribute to her final scene with Rue). 

Photo Credit: Daniel Gurton

Photo Credit: Yan Photography
The Wedding Rings
What better symbol to represent Katniss's strength? Arrow rings by Odette New York (pictured at left) and diamentdesigns (pictured at right).  
The Décor
Take a cue from Katniss and use the natural beauty of an outdoor setting to guide your décor. We think she would approve of the rustic touches below, including a DIY arrow bouquet, burlap, and wood-burned accents. Don't forget simple primrose centerpieces in honor of her sister (the flag is a nod to the games).
Frame memorable quotes from the book and display them on tables. Two of our favorites: "You love me, real or not real? Real." and Rue's lullaby. Visit GreenWeddingShoes.com for more great ideas.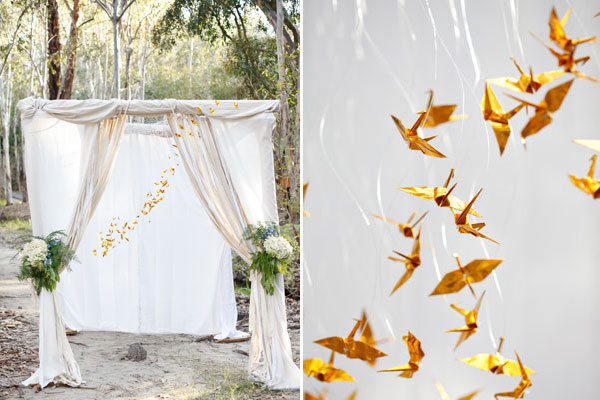 Photo Credit: Ashley Photographer (*full vendor list below)

Left: Photographed by Meghan Christine Photography (**full vendor list below)
Right: Photographed by April O'Hare Photography

Photo Credit: Meghan Christine Photography

Photo Credit: Armor and Martel

Left: Photographed by Ashley Photographer
Right: Photographed by Kristyn Hogan (***full vendor list below)

Left: Fan art courtesy of Flickr
Right: Rue's Lullaby by pixystitches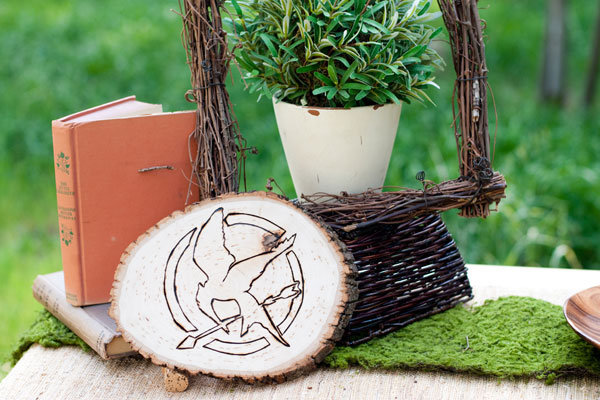 Photo Credit: Meghan Christine Photography
The Desserts
This gorgeous "Blood and Roses" cake inspired by President Snow was submitted in a recent Hunger Games dessert competition!
The Favors
What could be more fitting than a favor bearing Effie Trinket's most famous phrase? Bookmark by BohoBearPaperStudio.
Vendor List
*Photographer: Ashley Photographer, designer & planner: Lindye Galloway Events, florals: The Vine's Leaf, rentals: Found Vintage Rentals, hair + makeup: A Lovely Bride
**Photography and concept: Meghan Christine Photography and Whitney McGillicuddy, coordinator: Kellie Ann Events + Weddings, china, flatware, glassware, and napkins: The Vintage Table Co., paper products: One Handspun Day, cake and cupcakes: Kacee Forte, bride and groom attire: The Gown Swap, makeup: Beautiful Faces by Denise, hair: Laura Polsgrove of Butterfly Salon, models: Lukas and Susannah VanDyke
***Photographed by Kristyn Hogan, Styling and florals: Historic Cedarwood, Paper Goods: Designs in Paper
—Stefania Sainato