Guest Blog Post from Inspired by This, your go-to source for inspiration as you wed, dwell and grow! Are you newly engaged? You'll love our posts featuring engagement sessions and real weddings to gain insight for your big day! We've also got exclusive home tours to help transform your new place into something incredible, and sweet maternity sessions and nursery inspiration when you're ready to grow your new family. We want to stay with you every step of the way!
Engagement season is officially in full swing so let the wedding planning begin! You're probably feeling a bit overwhelmed and wondering where to start — don't worry; we've got you covered. Here, expert wedding vendors across the country reveal which tasks to tackle first.
1. Announce the news!
"Social media is a great way to share your excitement but make sure that the influential people in your life know before the rest of the world," advises wedding expert Antonia Christianson. "Parents, immediate family and best friends deserve to share in that moment privately before you share it openly."

Photo by: Paul Von Reiter on Wedding Chicks via Lover.ly
2. Work out the budget.
Although it might be tempting to dive head-first into wedding planning, knowing your total budget is key before starting anything. Research the type of wedding you wish to throw and the key vendors you'd like to work with. "Hiring experienced event professionals that can guide you throughout the planning process will also help you stick to a realistic price point. If you aren't sure what the average wedding costs, just ask them — it's their job to educate you on where to spend and where to save," says Antonia.
3. Immerse yourself in beautiful photos of other couples' big days.
Head on over to Lover.ly, a visual photo search engine for weddings, to get inspired. There are tons of images to help you narrow down your style. Unlike Pinterest, each photo includes links to the vendors who helped create that wedding, so if you find work that you like, you can hire the genius behind it for your big day.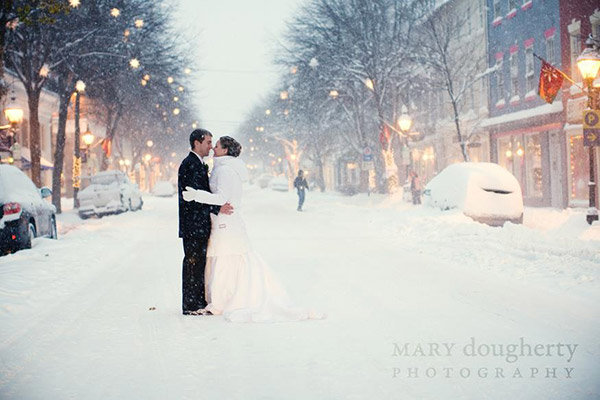 Photo by: Mary Dougherty Photography on Inspired by This via Lover.ly
4. Find a venue, set the date and choose your event planner (if you're having one).
Although the dress is usually the star of the day (and the first thing that many brides look into after getting engaged), Kelly McLesky Dolata from A Savvy Event tells us that it's important to lock in those three priorities first. "Your event planner is there to make sure you build a stellar team, keep you on track, give you expert advice and ideas, and execute a day for YOU, your fiancé, your family and friends to remember!" she says.
If you're having trouble finding a venue, be sure to check out The Venue Report for an in-depth look at some amazingly unique venues around the world.
5. Come up with a rough estimate for your guest count.
It's important to start putting together a guest list as soon as possible. "It will take time to get all of the actual addresses and guests' info together, especially for the relatives and guests you don't really know (but your parents will want to invite)," says Adrienne Coerper of Cherish Paperie. Also, "having an approximate number of guests is going to be necessary in all the aspects of your planning, from flowers to cake to picking out your venue to ordering stationery."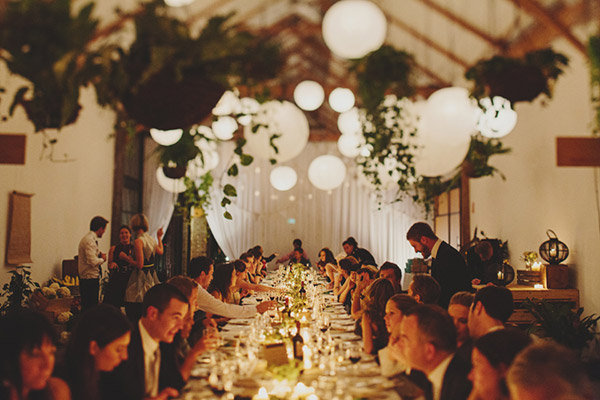 Photo by: Jonathan Ong Photography on Events by Heidi & Kate via Lover.ly
6. Schedule meetings with the vendors that are most important to you first.
Florist Judy Bourgeois of Flora Fauna advises prepping questions in advance, like "Do you work at the venue that I've chosen?" (it can help if they know the space) and "Have you ever worked with any of the other vendors I've booked?" (getting a team of pros who love to work together will make your life so much easier on the wedding day). Check out our Wedding Vendor Guide for a comprehensive cheat sheet on what to ask your photographer, videographer, florist, baker and more.
Jessica Ringor of Lovespun Films tells us that many couples start to look for vendors about 10 to 12 months before their wedding to get an understanding of all the various styles that are out there. "Some couples prefer a more vintage look while others prefer a modern approach," she says. Start looking early on so that you figure out the type of aesthetic that best speaks to your big day. 
John Schnack, a Southern California wedding photographer, says that pictures "are the only thing that last beyond the wedding day — they'll be around for generations to come." So make sure you start looking for your vendors early!
For more engagement inspiration, find us on Inspired By This!