Your wedding cake can set you back hundreds — even thousands — of dollars, depending on how large and elaborate it is. That's why more and more brides are choosing to roll up their sleeves before the big day and create their own more simplistic wedding cakes. Here, the experts at Wayfair share five DIY cakes for all skill levels. 
Textured Buttercream Wedding Cake
If you've never made a tiered cake before, a small two-tier version is the best place to start! You won't need to worry about dowels and support like you would for a larger cake. And because the frosting on this cake has an intentionally undone look, you don't need to have pro skills in order to frost it. Get step-by-step instructions ►
Berry Wedding Sheet Cake
Need a larger cake? Stacking two sheet cakes gives you almost twice as many servings as a round cake without much more effort. Top it with fresh fruit instead of flowers to keep costs down and give it a sweet summer vibe. Get step-by-step instructions ►
Candy Wafer Wedding Cake
Not confident in your frosting skills? Cover up the frosting with candy wafers! It's also a fun way to incorporate your wedding colors. Get step-by-step instructions ►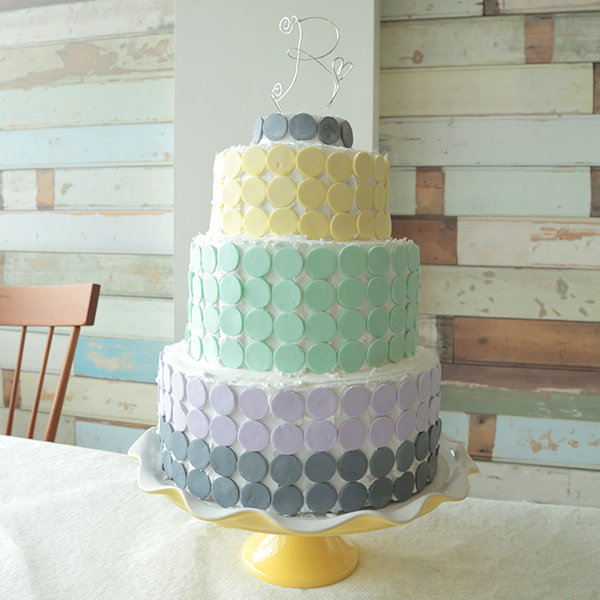 Naked Wedding Cake
Or, skip frosting completely and go for a trendy "naked" wedding cake. This is ideal for an outdoor wedding, since you won't need to worry about your frosting melting in the heat. Get step-by-step instructions ►
XO Wedding Cupcakes
Cupcakes are even easier to make; give them a more professional by stamping X's and O's (or your initials) on them. Get step-by-step instructions ►
Tell us: Would you consider making your own wedding cake?
—Kristen Klein