As 2012 comes to an end, we decided to take a look back at the year's biggest wedding trends. We asked some of our favorite wedding planners, what set 2012 brides apart from any other year? "2012 brides were all about taking risks, making a statement, and thinking outside of the box while keeping it sophisticated, which I loved seeing!" said David Tutera.
The biggest development when it comes to wedding inspiration: Pinterest. Although the social network launched in 2010, it really took off this year, marking 2012 the Year of the Pinterest Bride. 
"Having spent countless hours browsing Pinterest, 2012 brides had more visual inspiration than ever before," said Wayne Gurnick of Moments by Wayne.
Wedding Styles and Themes
► "The keywords I heard most were traditional, romantic, opulent, crystals, and lush." —David Tutera
Check out the most incredible wedding photos of the year.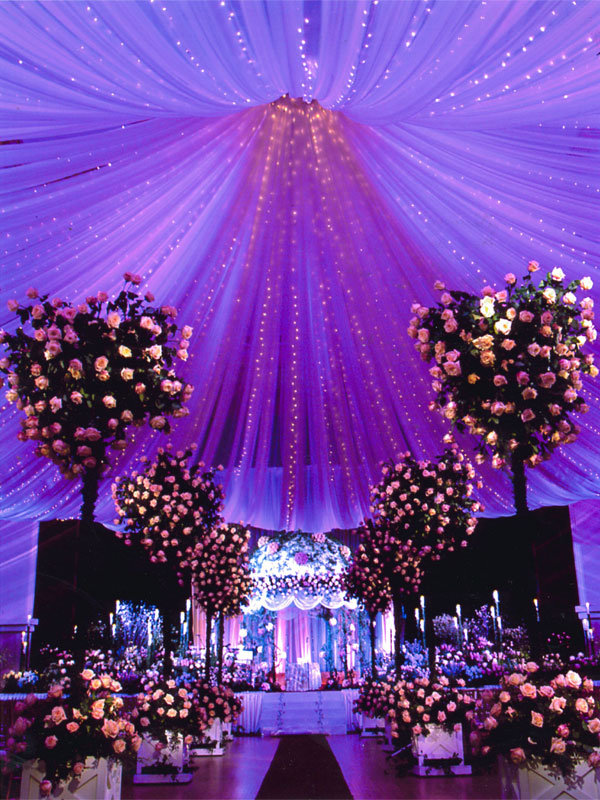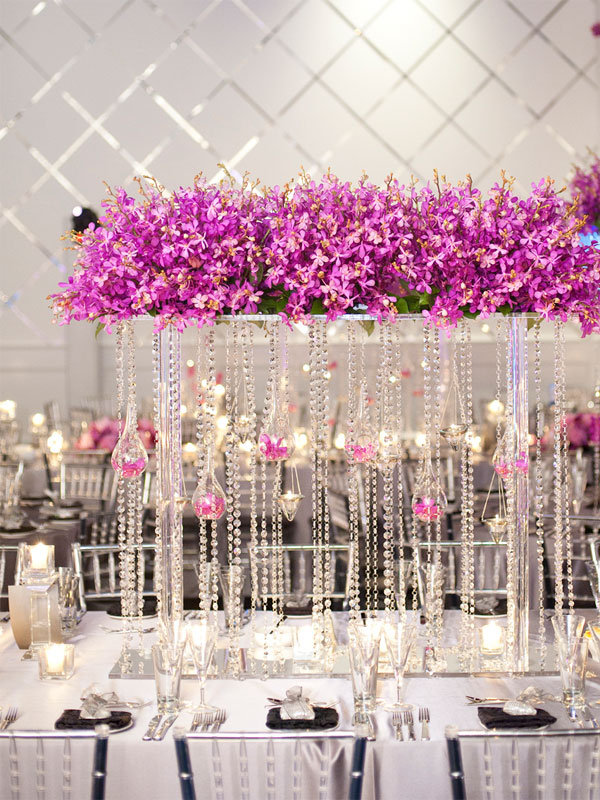 Photo Credit: Harriette Rose Katz/Lighting by Bentley Meeker Lighting & Staging; Mango Studios

Photo Credit: Picotte Photography; Elizabeth Messina/Courtesy of Oh How Charming!
► "The couple's personality and favorite objects and activities were reflected in the theme and style of the wedding. It has become more important than ever for the couple to put their own stamp on their wedding." —Wayne Gurnick
Get inspired by these 50 fun ways to personalize your wedding.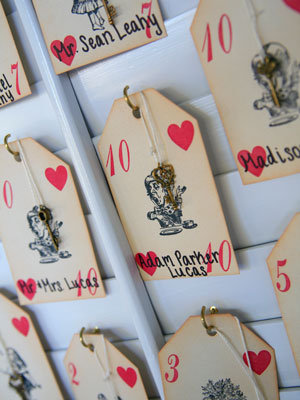 Photos courtesy of Moments by Wayne
► "Many of our brides opted to stray away from the pomp and circumstance of 'traditional' weddings in favor of infusing their personality into their events." —Lisa Vorce of Oh How Charming!  
And the trend extends to your photos; check out 50 creative new must-have photos with your groom and 30 fun bridal party photos.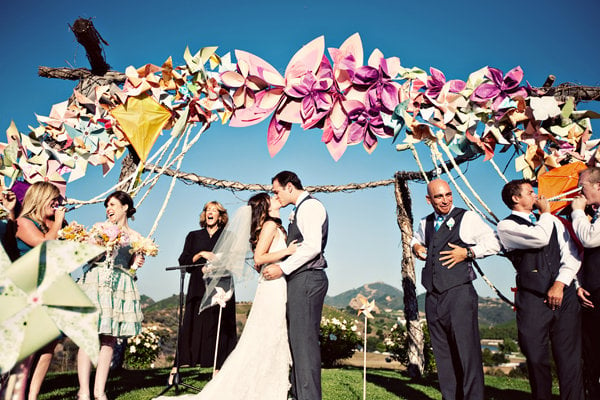 Photo Credit: Ashley Rose Photography
Décor
► "Wedding floral décor turned toward natural, organic, and reusable elements, such as driftwood, birch, and vintage bottles. How these materials were used in arrangements resulted in two extremes; some opted for a simple, understated design using glass bottles or small vases as components with seasonal flowers, minimizing their cost. The other end of the spectrum was elaborate tablescapes built around driftwood and birch branches, with lavish explosions of peonies, garden roses, and succulents." —Wayne Gurnick  
Check out our favorite eco-friendly wedding ideas.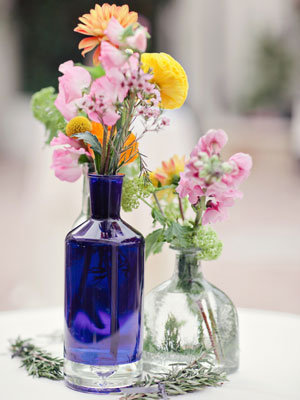 Photo courtesy of Moments by Wayne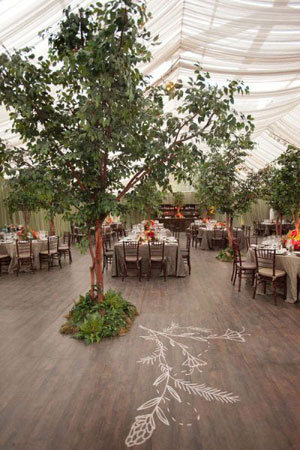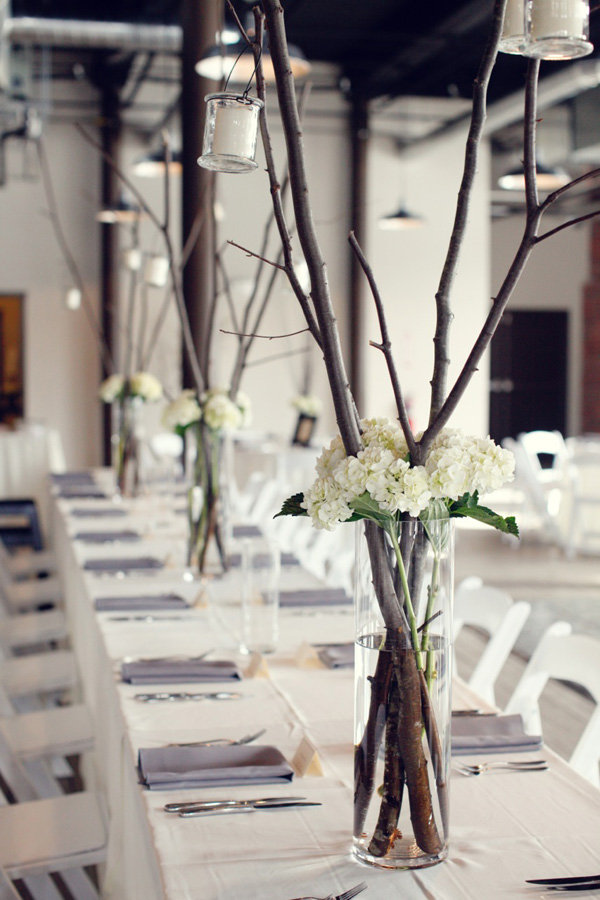 Photo Credit: Aaron Delesie/Courtesy of Oh How Charming!; Deborah Zoe Photography
► "Ombré was a huge trend this year, especially in flowers. From centerpieces to chuppahs and aisle runners, choosing flowers in different shades of the same color seemed to be our biggest request." —Dolce Design Studio
See more ways to include ombré in your wedding.

Photo Credits: Lauryl Lane Botanical Stylist, Becky Hill Photo via Canvas and Canopy Events
► Another hot trend: Candlelit receptions and "switching up the look of arrangements on each table." —David Tutera
Check out 40+ gorgeous tall centerpieces and 30+ impressive low centerpieces.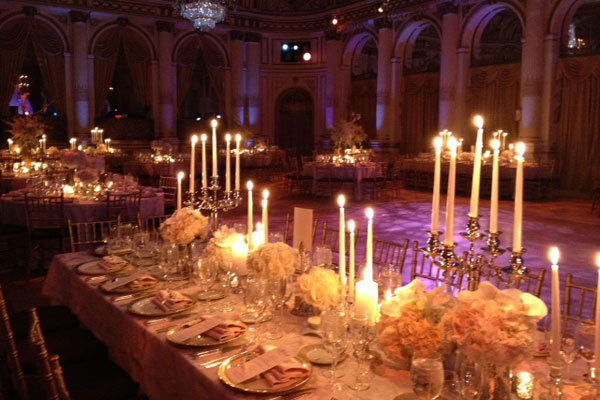 Photo Credit: Verde Flowers
Gown Styles
► "Elegant yet understated silhouettes. Brides were much more adventurous with their shoes — bold colors and embellishments were very popular." —Wayne Gurnick
See more of the hottest gown styles of 2012.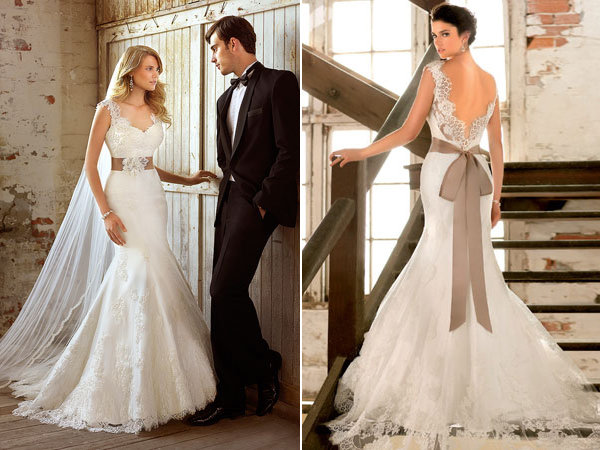 Dress by Essense of Australia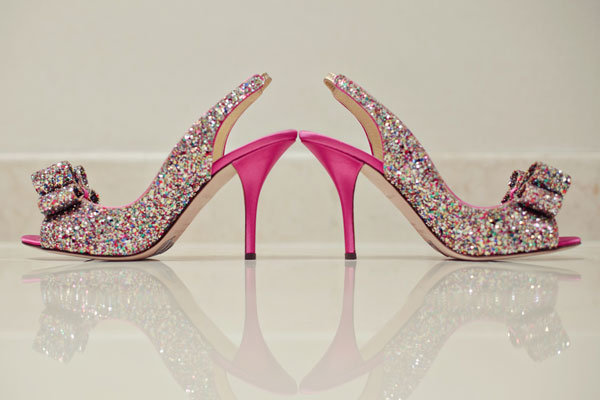 Photo courtesy of Moments by Wayne
► "Lace and long sleeves were huge in 2012. These traditional styles really made a comeback. Color really made a huge transition from the runways and into the bridal world, and brides weren't scared to embrace this trend when it came to choosing their dream gowns." —David Tutera 
Find the wedding dress of your dreams in our gown gallery.

Dress by Allure Couture; Dress by Ellis Bridals
Dresses by David Tutera for Mon Cheri
Color Palettes
► Pantone's 2012 color of the year, Tangerine Tango, found its way into weddings — "our clients found ways to infuse their color palette with an element of that color tone, while creating their own versions of coral, orange, and even yellow. Favorite pairings were with cream and ocean blue." —Wayne Gurnick 
See more hot color combos.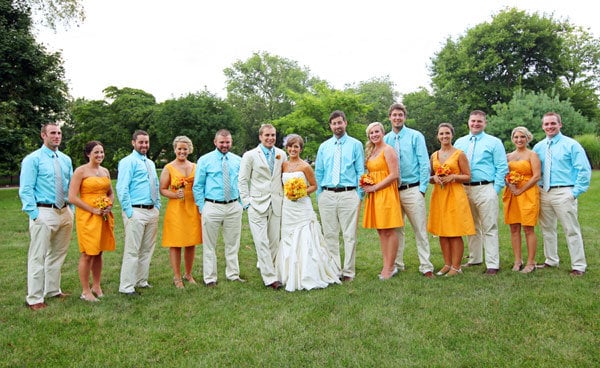 Photo Credit: Nicole Dixon Photography/Event Planner: Bliss Events Ohio
► On the flip side, 2012 also saw a "big return to the 'traditional' palettes, with pale creams and whites into blushes and pastels. Black, white, and metallic palettes were also very popular. It was all about keeping it classy and sophisticated!" —David Tutera 
Check out more romantic décor ideas.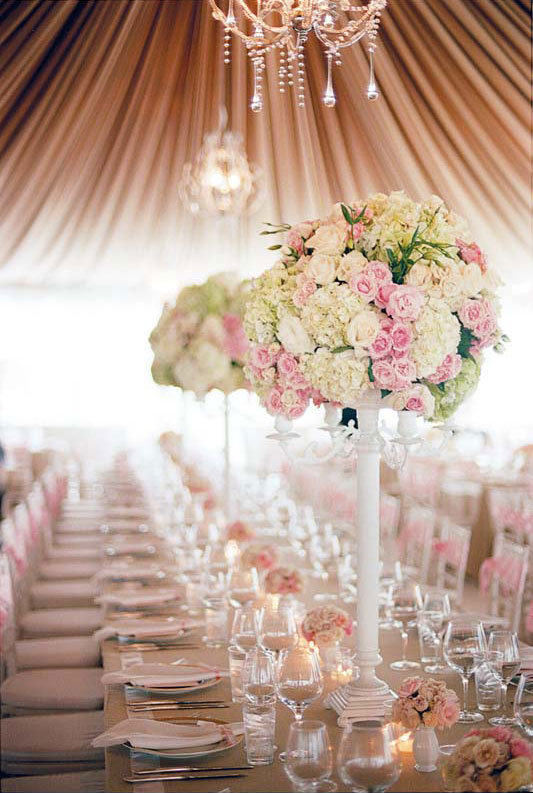 Photo Credit: Liz Banfield; Pictilio
► "Neutral colors, like creams and blushes, paired with greenery and soft, romantic detailing, was a huge trend this season." —Dolce Design Studio

Photo Credit: KT Merry
Food Trends
► "Comfort food has been very popular, but make no mistake — it's not the Kraft mac 'n cheese variety. Old favorites have been transformed into gourmet delights through the use of high-quality, locally-sourced ingredients. Garlic- and basil-infused sweet mashed potatoes, Portobello steak fries, and Kobe beef sliders were the go-to comfort foods." —Wayne Gurnick
Another hot trend: Mini food.

Photo courtesy of Moments by Wayne
► "Dessert tables have been a big hit, with many couples selecting an assortment of their personal favorites, such as Rice Krispy treats dipped in chocolate, s'mores, and snickerdoodle cookies. The wedding cake still made an appearance, but it was simple and small, just a token used for cake-cutting." —Wayne Gurnick 
Learn how to create a gorgeous dessert table.

Photo Credit: Abby Rose Photo
Photo Credit: Johnny Miller
► "2012 was all about expanding your options. Brides and grooms opted for menus that emulated their personality, taste, culture, and style by adding creative food stations or finger foods, like BBQ and comfort foods." —David Tutera
See more hot trends for the cocktail hour.

Photo Credit: Wilton Photography
Reception Trends
► "Photo booths of all kinds were the must-have item of 2012." —Wayne Gurnick 
Check out 10 unique guest book ideas.

Photo Credit: Disney Fine Art Photography & Video
► "Couples have been coming up with entertainment options that give them bragging rights — they found music and entertainment that none of their friends had ever seen at a wedding. The trend has become for the bride and groom to actually become a part of the entertainment." —Wayne Gurnick
Get song ideas for every part of your wedding in our complete guide to wedding music. 
Photo Credit: Susie Hamidi assisted by Jeff Laplante
► "One of the most exciting themes of 2012 was the formal sit-down dinner, followed by the after-party reveal. For many couples, we created an intimate dining experience, allowing guests to converse and enjoy without interruption. Couples wanted a separate space and design for the after party, allowing them to extend the theme of their event in a playful and creative way. A white wedding became a glittery after party; an elegant mountaintop wedding became an old-time Western bar."  —Lisa Vorce 
Buffet vs. sit-down: Which is right for you? Find out here.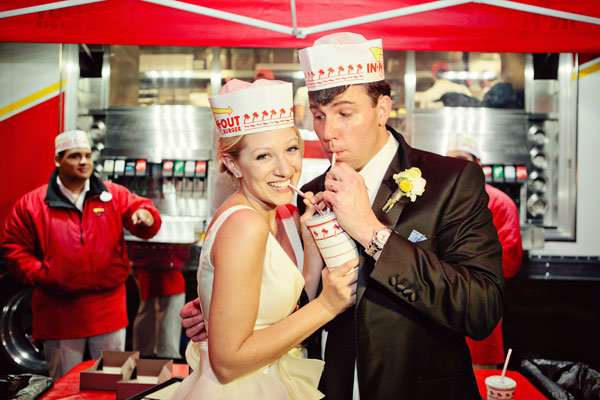 Photo courtesy of Moments by Wayne
► "We saw more destination weddings with large guest counts. This trend is driven by the geographic realities; when the bride and groom are originally from different states or even countries, it makes a lot of sense to choose a destination for the wedding that is a mid-point for everyone." —Wayne Gurnick 
Learn everything you need to know about throwing a destination wedding.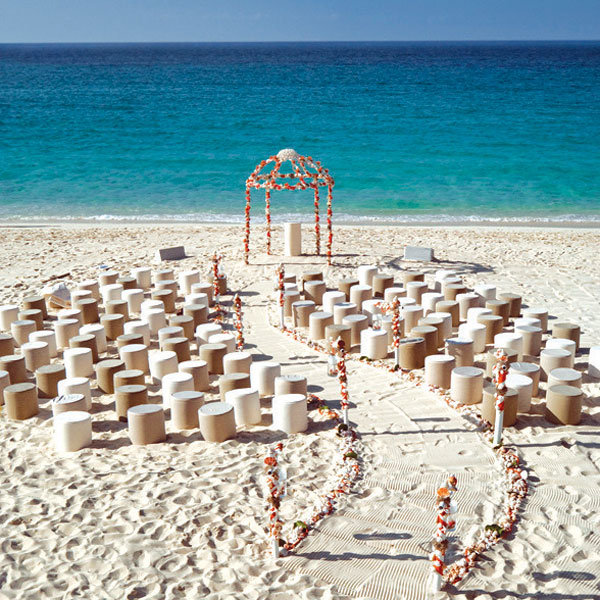 Photo Credit: Colin Miller Photography
—Kristen O'Gorman Klein