Planning your wedding is supposed to be one of the happiest times of your life, but this milestone event can come with a steep price tag, especially if you live in a major metropolitan city. Stressed about how you're going to pay for it all? You might want to consider scrapping a hometown affair for a semi-destination celebration.
In a new study, financial technology company SmartAsset ranked 100 of the largest U.S. cities to determine the best places to throw an affordable wedding. Nashville topped their list, followed by New Orleans, Richmond, Omaha, Kansas City, St. Louis, Greensboro, Madison, Toledo, and Milwaukee. In addition to calculating the average cost of a wedding in each city, researchers also factored in access to ceremony and reception establishments, the availability of vendors (i.e. photographers, florists, videographers), acres of parkland, and crime rates.
For the second year in a row, Midwestern cities dominated the top 10. St. Louis is the cheapest place to get hitched, with an average wedding cost of $17,326.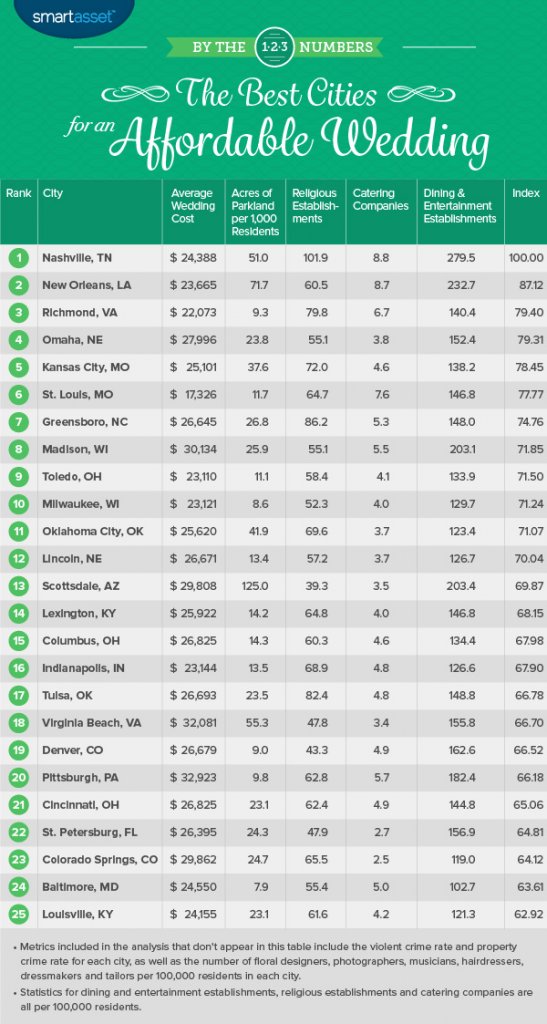 Tell us: Where will you be getting married?
—Stefania Sainato