One of the best books I've come across devoted to the groom and his attire is GROOMS: A Professional Stylist's Guide to Wedding Day Apparel for Every Budget
(Sutton Place Press, $39.95). It's sure to inspire you and your fiancé and guarantee that he, too, looks his very best on the big day.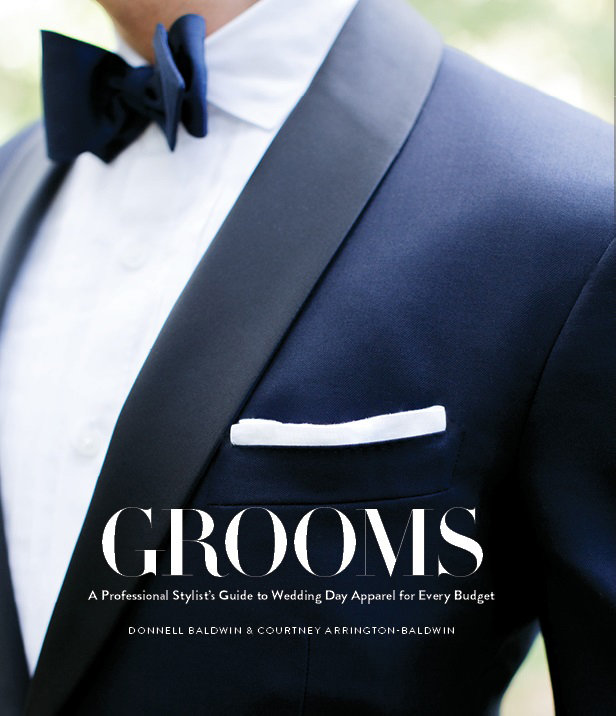 The authors, husband and wife duo, Donnell Baldwin and Courtney Arrington-Baldwin, are also the founders of Mr. Baldwin Style.
Their comprehensive guide offers advice on how to start the wedding-day attire process and provides examples of different style options for the groom. Categories include the Classic Groom, the Classic Groom Remixed, the Chic Groom, the Groom in Color, the Preppy Groom, the Rustic Groom, the Island Groom and the Holiday Groom. The authors spell out everything you need to get the look and tell you how to "master the details" (i.e. "For a gentleman with a taller, slimmer physique, consider a cummerbund as an alternative to suspenders."). Also included: where to wear the look and ways to save. And for every category, style options are given along with the appropriate accessories to wear, all beautifully photographed by Alea Lovely.
Here is the Classic Groom Remixed (he's the groom who wants to incorporate non-traditional elements to his look). His look features a navy shawl-collar lapel tuxedo jacket, navy flat front tuxedo pants, a white tuxedo shirt, navy silk diamond tip bow tie, white pocket square and black leather cap toe boot.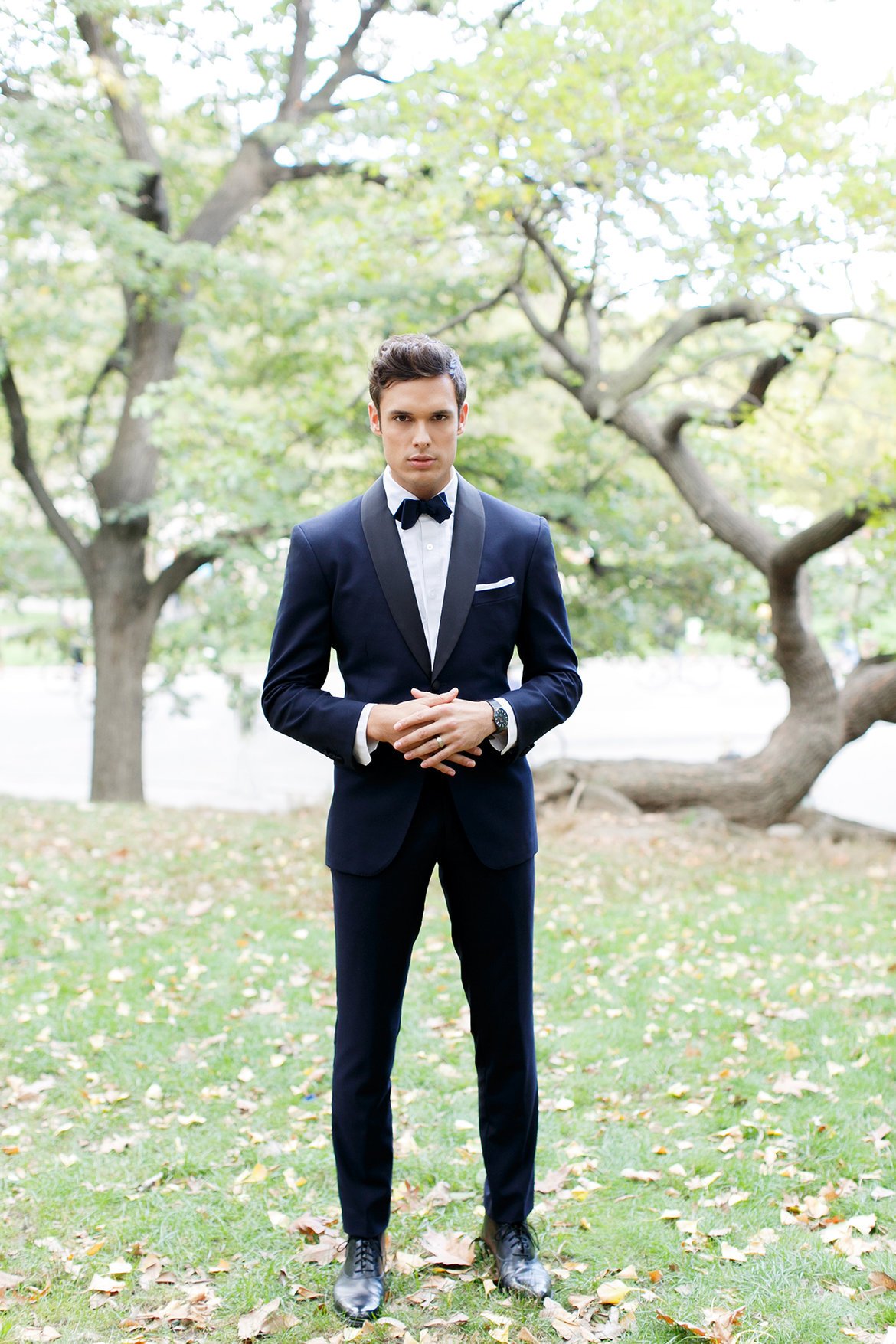 Another option for the Classic Groom Remixed is this black velvet peak-lapel tuxedo jacket paired with a black cotton blend turtleneck, black tuxedo pants, and a silk black-and-white herringbone pocket square.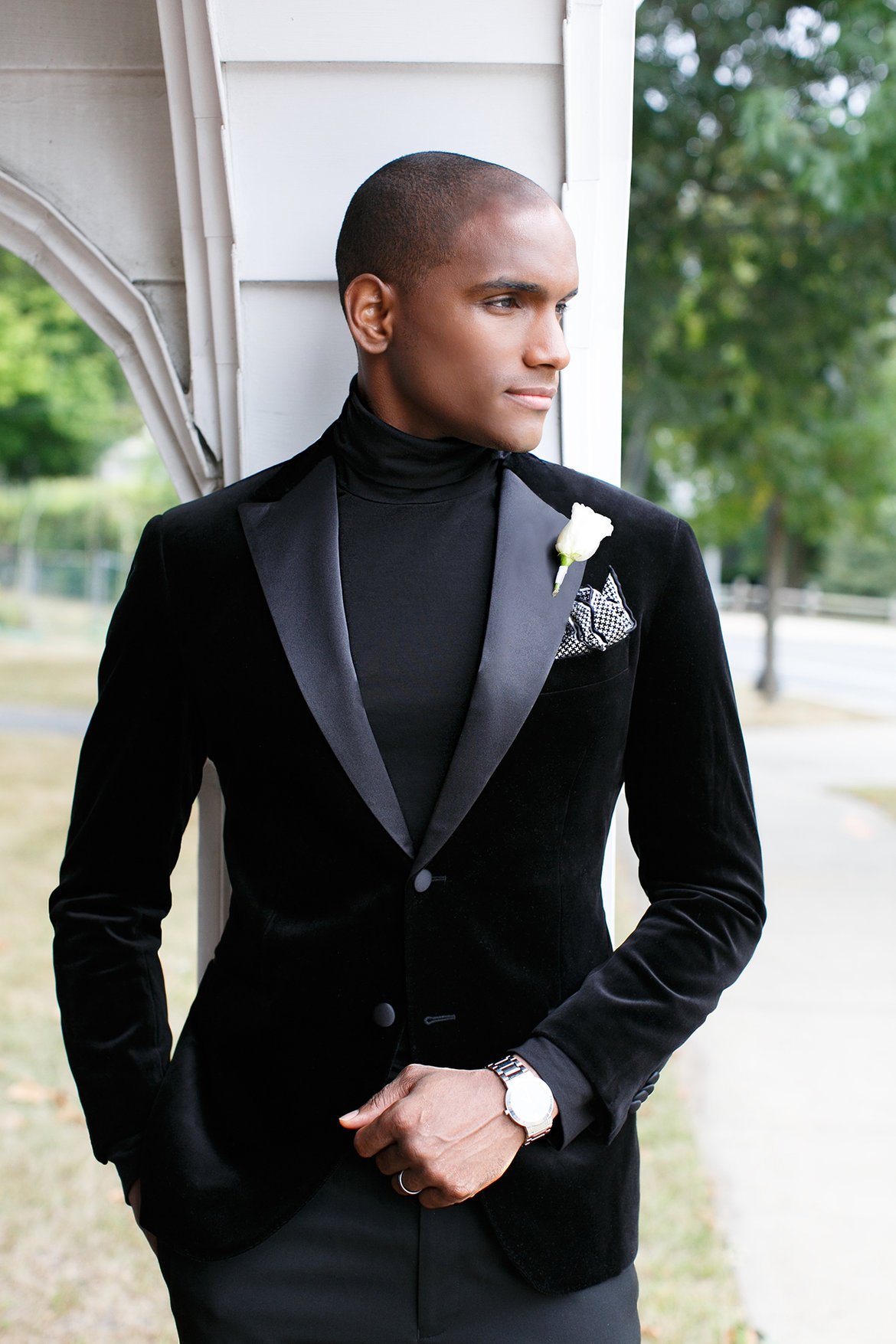 The Holiday Groom wears a garnet velvet blazer, white tuxedo shirt, black silk self-tie bow tie and black tuxedo pants.
From casual to white tie, levels of formality are also explained. Grooming advice is offered, and there's an apparel timeline to ensure that attire is at the ready on the big day. Other helpful features include common mistakes to avoid on the wedding day and a head-to-toe checklist before the ceremony. Kudos to Donnell Baldwin and Courtney Arrington-Baldwin for producing this fabulous groom's style guide. After all, why shouldn't your FH look just as amazing as you do when he stands by your side?
The book (a great gift idea for the holidays!) is available at amazon.com
. And look for more updates by Mr. Baldwin Style by following @mr_baldwinstylegrooms on Instagram and @MrBaldwinStyle on Twitter (don't forget to include the hashtag #GroomsBook).
All photos courtesy of Alea Lovely
—Diane Forden