Guest Blogger: Nathaniel Neubauer, owner of Contemporary Catering
Nathaniel's mom says it best: "When Nathaniel was turning three, I asked him what he wanted for his third birthday. He said, 'Quiche.'" Ever since, Nathaniel's love for food has never been far from reach. With his presence, Contemporary Catering quickly became a major contender in the Los Angeles catering industry. From overseeing production to designing a nine-course tasting menu with five-star service, Nathaniel's dedication to his clients and his company is unparalleled.
As the night winds down, your guests are bound to have worked up an appetite (again) after dancing all night long. Ring in the night with midnight snack hour! Here are some tasty comfort foods we love to pass on trays that our guests gobble up after a good dance session: 
1. Kobe Sliders
Try mini Kobe beef burgers topped with a slice of pepper jack cheese, fried onion strings, and a dollop of 50/50 sauce! And for your more health-conscious guests, add a turkey burger option. 

Photo Credit: Craig Paulson Photography on Craig Paulson Photography via Lover.ly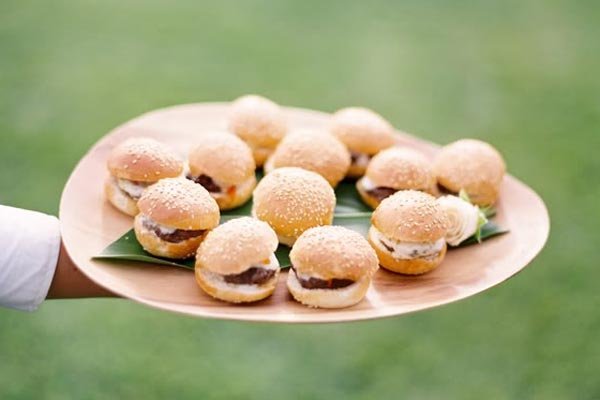 Photo Credit: Jose Villa on Snippet and Ink via Lover.ly
 2. Gourmet Mac 'n' Cheese Bites
There's nothing better than a taste of deep-fried macaroni and cheese after a night of dancing. For an unexpected twist, serve with homemade organic marinara dipping sauce.

Photo Credit: Wilton Photography (left); Mary Gillen (right)
 
3. BBQ Pulled Pork Grilled Cheese
Serve slow-cooked pulled pork sandwiches with blackberry jam and gruyere cheese on toasted brioche — we guarantee there won't be any left at the end of the night!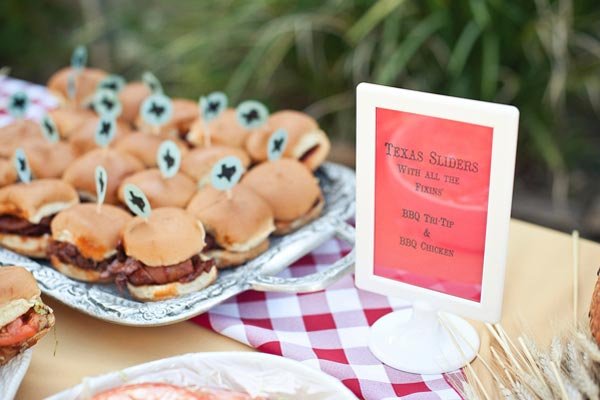 Photo Credit: Brandi Welles on Inspired By This via Lover.ly

Photo Credit: Dave Lapham on Southern Weddings via Lover.ly (left); Snippet and Ink (right)
4. Mini Gourmet Pizzas
Pizza... late night? Enough said.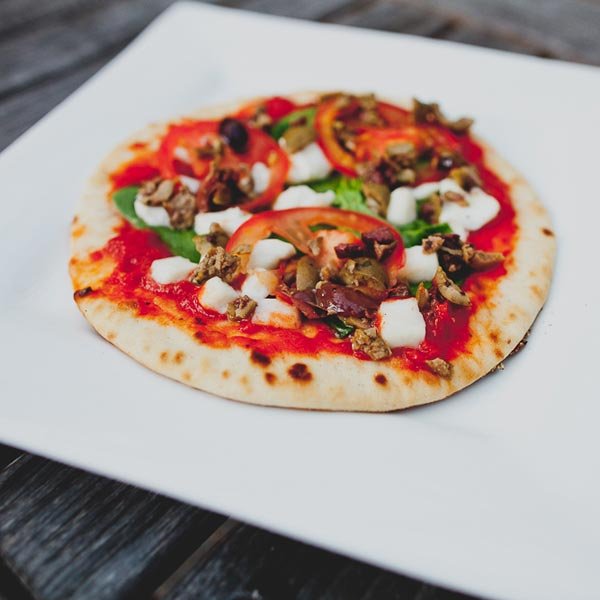 Photo Credit: Mr. Haack Photography
5. Gourmet Chicken and Waffles
Seriously, who doesn't love this combo? Fried chicken and waffles drizzled with New Hampshire small-batch syrup — whoever thought of this first is a complete genius. 

Photo Credit: Mr. Haack Photography
Late-night wedding snacks are becoming a wedding necessity, and we can definitely see why! Which fun midnight snack is your favorite? Will you have midnight snacks at your wedding reception?
—Nathaniel Neubauer