Every couple wants their wedding to be unique, but with the abundance of inspiration and sites like Pinterest, it can be challenging to really mix it up. With that in mind, below are a few of the most innovative details I have seen over the past year.
1. The Not (Even Close To) White Wedding Dress
A lot of brides are starting to play with color by experimenting with blush tones and light grays, but this bride really pushed the enveloped in this stunning Monique Lhuillier. To keep the look "bridal," she kept her hair and makeup classic and selected a simple veil for the ceremony.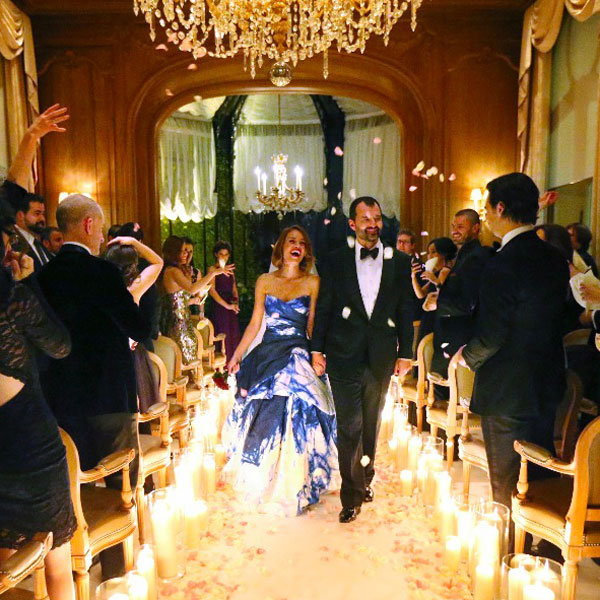 Photo Credit: Manuel Meszarovits / See more from this wedding ►
2. Flower Power
After the "I dos," guests are often handed rice or, more recently, bottles of bubbles to shower the newly-married couple as they walk back down the aisle. This couple decided to let their guests sit back and relax as thousands of rose petals were blown out of cannons across the ceremony site!

Photo Credit: Heather Kincaid / See more from this wedding ►
3. Fan Program
This couple was married outside under the California sun. Instead of handing guests both wedding programs and cooling mechanisms, they decided to go with a two-for-one: The program was designed like a fan so guests could read about the wedding party while simultaneously lowering their body temperatures.

Photo Credit: Yvette Roman / See more from this wedding ►
4. Alcoholic Escort Cards
To really get the party started, this couple showed guests to their tables with a signature cocktail. It's definitely a step up from your more traditional escort card.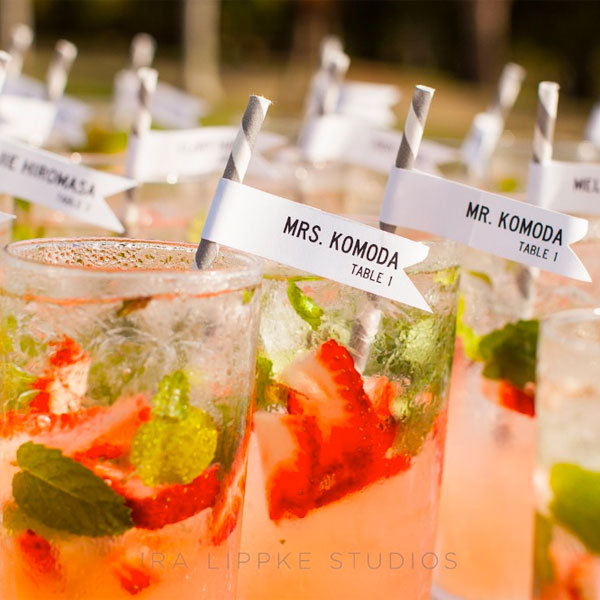 Photo Credit: Ira Lippke Studios / See more from this wedding ►
5. Orchids in the Sky
The flowers are often my favorite part of a wedding (anyone who follows me on Instagram knows I am a little petal obsessed!). This couple created a really unique experience by cascading orchids from the roof of the tent.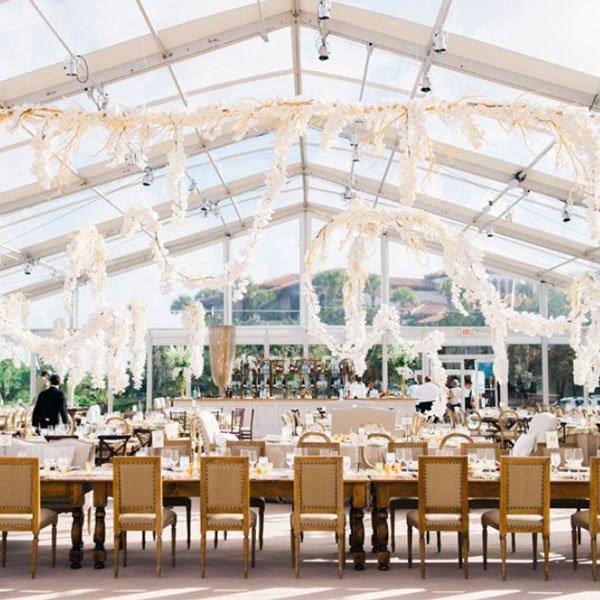 Photo Credit: Trent Bailey / See more from this wedding ►
6. Innovative Seat Settings
To eliminate any need for musical chairs, the newlywed couple's seats are usually clearly marked (I'm sure we've all seen the "bride and groom" signs adorning the back of a chair). This couple still made it easy for their guests to know where they would be seated, but these sculptural rose gold pieces were a unique take on the practical need.

Photo Credit: Joielala / See more from this wedding ►
7. Not your normal cake stand
Recently, wedding cakes and dessert bars have become an integral part of the reception décor. This couple decided to forgo your typical cake stand and go for a cake swing.

Photo Credit: Samuel Lippke Studios / See more from this wedding ►
8. Mad Libs: the Wedding Edition
A big trend lately is to provide a way for guests to offer well wishes and advice to the newlywed couple; the entrance to the reception is often marked by a table with blank cards and pens. I love how this couple had fun with it by providing their guests with personalized Mad Libs.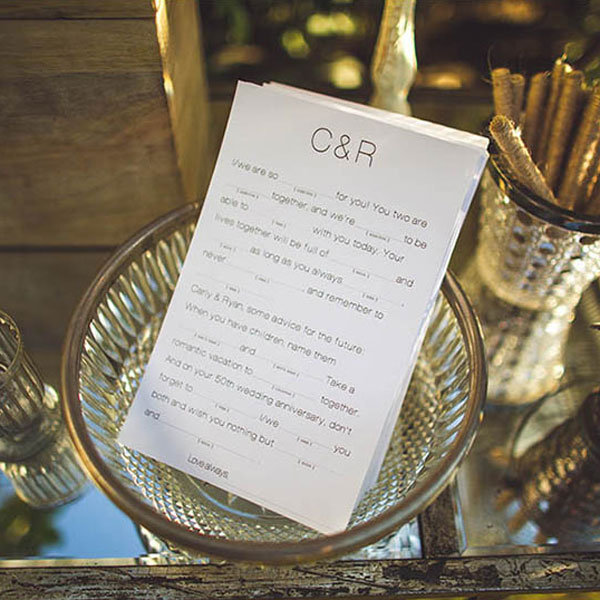 Photo Credit: Jeff Newsom Photographer / See more from this wedding ►
9. Add Color to Your Reception Dress
Even though color has adorned the runway as of late, most brides still opt for the classic white dress. I loved how this bride changed into this blood red Monique Lhuillier dress post-ceremony. The more traditional ball gown shape was still elegant, but the color was so unexpected.

Photo Credit: Lisa Poggi / See more from this wedding ►
10. The Getaway Vespa
Most couples make their grand exit from the reception in a fancy chauffeured vehicle. I love how these newlyweds kept it simple with a Vespa for two.

Photo Credit: Xavier Navarro Photographie / See more from this wedding ►
—Jess Levin

Jess Levin is the founder of Carats & Cake, a user-friendly website designed to help newly engaged couples sort through the various options for florists, bakeries and other vendors in their area through real feedback from real brides. Carats & Cake's philosophy is simple: everyone deserves a dream wedding, and making this dream come true really doesn't need to be so hard.