Size really is just a number, but on your wedding day, you want to feel anything but insecure. Instagram influencer, singer-songwriter, and plus-size model Carrie Lane shares how sizing up helped her find her dream gown.
By: Carrie Lane
When I went to try on wedding dresses for the first time, I told myself it was just to get an idea of a silhouette and narrow down what it was I wanted before I went to my "official" wedding appointment with my mom, matron of honor, and maid of honor. But, I had no idea that when I originally went in I would fall in love with a dress and "say yes" to the dress my first time in the store.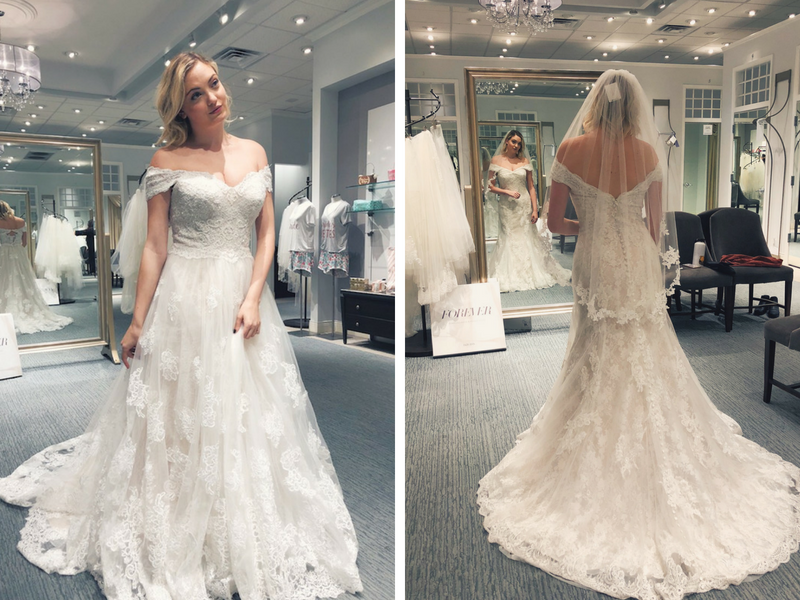 Carrie tries on wedding dresses at David's Bridal in California. 
I was nervous to go into a large commercial wedding dress store as someone who wears a bigger size. I am a size 8/10 and a professional plus-size model, although that fact generally tends to shock people. I look just like your everyday girl, but to the fashion world I am considered plus-size – therefore a lot of standard garments are not made to flatter someone who has curves like me.
Before heading into the bridal store, I promised myself that I would not look at the size when I was trying on dresses, because the size of a dress is not what matters – and a lot of times sizes are completely arbitrary. I may be a small top at one company, but wear an XL at another.
Sizes are simply contrived labels that are made up by different designers and often have no relative basis to what your measurements actually are. After I said "yes to the dress," the store attendant asked the seamstress if I should get the bigger size and have it taken in, alterring the dress to fit specific areas, or to buy a smaller dress and have it let out. The seamstress advised me to get the larger size and have it taken in at the waist in order to maintain the integrity and shape of the dress. I did not allow her comment or the size increase to hurt my feelings. I simply agreed that going with the larger size made it easier to alter the dress to look like it naturally would on a smaller model.
The real kicker was, that when I went to alterations, the larger size 10 dress did not zip all the way up. The women doing the alterations looked at me in SHEER PANIC. They said "It's okay. It's going to be okay. We'll let it out it's okay!" And I was just looking at them like yeah… duh… it's just a half an inch too small why is everyone freaking out?
As a model who has been in many situations where garments did not fit and have had to be altered, or fit one day and not the next, I was unphased by the fact that the dress did not fit. I had recently gained about 5 pounds and I certainly wasn't going on any sort of fad diet for my wedding (although that seems to be a frequently asked question of me during my engagement).
The attendants confessed that they were actually shocked and had never seen a bride react so calmly when she needed a bigger size during alterations. That honestly made me sad. As someone who had always had "dressing-room phobia" since I was a little girl, I was proud of how unphased and confident I was feeling in my dress.
So what if my dress is a size 12? It looks amazing on me and it fits every inch of my body. My body is healthy, nourished, and in the best condition it has ever been, even though my size is also the largest it has ever been. Healthy and skinny are NOT the same thing. And, for me, I have never been healthier than I am currently at my heaviest weight. My body might be slightly larger than the average size woman you see in the pages of magazines, but that doesn't mean I should feel any less beautiful on my special day. And, it definitely means that I should not feel embarrassed of what my body looks like in a wedding dress.My size 12 dress makes me feel like I'm glowing and when I put it on I am reminded of how beautiful and special my fiancé  makes me feel, and how I can't wait to spend the rest of our lives together.
Now that's a size everyone should fit into.
––
–Carrie Lane is a multifaceted starlet who has made a name for herself in the music, modeling, and blogging world by keeping her self-care and body-positive mindset at the forefront of her career. Lane, a Type 1 Diabetic since 2002, is an advocate for people with mental and chronic illnesses and continues to spread her message of loving yourself inside and out. 
Find more wedding dress inspiraiton at 8 Sexy Wedding Gowns for Curvy Brides.