Michelle lost over 100 pounds before her wedding. Here's how.
By: Mary Clarke
-AS SEEN IN BRIDAL GUIDE MAGAZINE-
"I never felt more proud of myself than when I reached my goal weight. I really felt like a brand new person — like a shiny new version of me."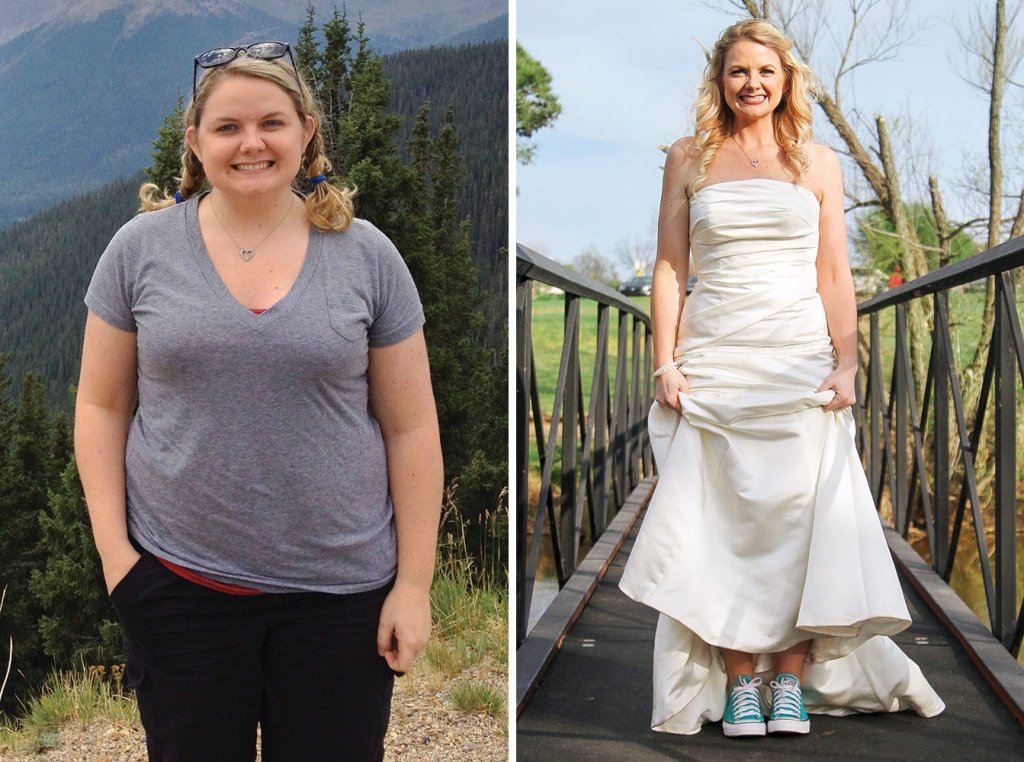 The Bride: Michelle Dewees, Norman, Oklahoma. A director of special projects at the University of Oklahoma, she and husband, Charles, were married in April 2018. "We had a very simple vows ceremony at a local park followed by a big blowout at a favorite brewery owned by friends."
Her Big-Day Goal: "I had already achieved my goal weight in the months before my wedding via Weight Watchers, so for me it was about maintenance, toning my body — especially my arms — and not having to wear any sort of shapewear."
Why Weight Watchers: "Having followed the program in the past with good results, I knew it would work for my lifestyle. Because nothing is off limits in Weight Watchers, I'm able to play with the program and make it work."
Weekly Meetings: "I went nearly every week until I hit my goal weight. I lost 100 pounds in 10 months and a few more pounds after that. I loved the support, the friends I made, the meeting topics, the recipes — it was exactly what I needed to stay focused. I went from a size 20 to a size 6."
Baby Steps: "I was initially overwhelmed by how much I had to lose. So I decided to break it up into five-pound increments. And that's what I focused on. Five pounds at a time adds up, and before I knew it, I was at my goal weight."
Staying on Track: "I had more struggles maintaining my goal weight than I did trying to attain it, but I've remained under my goal weight. The WW app provides tracking and planning tools. I track the foods that I eat, and I use the barcode scanner at the supermarket or when I'm meal prepping to determine point values. I have times when I don't track, like vacations and holidays. I just have to be mentally prepared to get back on plan by a specific day, like the Monday after vacation."
Biggest Changes: "Before WW, my life looked completely different. Charles and I ate out pretty much every meal. So from day one, I stopped going out to eat as much. When I cook at home, I'm in full control of the ingredients, and I can accurately track my meal. I also get a better food-points ratio because I can use lower-point ingredients."
Biggest Challenges: "I loved all of the celebrations that happen when you get engaged, but they were also hard because they all pretty much revolve around food or alcohol. My biggest challenge was always finding the right balance without missing out, and that's still true today. I think it will always be this way."
Fitness: "I bought a Fitbit tracker and tried to hit 10k steps a day. After I lost about 50 pounds, I began working my way through the Couch25K program, which takes you from walking to jogging a full 5K. Every workday, I take a brisk 1.5 mile walk during my break. It's a nice chance to get some fresh air. And I started going to Orange Theory Fitness a few times a week. I take the stairs to and from my office on the third floor. I find every excuse I can to get some extra steps in."
Foodwise: "Breakfast is always strawberry applesauce and a banana. For lunch, I usually have some freezer leftovers from dinner. My go-to snack is a Laughing Cow cheese wedge to spread on Good Thins Corn Crackers with turkey pepperoni. For dinner, I love to try Weight Watcher-friendly recipes that are comfort-food inspired — my current favorite is One Pot Bacon Cheeseburger Pasta from TheSkinnyishDish blog."