Wellness expert Hayley Hobson's guide to stress-free nutrition.
The guest list. The venue. The dress. The catering. The endless to-dos and logistics. Without a doubt, wedding planning ratchets up your inner stress-o-meter. Which in turn causes your levels of the hormones cortisol and adrenaline to surge, putting you at risk for anxiety, sleep problems, depression, digestive problems, and, oh yes: weight gain.
Ironically, we often reach for foods that actually raise our anxiety levels. Coffee or other caffeinated beverages can seem appealing when you feel low. Sugary, processed foods or simple carbohydrates become our "comfort" foods.
So, what's the solution? Aim to minimize stress as best you can: exercise is one way; mindful eating is another. Here are a few foods that have been proven to lower stress levels.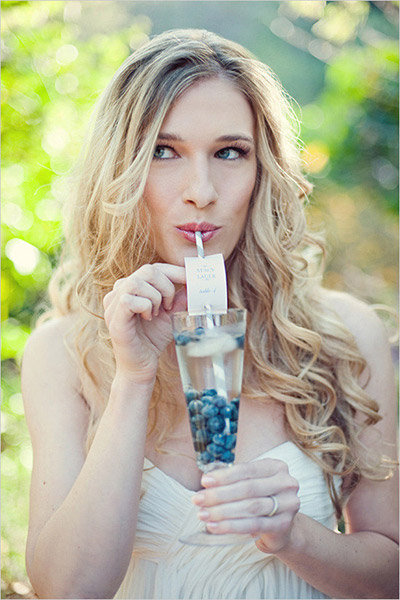 Photo Credit: Love Life Studios on Society Bride via Lover.ly
1. Blueberries
The high potency of antioxidants in these berries counteracts the production of cortisol, a hormone that increases blood sugar levels. High levels of cortisol are linked to increased (and stubborn) belly fat.
2. Peaches
The potassium in peaches helps lower blood pressure. As well, the fruit contains beta-carotene and antioxidants, which can help reduce certain cancer risks. A great choice when you're craving something sweet.
3. Acai Berries
This super berry is packed with phytonutrients that have been shown to enhance your mood. They have additional health benefits such as helping keep blood sugar levels even, which in turn can reduce sugar craving.
4. Cacao (aka Cocoa)
Cacao is the ingredient found in chocolate. It is high in flavonoids. Flavonoids are potent with relaxation properties. Cacao also contains phenethylamine, a chemical that enhances mood. You can add cacao powder to smoothies, cookies and brownies or you can get the nutrients by eating a dark chocolate bar. The darker the chocolate, the better (look for bars with at least 70 percent cacao). Or try cacao nibs, which are bits of roasted, dried and crushed cocoa bean — chocolate without the added sugar.
5. Maca
Available as a powder made from a Peruvian root, maca contains a phytonutrient that has been shown to help ward off anxiety and depression. It's also a natural energizer and is said to help balance hormones. Try adding one-half teaspoon of maca powder to a smoothie.
6. Spinach
It's high in magnesium, improves your body's overall response to stress and stops your blood pressure from spiking.

Photo Credit: Be Well by Kelly on Inspired by This via Lover.ly
7. Sunflower Seeds
Sunflower seeds contain generous levels of folate, which helps your body produce the feel-good brain chemical dopamine.
8. Walnuts
Studies have shown that eating at least one ounce of walnuts a day can help keep blood pressure from rising and keep anxiety levels in check, so toss some nuts into your next salad.
Super Food Brownies Recipe: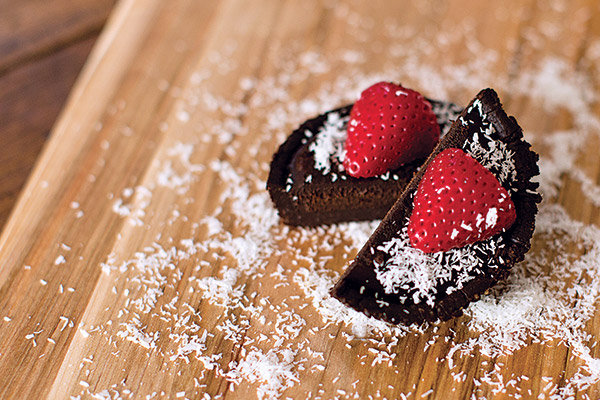 Ingredients:
2½ cups medjool dates, pitted, soaked in warm water for 5 minutes

2 cups raw walnuts

½ cup unsweetened cacao powder

½ cup unsweetened cacao nibs (optional, but highly recommended)

1 cup raw almonds, chopped and soaked overnight

2 table spoons chia seeds

Pinch sea salt
Directions:
In a food processor, blend walnuts into a fine grind.
Add cacao powder and salt to the processor bowl and pulse to combine, then add dates one by one until the mixture becomes crumbly.
In a square pan, use a wooden spoon to press the walnut/cacao mixture down firmly, pressing the almonds, chia seeds and cacao nibs into the mixture as you go.
Chill or freeze until firm, then cut into squares. Enjoy!
Hayley Hobson is the author of Hayley Hobson's Hip Guide to Creating Your Sexy & Abundant Life. She trained as a Health Coach with the Institute for Integrative Nutrition in New York and received her J.D. from Rutgers School of Law. For more info, see HayleyHobson.com.