Be the best-tressed on your big day with hair inspiration from the runways.
By: Brittany Robins
Wave Runner
This season was all about going back to the basics with a blowout featuring elegant waves. Hairstylist Paul Labrecque of Paul Labrecque Salon suggests blow-drying your hair with a thermal brush. Set sections of hair in stand-up pincurls, using clips to secure. Then, run a flat brush through the locks for an easy, breezy finish.

Photo Credits (left to right): Courtesy of Hayley Paige, Tom Rauner
Chignon Chic
A modern twist on a bigday favorite: The chignon has been reinvented as an ultra-feminine sidebun. Celebrity hairstylist Hasblady Guzman explains, "Comb hair to the side, then twist a thick section of your hair into a spiral and secure with bobby pins. Next, wrap any remaining loose outer sections around the chigno — pinning those strands as well.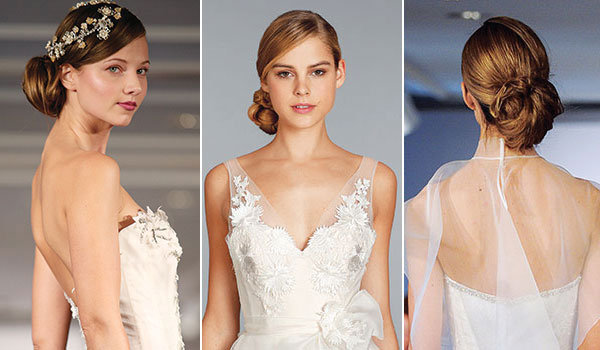 Photo Credits (left to right): Courtesy of Hayley Paige; Tom Rauner