Expert traveler and managing editor at Travel Age West, Skye Mayring shares her wedding and honeymoon story on these idyllic islands.
By: Skye Mayring
We started our honeymoon at the 57-room Le Taha'a Island Resort & Spa set on a secluded islet facing the island of Taha'a on one side and Bora Bora on the other. All overwater suites and beach villas incorporate natural elements such as local woods, coral and shells in the décor.

Photo courtesy of Le Taha'a Island Resort & Spa
The contour of waves and the shape of a ship served as inspiration for the design of our overwater bungalow. I absolutely loved the glass bottom feature at the foot of our bed. Not only could we open it to feed the stingrays swimming below but, at night, we could watch the reflection of the water dance on our thatched roof as we drifted to sleep.

Photo courtesy of Le Taha'a Island Resort & Spa
Guests can dine like Tarzan in the treetops at the resort's main restaurant, Le Vanille, or book a body scrub in one of the spa's open-air huts, but the number-one reason for visiting Le Taha'a has to be its incredible drift-snorkeling experience. With very little effort, we let the current take us through the resort's nearby coral gardens, the home of parrot fish, sea urchin, puffer fish and countless other creatures (room rates start at $1,231 a night for an overwater suite and include breakfast and airport transfers via boat; letahaa.com).

Photo courtesy of Le Taha'a Island Resort & Spa
Hotel Kia Ora Resort & Spa on the island of Rangiroa came highly recommended to us by friends who frequent the South Pacific. The resort's 60 villas and bungalows are scattered throughout a coconut grove and are within a 15-minute walk to Tiputa Pass, where wild dolphin come to jump, flip and play during sunset. Our Junior Suite was a self-contained paradise with a large gated courtyard that featured a plunge pool, a terrace with sunbeds and an outdoor shower and bathtub.
One of the advantages of staying at Hotel Kia Ora is the range of activities—there's a dive center on property, and guests can rent cars, scooters and bicycles to check out the island or schedule day excursions to the fantastically beautiful Pink Sand Beach or the Blue Lagoon (room rates start at $635 a night and include breakfast; eu.hotelkiaora.com).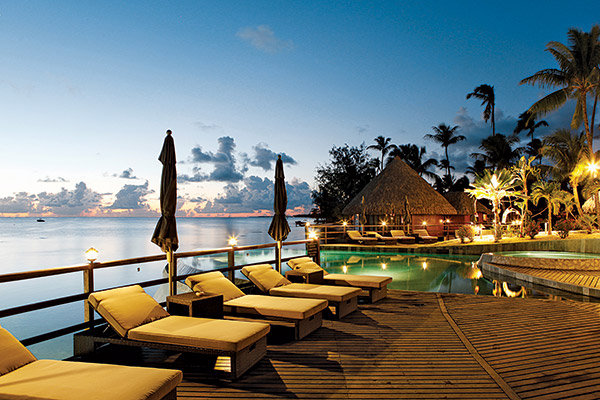 Photo Credit: Gregoire Lebacon
For a real Robinson Crusoe experience, we arranged a stay at sister property Kia Ora Sauvage, which takes about an hour by boat from Hotel Kia Ora. Sauvage offers five beach bungalows and can accommodate up to 10 guests. We happened to be the only guests on the entire island and, without Wi-Fi connectivity or any electricity to speak of, we disconnected from the rest of the world, as we bathed in the sun's rays and drank the resort out of rum (room rates start at $1,032 a night and include meals and boat transfers; eu.hotelkiaora.com).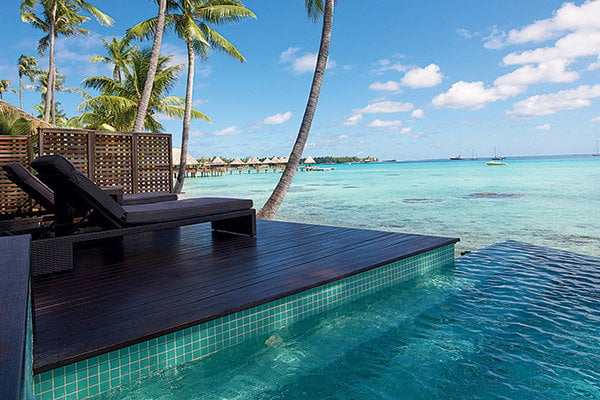 Photo Credit: Tim McKenna
The highlight of our honeymoon was a two-night cruise onboard one of Tahiti Yacht Charter's 40-foot catamarans, complete with two kayaks and a dinghy for us to paddle around in. The French Polynesian cruise company specializes in private sailings and encourages guests to follow their impulses, whether that's sunbathing on the bow's mesh trampoline or getting PADI certified in the Leeward Islands.

Photo courtesy of Tahiti Yacht Charter
Our captain and private chef were quick to make us feel at home, and it wasn't long before we started to feel like we were sailing with old friends. On one occasion, off the coast of the islet Raiatea, the crew showed us the basics of spearfishing. Although we failed miserably, the chef snagged two lagoon fish (a ruddy-orange apai fish and a black maito fish), which she pan-fried in a sea of butter and served as an additional dinner course (three-night cruises start at $2,080 per person and include meals, captain and chef services; tahitiyachtcharter.com).

Photo courtesy of Tahiti Yacht Charter
Pages