We asked four just-married newlyweds to share where they registered, what they registered for, and how they made their homes come together.
By: Aimee Morgan
Here, four couples just like you share their registry choices—take a peek and find inspiration for your own much-haves.
The Couple: Lindsay Issacs & Jordan Hirsch
From: Houston, Texas
Registered at: Crate and Barrel
Wedding Date: May 15, 2010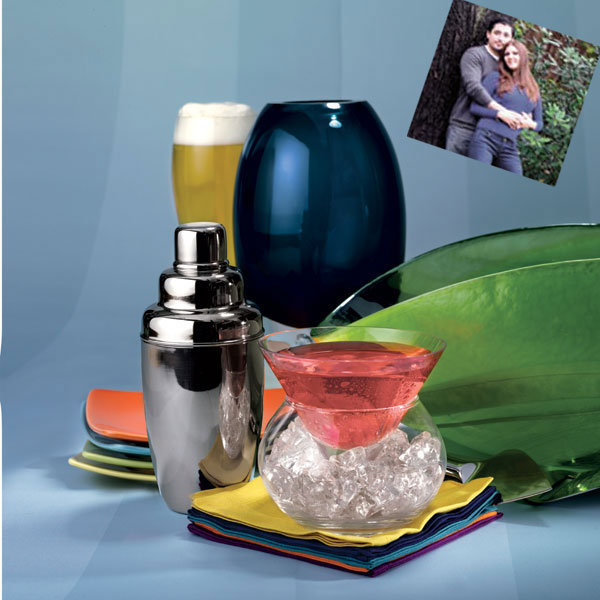 photo: David Lazarus
Why did you register at Crate & Barrel? "It offers everything from practical to fanciful that we needed. The prices are fair, and the quality is exceptional."
Can you tell us about your registry process? "The store met all our needs. The merchandise selection is up to date and the staff is knowledgeable, realistic and honest."
Did you consider price when registering? "We were aware that some of our guests might not be able to afford some of the more extravagant items. So we chose a wide spectrum of items at affordable prices."
You chose a number of items for entertaining. Do you throw a lot of parties? "As a couple we plan to entertain our business associates, as well as friends and families."
Any advice for other couples starting the process? "Make a practical list of the things you will really use, as well as a few special items. It's important to have a sense of the budgets of your guests. Register for durable items that are rated highly by others."
Credit Information (Clockwise from top left): Hand-blown teardrop vase; hand-blown pilsner glass, $9.95; mini stainless cocktail shaker, $20.95; square stoneware appetizer plates, $5.95 ea.; multicolored cotton cocktail napkins, $19.95 set of 12; hand-blown stemless martini glass, $1.95; hand-blown and hand-pressed glass bowl, all from Crate & Barrel, crateandbarrel.com.
Pages