From garden-inspired patterns to regal metallic details, Royal Limoges has dinnerware to suit every style.
Created in 1797, Royal Limoges is the oldest existing porcelain factory in Limoges today. It was based at Faubourg des Cassaux now known as rue Donzelot. A 200 year tradition, together with the most advanced technology enables Royal Limoges to remain one of the few family owned companies. Here, a preview of three elegant Royal Limoges collections.
Jardin Francais
The inspiration came from designer Timothy Corrigan's strong attachment to French gardens and garden pavilions; all of the various designs in the collection are taken from 18th century treillage patterns and reinterpreted in a fresh, modern way. Each piece in the collection draws from a different aspect of treillage, from a simple trellis pattern to the more complex designs often found as a focal point in French garden pavilions.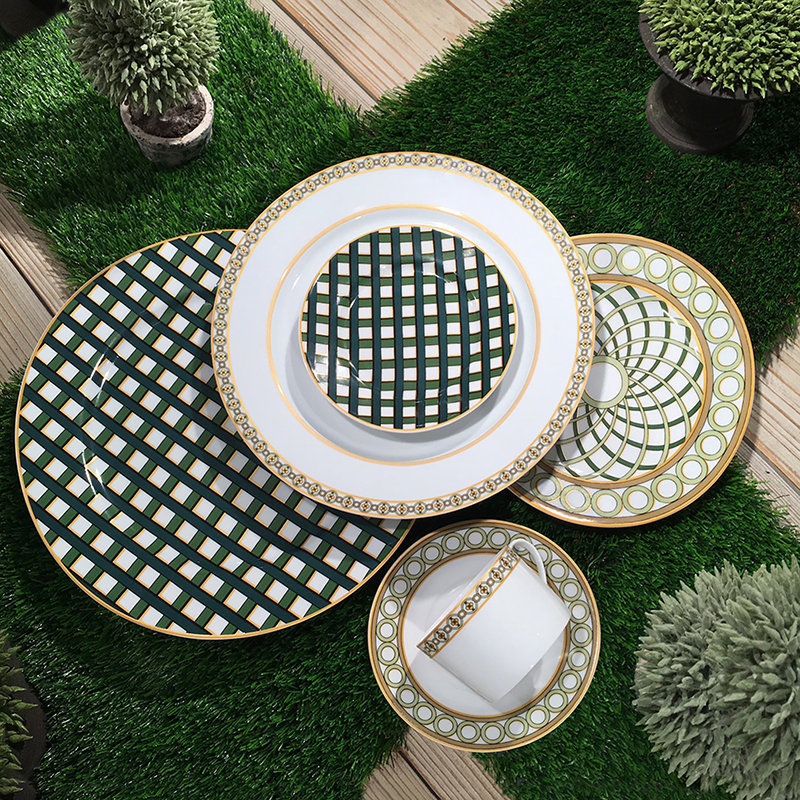 Golden Fire
Golden Fire plates are bordered with a matte gold banner that seems like gold dust skillfully powdered on the white Limoges body. A stunning ode to tradition and craftsmanship, Golden Fire will adorn any home where the art of table setting is appreciated.
Adriana
The Adriana collection is a fresh spring bouquet on a graceful scalloped edge shape. The vibrant colors of the meandering florals create a delightful garden setting for entertaining as well as everyday dining.
For more information on the three collections shown here, or to see the full range of Royal Limoges patterns, visit biacordonbleu.bridgecatalog.com