In our new "Friday Favorites" column, we'll share our top five inspirations of the week culled from real wedding submissions, industry events, what's trending in the weddings world and more!
1. Cinderella-meets-Captain America wedding. This has to be one of the most stunning bridal portraits we've seen! The Utah bride says that "Pepper [her photographer] indulged my fairy tale fantasy in taking pictures of me running down the stairs at the state Capitol building with one shoe behind me. I loved every second I spent in that dress [she wore Cotin Sposa], and I wouldn't have felt anywhere near as incredible in anything else!"
Check out more photos and read the couple's love story on The Bridal Detective.

Photo Credit: Pepper Nix Photography via The Bridal Detective
2. Get a headstart on those holiday cards. Minted, one of our favorite budget-friendly resources for wedding invites, save-the-dates, and more, has launched a "Newly Married" holiday collection. It features 43 different customizeable designs — I've featured a few of my favorites below. Aren't they lovely? I'll be adding this to my to-do list once I get all of those wedding thank-yous mailed out.
Score a 10 percent discount by using the coupon code "FALLHOL10" at checkout, which expires on Tuesday, 10/29.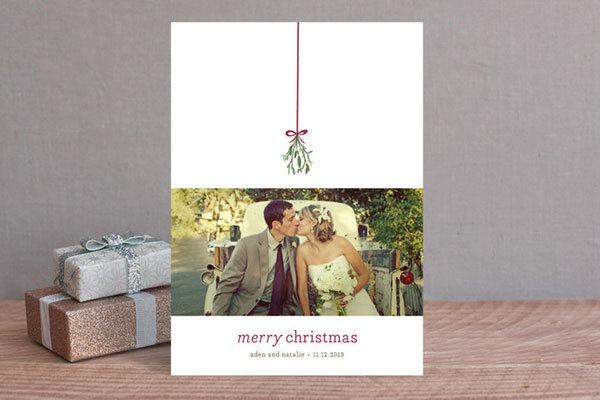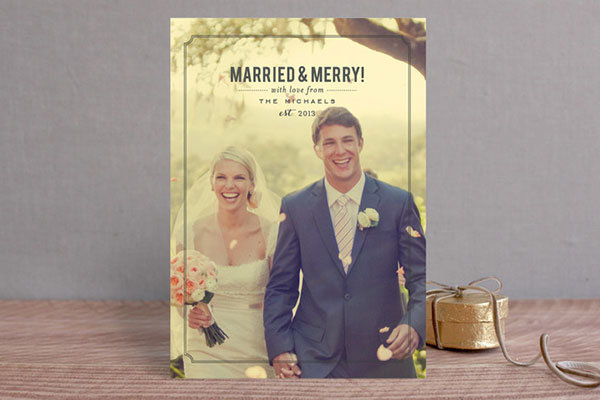 Photo Credits: Minted
3. Do a creative twist on the no-look "first look." Jace and Lauren's Parisian-themed wedding on Style Unveiled was incredibly elegant and filled with thoughtful details — including macaron escort cards — but what captured my attention was this photobooth run-in before the wedding ceremony was about to take place.
I love how the groom built up the anticipation by kissing the bride's hand! It would also be fun to take a selfie in the booth with your reactions and look through the film afterwards.

Photo Credits: Next Exit Photography via Style Unveiled
4. A high-flying first dance with Dad, for all of the daddy's girls out there. Some of my favorite memories from my wedding day were dancing with my father to "I Loved Her First" by Heartland and watching my dad's emotional reaction as I waited anxiously in the limo to walk out to the church and get married.
So when I spotted this close father-daughter pair from North Carolina twirling to "Piano Man" by Billy Joel, it instantly brought me back to those bittersweet moments. Get more inspiration from this mint-themed country celebration on Southern Weddings.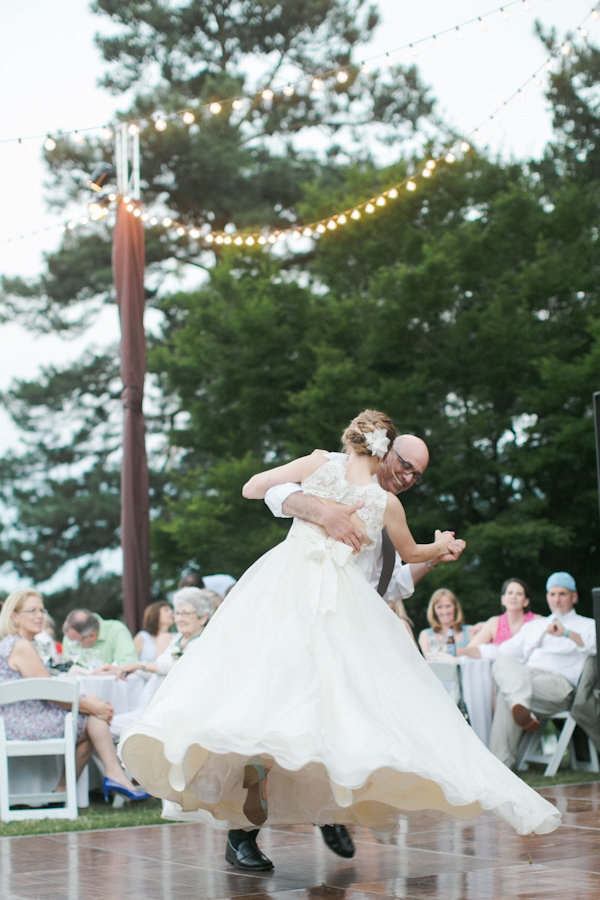 Photo Credit: Caroline Joy via Southern Weddings
5. Host a wedding movie-viewing night. My best friend just got her film back from her videographer, and I can't wait to watch it (she's holding off on pressing "play" until her one-year anniversary in November). I had her in mind when I saw this outdoor viewing party on 100 Layer Cake, which took place at a 200-year-old farm complete with retro-themed snacks and a life-sized movie poster. 
OK, so not every bride has access to such an idyllic setting, including myself. (I live in Brooklyn, which is cramped and short on outdoor spaces — it's fortunate that I even have a rooftop balcony, let alone a backyard!) However, I still love the idea of busting out some popcorn and cozying up with your best friends to relive all of the excitement and hilarity from the big day.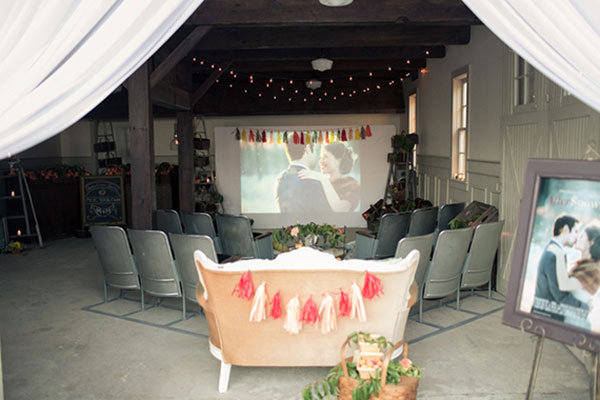 Photo Credit: Nataschia Wielink Photography via 100 Layer Cake
LOVE IT OR LEAVE IT: Creative table numbers. I opted out of them when planning my wedding, because it seemed like just another detail I would go crazy over, only for guests barely to notice it. I don't regret my decision because at the end of the day, it wasn't a priority and didn't really fit into our overarching theme (a glamorous big-city bash).
However, I spotted these terraniums at a New Jersey wedding recently and I think they added a great touch of whimsy. They'd work especially well with smaller centerpieces or a garden-themed affair.

Photo Credits: Off BEET Productions
Tell us: What are you inspired by this week?
—Stefania Sainato