See the new Dutchess of Sussex's wedding dress and all the other fairy tale-worthy royal wedding details.
By: Mary Gillen
It was a royal wedding unlike any other and we can't stop smiling! After months of planning and prepping, Prince Harry & Meghan Markle tied the knot on a beautiful sunny day in St. George's Chapel at Windsor Castle in front of 600 guests and millions of viewers around the world. The Hollywood starlet and her Prince Charming had many celebrity guests in attendance, including Oprah, Meghan's bestie Priyanka Chopra, George and Amal Clooney, Victoria and David Beckham, Serena Williams, and more.
Meghan looked absolutely stunning in a bateau-necked silk gown designed by Givenchy. She arrived in a Rolls Royce with her mother Doria, who wore a green wool crepe dress and coat ensemble by Oscar de la Renta. Surrounded by thousands of lucky fans that were close enough to catch a glimpse of the beautiful bride, Meghan carried a small bouquet (that was handpicked by Prince Harry!) featuring forget-me-nots (Princess Diana's favorite flower), sweet peas, lily of the valley, astilbe, jasmine, astrantia, and the traditional sprigs of myrtle. 
After walking up the steps of Windsor Castle, she entered St. George's chapel under a lush archway of garden roses, peonies, and foxgloves designed by Philippa Craddock. Meghan's 16-foot embroidered cathedral veil was carried by her adorable attendants. In admirable feminist fashion, Meghan walked half-way down the aisle by herself and then the rest of the way to the altar with her now-father-in-law Prince Charles. 
The ceremony was full of 'real' moments that are not often associated with royal weddings (did this nervous inappropriate phrase really come out of Harry's mouth?!). That "I Do" snafu aside, our absolute favorite part of the ceremony was when Prince Harry whispered to his bride, "You look amazing, I'm so lucky" after she met him at the altar. Swoon! Throughout the ceremony, you could feel the love radiating from the beautiful couple as they smiled and laughed with each other giddily.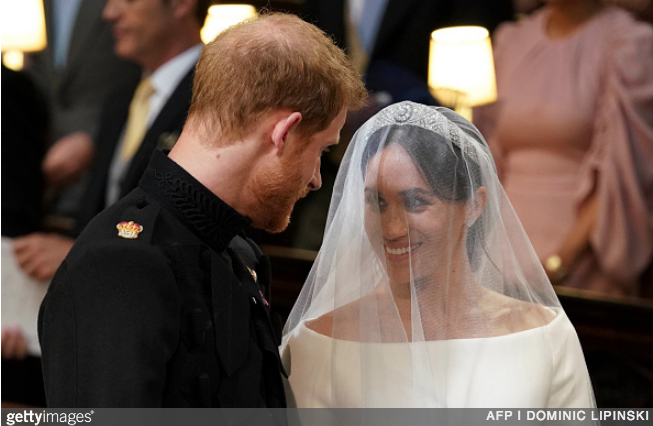 It was very important to Prince Harry that his late mother's family play an important role in the ceremony and Diana's sister, Lady Jane Fellowes, delivered a reading from the Song of Solomon. Bishop Curry, from Chicago, gave the royal wedding address and it was truly inspiring. He spoke passionately about the power of love, quoting Dr. Martin Luther King Jr. "There's power in love, don't underestimate it," he said. He also spoke about fire and how it is what makes everything possible and quoted Chardin, who said: "if humanity ever captured the energy of love, it would be the second time in history that we have discovered fire." His "fiery" sermon the perfect fit for a royal couple that isn't afraid to break from tradition and has sparked a mesmerizing fire of their own.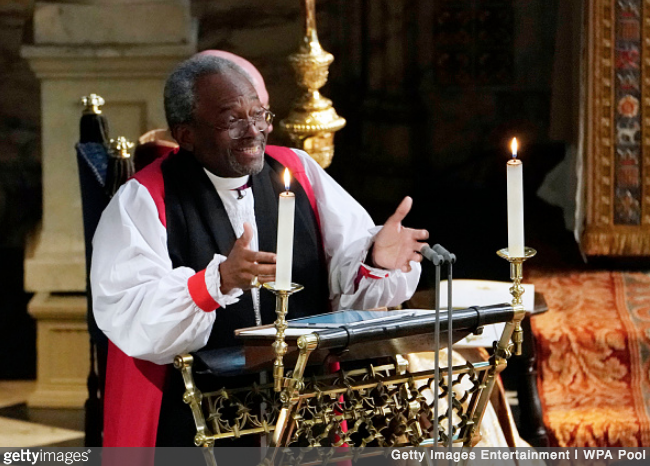 The music at the ceremony was also very untraditional and personalized to Harry & Meghan. Karen Gibson and the Kingdom Choir sang a joyous gospel performance of Ben E. King's "Stand By Me" and the newlyweds exited the ceremony to a beautiful rendition of "This Little Light of Mine" by Etta James. 
Since the big day was dubbed as the people's wedding, Prince Harry and Megan Markle gave 1,200 golden tickets to people who have served their local communities to stand within the castle gates and watch the couple's grand entrance and exit. As the new Duke and Dutchess of Sussex made their way in an open-top Ascot Landau carriage through the town of Windsor thousands of onlookers cheered and waved their British flags with pride.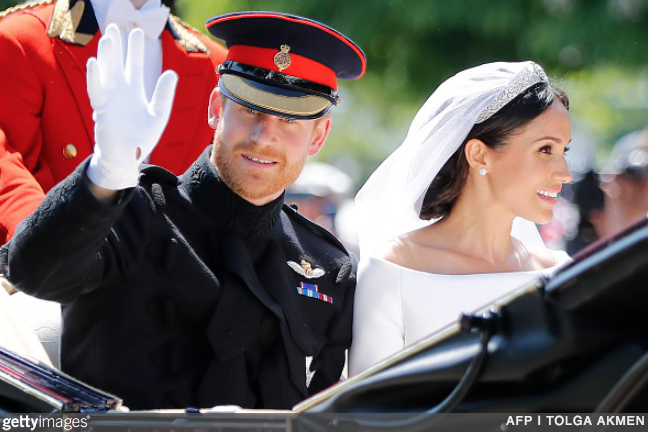 Congratulations to the happy couple! After seeing this one-of-a-kind ceremony, we can't wait to see what their reception(s) and the future have in store.