Is your heart set on a particular reception site? Or are you torn between a few? Be sure to do your homework before you sign.
You can't really set a wedding date until you've secured a location for your wedding reception (and ceremony), so the sooner you tackle this task, the better—do it 10 to 12 months in advance, if possible. Once you've narrowed down your choices, meet with the banquet manager (or other senior representative) at each place to hash out the details. Following are the key questions to ask before you decide to book.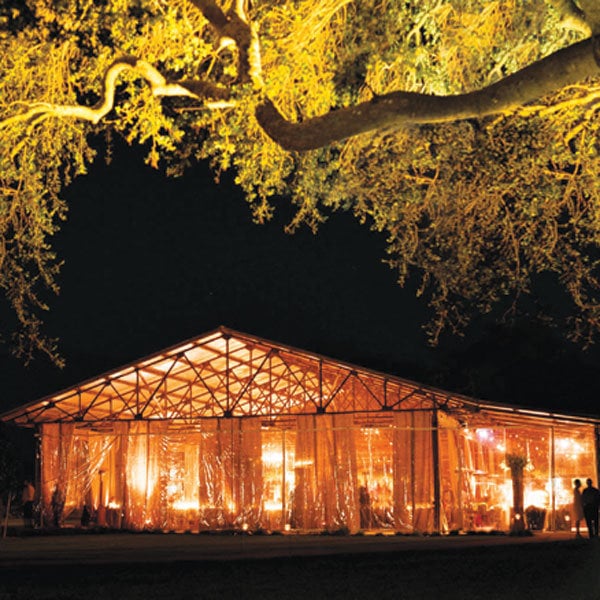 Photo Credit: Elizabeth Messina
What services does the rental fee include?
Some reception halls provide catering services as well as all the necessary equipment (tables, chairs, linens, tableware and so on), while others offer only the room, requiring you to take care of equipment rentals. The site should provide a banquet manager who will be present on the day of your wedding at no extra charge.
Is the rental fee cheaper if we don't book a Saturday night?
If you book a Friday or Sunday night you'll likely get a lower rate. Rental fees also vary per month—you'll get a better deal if you book a date during low season (usually considered the months of November through April).
Are other events scheduled on the same day?
Try to avoid booking a banquet hall that's hosting another wedding simultaneously—you want the staff's attention to be focused entirely on your event. It's more common for sites to book an afternoon and evening event on the same day, which usually isn't a problem.
What is your alcohol policy?
Your catering fee might include a full open bar, for which you'll be charged either a flat fee or by the hour— or you may have the option of being charged based on what, and how much, guests actually consume.
Are your health department and insurance certificates up to date?
Reputable sites meet health codes and carry liability insurance in case someone becomes severely injured while on the property. If there's no paperwork to prove these things, you don't want to do business there.
Are there adequate restroom facilities?
In general, you'll need at least two bathroom stalls for every 100 guests; for 150 guests, four or more stalls are ideal.
Can you accommodate physically challenged guests?
While most buildings will have ramps and elevators, do a walk-through to see for yourself how well these features will meet the needs of your wheelchair-bound guests.
Are there any restrictions we need to know about?
If a site is located in a heavily residential area, you may be legally required to close down your party at a certain hour. Also ask about fire hazards — some sites do not allow the use of taper candles or sparklers, for instance.
What is your payment and cancellation policy?
Upon signing, you may be asked to provide a security deposit. Find out if, and under what circumstances, your money is refundable, and make sure this is stated in the contract.
Hint: Don't assume anything! For example, if you're getting married in the hot summer months, be sure to ask if your site has air conditioning. You don't want any unpleasant surprises.
Outta Site 
Renting an all-inclusive hotel ballroom or banquet hall is a great idea, since these usually offer well-trained staffs as well as a manager who will handle most of the details for you. But don't discount other wonderful venues that can give your party a little more personality:
• Aquarium
• Art gallery
• Baseball or football stadium
• Beach
• Botanical garden
• Campsite
• Casino
• College campus
• Cruise ship
• Dude ranch
• Fairgrounds
• Farm
• Historic mansion 
• Industrial loft 
• Island resort 

• Lighthouse
• Museum
• National park
• Opera house
• Planetarium
• Private home
• Private yacht
• Racetrack
• Restaurant
• Ski lodge
• Theater
• Theme park
• Vineyard
• Zoo