There's something to be said about taking a more is more approach when choosing your wedding palette. Just take a look at the dazzling mix of hues here.
By: Mary Clarke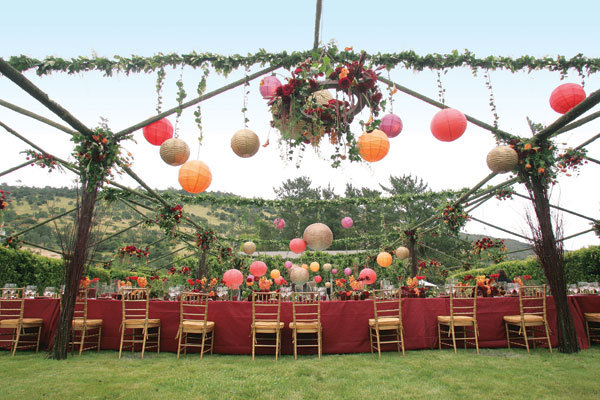 Photo Credit: Sherman Chu     
Why limit yourself to just one or two wedding colors when three, four or more shades can yield such glorious results? That's the thinking behind the celebrations pictured here, from California-based event designer Sasha Souza, of Sasha Souza Events.
Well known today for her signature rich, chromatic mixes, Sasha tells us it wasn't always this way. "Ten years ago, brides were asking for white, white, white," she says. "Or white with one other accent. I thought it was important to step outside of the white box."
Sasha's passion for color— lots of it—is obviously infectious, as evidenced by the events pictured here, each a fabulous feast for the senses. The designer weaves color through every celebratory detail, including welcome drinks and the meal itself. "Color is timeless," Sasha rhapsodizes. "Theming can look dated as the years go by, but color stays true to itself," she continues. "And adding more color to your wedding doesn't add to the cost." Color us convinced.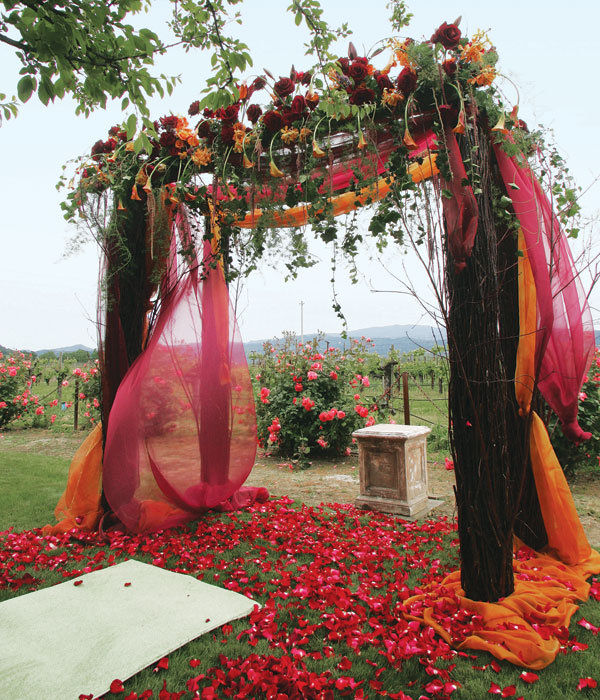 Photo Credit: Sherman Chu     
Red dogwood branches are hung with gauzy silk in blazing tones of pumpkin and raspberry, and topped with topaz calla lilies and deep red roses. "I like to describe colors using food names: apple red, cherry red, raspberry red. It helps people envision all the subleties and ranges within each hue," said Souza.

Photo Credit: Alisha + Brook Photography     
For your bridesmaids, try a bouquet of monkeytail fern, feathers, and Equadorian roses. And have your flower girl carry a cone of leatherleaf fern.

Photo Credit: Sherman Chu     
Pillar candles in merlot tones are set off by tables draped in ruby red; Chiavari chairs feature copper pads. 

Photo Credit: Susan Stripling     
"The darker blooms make the lighter flower colors really pop," said Souza. Here, Tuscan candelabras are bedecked with zinnias, roses, and mums.

Photo Credit: Sherman Chu     
Oyster and shimp cocktails with mango and red-wine sauce sit poolside.

Photo Credit: Alisha + Brook Photography     
Here, multiple colors come together in a gorgeous way; crinkle-taffeta in lime, plum, and aqua; plum glassware; copper chargers; and ocean-blue menus. 
Photo Credit: Luca Trovato (left); Susan Stripling (right)     
Bronze chargers, adobe and white plates, and a plum and white menu top a plum linen runner. For a colorful appetizer, serve vibrant heirloom tomatoes drizzled with balsamic vinegar.
 "Sometimes we take a more nuanced approach by telling the color story progressively. You can start with paler shades for the ceremony, introduce brighter accents for cocktails, and finish by pulling out all the stops for dinner and dancing."

Photo Credit: Alisha + Brook Photography     
This gorgeous fall-inspired white cake is embellished with real blooms and silk butterflies.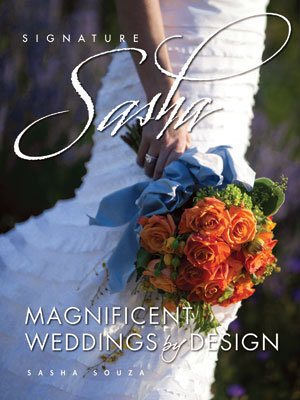 For more great ideas, be sure to check out Sasha Souza's book, Signature Sasha: Magnificent Weddings by Design.