Whimsical details and quirky flea-market finds put a charming, vintage spin on this modern-day reception.
When your best friend since childhood is an uber-talented artist, who better to call upon to help create your wedding? That was always the plan, says wedding-invitation designer Kristy Rice, the creative force behind Momental Designs.
When the time came to work with Amy and fiancé, Stephen, "We approached the task as an art project. "A rollicking, on-deck riverboat cocktail hour, vibrant color palette and a myriad of antiques collected by the couple made for a day filled with surprise and delight. Every detail, from the hand-painted invitations to the cheeky wedding-favor labels, told a story of love with every brushstroke.
Mini-collections of glassware, oil lamps, vintage marbles and hand-painted dishes create eclectic centerpieces. No table looked the same. The design cues came from the 1800s: ruffled parasols, pocket watches, oil lamps — with a modern twist: bright colors and whimsical, handpainted details. Linens were provided by La Tavola Linen. 
A "Great Gatsby" clutch by Kate Spade was a gift to the bride. The design for the couple's wedding programs was modeled after a vintage cruise itinerary.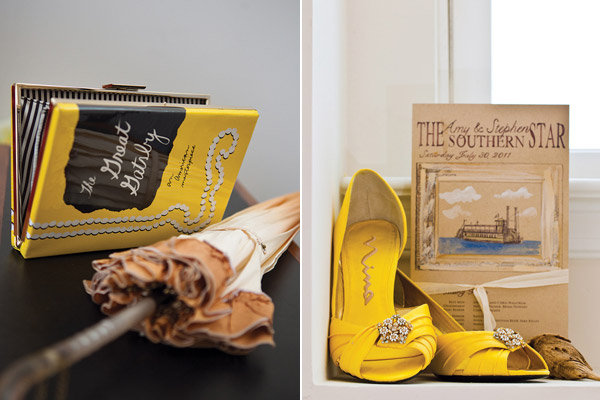 The message-in-a-bottle invitation suite was created by Momental Designs. It included a suite of artwork inspired by the venue's riverboat, a watercolor map, black glass buttons and individually painted invitation scrolls in each box.
Hand-painted escort cards directed guests to their tables.
Each guest table was identified by a vintage plate, handpainted with flowers and the title of a favorite song.
Amy, Kristy, family and friends DIYed bouquets and centerpieces with blooms from FiftyFlowers.com. The parasols were from Bella Umbrella.
The couple scoured auctions for iconic old tobacco tins. The menu cards featured delicate, individually water-colored patterns of buds, leaves and petals.
The multi-level cake stands were made by the groom; flavors are noted on plates. The favors: Old Bay seafood seasoning in pretty jars with a hand-drawn interpretation of the classic Chesapeake Bay spice logo.
Photography by Daniel Bostwick Photography