Putting together a seating chart may take some time, but thoughtful table arrangements will heighten your guests' experience.
Setting up a seating chart can be a tricky job, but you can get through this tedious task with your sanity intact. Guests generally like pre-arranged seating assignments for sit-down dinners. It shows you thought about whom they'd be best seated with, and it cuts down on confusion when it's time for the meal to begin.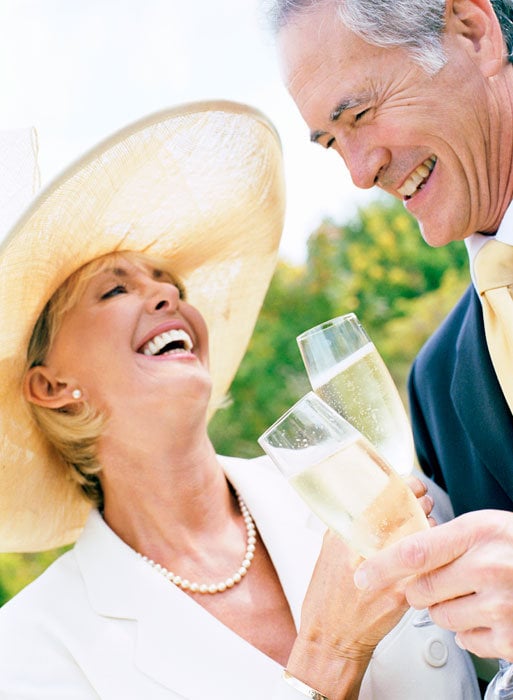 No Regrets: Satisfactory Seating Arrangements
• Remember, you're not going to be able to make everyone completely happy. Do the best you can, avoid major political blunders,and hope your guests have the good grace not to complain.
• Do ask your parents and your fiance's about any potential family minefields. There may be old wounds you're not aware of, so enlist their help to avoid unfortunate groupings.
• Build a little flexibility into your seating plan. Inevitably you'll have a few no-shows, and you just might have a few attendees who neglected to RSVP. Your catering manager should be able to squeeze acouple of extra seats in if necessary.
The first thing you need to do is talk with your fiance and decide if you're going to take requests from your family and friends or determine between the two of you where everyone will sit. Then remember the following guidelines.
The head table can be just for the two of you, if you like. Or you can add your maid of honor and best man, or include the entire wedding party. Traditionally the bride sits at the groom's right, with the maid of honor on his left and the best man on the bride's right. The rest of the party follows suit in an alternating male/female pattern. You may include child attendants at the head table, too, but if they are young, they may behave better and feel more comfortable seated with their parents.
If you are having a small wedding party, you may want to include their spouses or dates at the head table. Or, you may choose to spread your wedding party around at the guest tables, which would also allow them to sit with their partners.
The table of honor—located near the head table—is where the parents of both the bride and groom, the wedding officiant, and sometimes grandparents sit during the reception. If there are several people you would like seated at this place of honor, you may have two tables—perhaps one for the bride's family and one for the groom"s. Divorced parents should be seated at different tables of honor with their partners and close family and friends.
Always seat married couples at the same table. Younger children should be seated with their parents or, if you have a lot of children attending, you might want to have a "kids" table"—strategically placed near their parents—with some crayons and paper or other games and toys to keep them busy.
If you have a large group of friends you need to divide, split the group down the middle and fill each table with other people. That way no one feels completely left out. For single friends, judge which seating situation will make them happiest—a table of unattached counterparts or a few couples mixed into the scene. Never, and we do mean never, seat only one or two singles at a table full of couples, and try to avoid tables of all strangers.
Younger people—or people who love music—should be at tables close to the music makers, while older guests may want a quieter table.
Guests should be informed where they will sit by table cards that are placed on a small table outside the reception room: Mr. and Mrs. Smith, Table 5. You can also get creative and choose an alternative to traditional cards. For example, for a beach-theme wedding you could write names and table numbers on shells or smooth beach stones with an indelible pen.
Within the dining room, the tables should be prominently marked in an easy-to-follow order. You may also use place cards to notify guests about specific seats at their tables. They should have names on both sides (so other guests at the table can see them as well), and should be positioned above the plate. This is a good way to help guests become acquainted. Alternatively, many couples now combine place cards with favors, using small picture frames or other gifts marked with a guest's name both to indicate the seat and provide a keepsake.