If nighttime isn't the right time for your reception, think creatively! Here, some top wedding planners provide inspiration and tips.
By: Kristen Finello
Fork-and-Finger Foods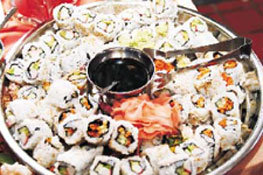 A great cocktail party is all about offering fabulous, abundant food at stations and as passed hors d'oeuvres, as well as wonderful drinks, according to Katz. The hors d'oeuvres can include elegant bites, like rosettes of salmon on bread, topped with poached quail eggs, or caviar on little spoons, or popular comfort foods, like mini grilled cheese or hamburger sandwiches and French fries. For stations, have sushi chefs preparing made-to-order sushi. Other ideas: a seafood bar with lobster, shrimp and four different kinds of oysters; a station with mini savory soufflés or spicy chicken "fortune cookies" served in "take-out" containers; or a station featuring salmon four ways (Scottish smoked, gravlax, poached and tartare).
Sophisticated Sips
"Have waiters circulate with martinis, sparkling water and champagne. During the evening, offer a full open bar or just wine and champagne. Or try a martini bar featuring a variety of colorful martinis, such as lychee and green apple. With dessert, offer chocolate martinis and pass trays of little mugs of hot chocolate."
Sweet Abundance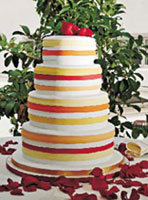 "In addition to having waiters serve slices of wedding cake, offer your guests miniature sweets, like petits fours, cupcakes (iced in your wedding colors), brownies, blondies and fruit tarts. Plain, chocolate-covered or sugar-glazed strawberries are also pretty and tasty. For a personalized touch, have cookies made with the bride's and groom's initials."
Color Combos
"All red is a very sophisticated and striking look: Use it in everything from the cocktail napkins to the flowers, even lining the walls in red fabric. Looking for something unusual? Pair a light acid green with white for a stark, gorgeous look."
Creative Décor
"'Interesting' is the right word for cocktail-party décor. Hang candles in cone-shaped glasses or suspend flowers, such as orchids, from the ceiling. People are up and mingling, so you only need tables for about half the guests at a time. Food presentation is important, so match your serving trays to your décor. For a red-themed wedding, for example, use red trays decorated with flowers."
Strike Up the Band
"Have hot music and a band or DJ that can handle everything from Top 40 to swing to Barry White. Your choice of music style is personal, but hire someone who will keep your crowd kicking up their heels."
Pages