A jewel-like fruit takes center stage in this stunning winter wedding.
By: Mary Clarke
Pomegranates, orchids and pinecones sit atop a footed vintage mini-tea-table.
A team of pros put their collective imagination to work in a balmy Florida garden to create a festive fairytale of a fête—using unexpected visual touches that brought colder climates to mind, while allowing guests to stay blissfully warm. A color palette of sparkling gold, rich red and snow white set the seasonal tone. "We stayed away from typical winter-holiday green-and-red combos or jewel tones like sapphire and amethyst," says co-designer Mariana Herrera Mosli, of Kismis Ink, in Tampa, FL. The inspired jumping-off point? Ripe, ruby-red pomegranate, a fruit that is in peak season during the fall and winter months.
The pomegranate invitations on a floral cloth. "We started with all the gorgeous reds found both inside and outside the pomegranate, which informed our color scheme for everything from the invitation suite to the table decor, the bride's bouquet and the wedding cake itself," Mariana says. 
A striking mix of bold blooms wrapped in gold and white made up the bouquet.
Raspberry pomegranate Napoleons and buttercream petit fours topped with sliced almonds make perfect little treats.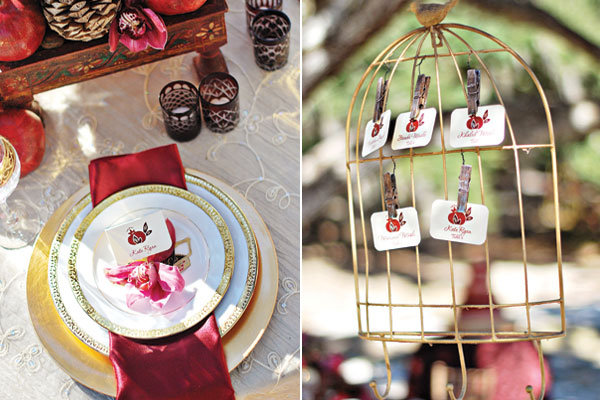 Gold-edged china swagged with red fabric and topped with an orchid decorated the tables. Vintage clothes pins held escort cards.
Glitter-covered cones and a feather centerpiece tree evoke a fanatasy forest setting. "And we added touches of gold for a more regal feel." Icy crystal stemware and rustic pinecones added to the almost-frosty vibe, proving that evocative winter wedding style can always be achieved, even in the Sunshine State!
The cake with red rolled fondant embellished with gold accents and trimmed with pinecones. "Introducing pinecones was a way to add a rustic touch to contrast with the opulent red and gold palette. And we loved how beautiful the shapes of the pomegranates and pinecones worked with each other."
Photo Credit: Kismis Ink Photography