Get your booze clues here: what to serve, how much to spend and other toast-worthy tips.
Weddings are about love, hope—and toasts! As such, most brides and grooms provide guests with lots of champagne, wine, beer and spirits throughout the night. What do you expect to serve? Here's how to stock up according to your guests' tastes—and your budget.
The Basics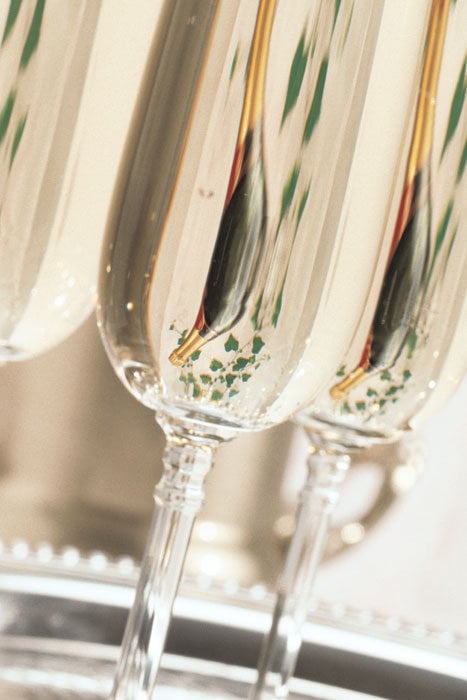 Raising the Bar
Up the cool factor of your cocktail hour with today's beverage trends.
OLD
Chardonnay
Merlot
Champagne
Cosmopolitans
Margaritas
Strawberry daiquiris
Cognac (as digestif)
Microbrew beer
Campari
Grand Marnier
Pink grapefruit juice
Lemon zest
Cranberry Juice
Perrier
NEW
Pinot Grigio
Shiraz
Sparkling Wine Champagne cocktails
Mojitos
Sidecars
Cognac (as aperitif)
Premium vodka
Chambord
Limoncello
Pomegranate juice
Ginger shavings
Red Bull
Voss
Many couples opt for an open bar, where guests have access to unlimited drinks throughout the entire reception. While this is certainly the most gracious approach, it's also the most expensive and could end up costing as much as 10 to 20% of your total budget. An alternative is the "limited," or "soft," bar, where you offer a careful selection of drinks (say, wine, beer and vodka cocktails) at the bar during specific times (throughout the cocktail hour and right after dinner), then have waiters serve wine or beer during the meal.
On a tight budget? Don't even think about having a cash bar. Guests should never be expected to pay for their own drinks. Instead, consider skipping the hard stuff, which is pricey, and serve less-costly wine and beer only. Or, opt to offer your site's "well" brands of liquor, which are less expensive than premium brands; the same goes for "house" wines and champagne. Also, discourage the wait staff from refilling wine glasses at dinner without first asking guests if they want more.
Who Supplies the Alcohol?
If you're hosting your wedding in a hotel or banquet hall, liquor is usually provided; in your contract, expect to be quoted a per-person fee or a "total" price for alcohol. The same is true with established independent caterers. If the caterer does not have a liquor license, he or she will coordinate purchasing the alcohol from a vendor and quote you a price per bottle. If there are bottles left over, you'll get to keep them—or the caterer might be willing to reimburse you—so you'll only be paying for what was actually consumed.
If your facility allows it, consider supplying the alcohol yourselves—it can be a huge money saver (of course, you'll have to order and arrange for delivery, and cart away the unused bottles after the party). You may be subjected to a "corkage fee," a flat fee charged by the caterer per bottle opened (usually around $5 to $10; it can be negotiated), but even so, you'll most likely see terrific savings—especially if you purchase the alcohol from a wholesaler.
The Numbers Game
Your caterer can advise you on just how much alcohol you'll need. But unless your crowd consists of really heavy, or really light, drinkers, a good rule is two to three drinks per person for the cocktail hour and one drink each per hour after that. Here's an estimate of the bottles needed for 100 guests: Hard liquor: 10 bottles of vodka; 6 bottles each of gin and rum; 4 bottles of scotch; 2 bottles each of whiskey, bourbon, tequila and Triple Sec; and 2 bottles of vermouth. Beer: 2 cases (perhaps one light, one dark). White wine: 3 to 4 cases (36 to 48 bottles). Red wine: 2 to 3 cases (24 to 36 bottles). Champagne: 3 cases (36 bottles).
Also, be sure to have plenty of soft drinks and water (bottled and tap) on hand.