From '20s Gatsby chic to freewheeling circus fun, the charm of retro themes and details is having a major moment. Here, some fresh ideas and inspiration.
Two-Ring Circus
Cotton candy, barn dancing and a casual, playful atmosphere: What's not to love about a county fair or outdoor circus?
To begin, Demos created a detailed storyboard that included "patterned fabric and paper, ribbon samples, crepe paper, balloons, millinery flowers, old-time candy, vintage paper straws, carnival trinkets and the like." From there came the bigger picture: A barn strung with café lights, popcorn and cotton-candy machines, paper tickets that read "Good for one kiss from the bride or groom" to be used at an old-fashioned kissing booth.
Key elements: big-top shades of red, white and yellow; crayons for the kids and a photo booth for all; sweets galore. Polka dots and stripes plus trinkets reminiscent of a country fair.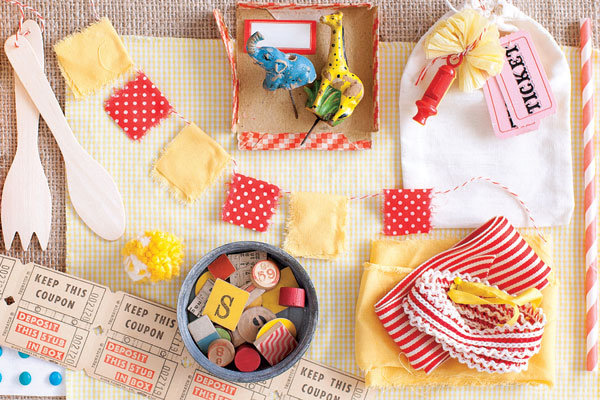 Apothecary jars filled with penny candy round out the dessert course. Flowers in single shades arranged in white containers make a bright, bold statement.
Buttercream cupcakes are a crowd pleaser.
Gatsby Revival
"Wedding inspiration is everywhere, but for me, it is firmly rooted in the past," says Savannah, GA-based event designer and stylist Elizabeth Demos, the creative force behind these celebrations. 
"Sometimes the idea for a wedding starts with how you want it to feel, rather than how it will look," Demos says. Here, the inspiration was F. Scott Fitzgerald's descriptions of relaxed and luxurious lawn parties by the sea. Keys to the look: Pages torn from antique books play to the literary theme; a palette that complements the seaside setting and the venue itself — an historic mansion. "For this wedding, a quick glance suggested teal, off-white, brown and hints of gold."
For your invitation, vintage fonts give guests a hint of what's to come. And for your centerpieces, wrap boxes with pages from old books to hide water-filled plastic cups.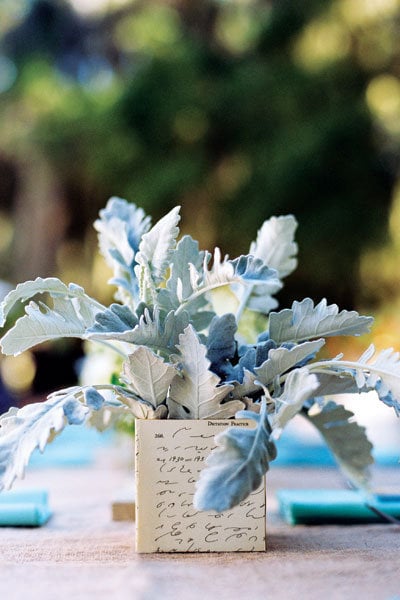 Fill your vases with a heady mix of white blooms, succulents and lush green leaves. And we love tthis sweet cake topper trimmed with embroidered ribbon.
Flea Market Charm
The bride's palette called for shades of parchment, beige, grey and pink: "She asked for 'a faded pink like the kind found in curtains that were once red but have been bleached by the sun to the perfect shade of pink.' She was speaking my language," Demos says.
Vintage details were in abundance throughout. The table centerpieces were created using antique medicine bottles and mason jars that held cottage-garden flowers; pages of old sheet music were laid out to decorate the cake table.
Keys to the look: Blue mason jars, handmade runners and mismatched china. "If you have time, like to shop flea markets and aren't afraid of the occasional box of dusty dishes with cobwebs, plan to purchase your own vintage china for the reception," says Demos.
The color theme was informed by vintage plates, millinery trimmings and other ephemera.
Mismatched china features hints of the bride's color palette. And old sheet music pages beneath a vintage cake topper serve as a tablecloth for the cake table.
Demos created the table runners by sewing doilies together at the edges.
Adapted from Elizabeth Demos, Vintage Wedding Style: More than 25 Simple Projects and Endless Inspiration for Designing Your Big Day. Chronicle Books (2012). Photography by Chronicle Books.