From flowers to décor to invites, wedding planners share their tips for a party that treats the earth like a special guest. Check out some real eco-friendly weddings!
By: Rachel Griffiths

 A couple exchanges vows, framed by barrels of lush wildflowers (photo credit: Timothy Lee Photography).
Mindful Design
Go for simple, high-impact design, advises DeJuan Stroud of DeJuan Stroud Incorporated, an event-planning firm in New York City. "We created a wedding in a barn, with white tablecloths and bistroware. We rigged wooden planks from the ceiling to hold pillar candles in glass cylinders. It was gorgeous—the entire room was illuminated with candlelight."
"For your tablecloths, use organic-dyed materials like flax, linen and even burlap," says Stroud. Some event-planning companies, such as dvGreen, can provide organically produced linens.

 A natural theme gets the right look from Linens made of organic cotton, right, and hand-painted dishes (photo credit: Beverly Hills/Michael Norwood Photography).
It's a little more green not to use a tablecloth at all," says Alice Charlier of Alice Charlier Events in Los Angeles. "Nowdays a lot of rental companies have glass tabletops, and with the lighting, the effect is really stunning."
"Being green is really about reusing," notes Charlier, who is always on the lookout for interesting objects she can recycle. "We create hurricanes with old, prettily patterned mason jars, on which we might put a beeswax seal of the couple's initials. You can glue crystals on the jars—there's a lot you can do to make them distinctive." Charlier also loves to scour flea markets and antiques shops in her area for gorgeous vessels and vases.

A simple, shiny candleholder makes a can-do statement at a green party (photo credit: Girari).  
Jennifer Brisman of Jennifer Brisman Weddings New York agrees. "Urge your designer to use what they already have in their arsenal. Things like Swarovski crystals that you scatter on your dinner table to reflect light are not one-use items. Designers invest in them for repeat use, and that ties in with reduce, recycle, reuse."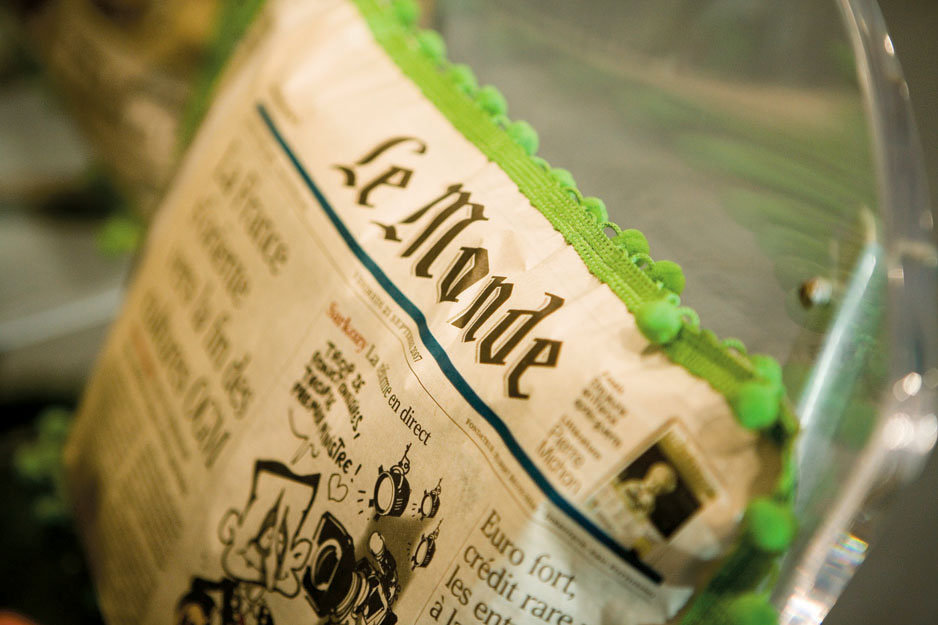 Oh-so-cleverly recycled newspapers make for a chic—and unique—look (photo credit: Beverly Hills/Michael Norwood Photography). 
"Insist on seeing what recycled glass materials your rental company offers," says Stroud. "Some really elegant and prettily shaped glassware is also recycled."
"One of the best things you can do for the environment is use linen cocktail napkins instead of paper," says Brisman. She adds that she has to budget five to seven paper cocktail napkins per person—a "ridiculous number to go through!"
"A lot of lighting companies are doing LED lighting, because it's green," says Charlier. "It's low voltage but creates a glow. If you can't afford LED, the next best thing is to use candles."
Brisman advises looking for "clean" candles. "When you watch a candle burn, you'll notice the black soot that collects on the glass. Soy and honeycomb candles are much cleaner. Even better, they're available in every size, shape and color."

The base of an orchid "tree" is surrounded by spheres of soft green moss and clusters of colorful, clean-burning votives (photo credit: Beverly Hills/Michael Norwood Photography).  
And when it's time to leave the scene, go green. "Rent a hybrid vehicle!" says Charlier. (ozocar.com)
Flower Power
Want fabulous, blooming centerpieces, but flinch at the waste created by using cut flowers? Brisman has a lush alternative: "At a wedding at the New York Botanical Garden, we decided to use potted orchids as centerpieces. You can group six or seven pots on a table, and guests can take them home."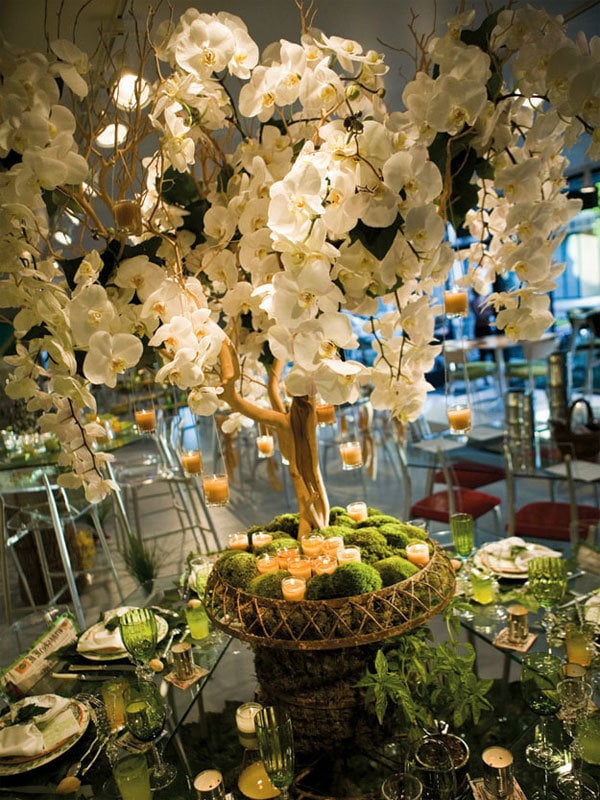 Potted orchids needn't be tossed out after the party (photo credit: Beverly Hills/Michael Norwood Photography).  
Stroud suggests using potted primroses and African violets or such nonflowering plants as herb topiaries. "There are beautiful single- and double-ball myrtle and rosemary topiaries in terra-cotta pots topped with a little deer moss. These work beautifully for replanting in gardens or in window boxes."

Create a fetching look with topiaries like this cute "canine."  (photo credit: Girari). 
Charlier recommends putting an aisle of wheatgrass down a long table. "It looks very zen—and beautiful—with just crisp white linen tablecloths, wheatgrass and candles."
According to Corina Ann Beczner of Vibrant Events in San Francisco's Bay Area, "A number of pesticides may be used on roses." Her recommendation? If roses are a wedding day "I do" for you, go organic. (One website to try is organicbouquets.com.)
Locally grown blooms can capture the flavor of your event. Beczner says, "For a wedding held on a farm, the bride called ahead and requested that they grow special flowers. On the big day, the flowers were already picked and arranged at the site—talk about local!"
Good Eats
How to cut down on serving vessels? By making them edible, of course! Andrea Correale of New York's Elegant Affairs Catering & Event Design recommends planning a cocktail-hour salad bar with mesclun, spinach, watercress, lots of toppings and a choice of dressings—some creamy, some tart—all served in a deliciously edible parmesan cup. She also likes to serve mini passed salads, with a wisp of baby romaine peeping out of a hollowed plum tomato.

For a luscious summer salad, pair watermelon and cucumber with feta cheese and fresh baby greens (photo credit: Jan Van Pak Photography). 
Never think organic doesn't mean delicious and fun, says Charlier. "We once served beautiful mini burgers in mini buns using grass-fed organic beef. And also tiny pizzas with crusts made from organic flour. They were so little—the size of a dollar coin!"
Some no-nos that are easy to avoid: Chilean sea bass and sturgeon caviar. (Both species are threatened.) "Just go with another type of sea bass that isn't as endangered," advises Correale.
Don't forget the drinks—you can find fabulous organic wines and champagnes. Correale says, "We serve a red-wine sangria with Cointreau and sherry, and fresh-squeezed orange juice and fruit. It's simple and delicious."
"Picking a green vendor who believes in your vision is very important. Ask how much organic food they use, if they recycle, what they do with leftovers," says Charlier. Brisman agrees. "Look for a caterer who is mindful about paper product consumption and uses environmentally friendly cleaning products."

Vegetarian "beggar's purses," tied with chives, are entirely edible (photo credit: Jan Van Pak Photography).  
For her wedding cakes, Edith Meyer of Edith Meyer Wedding Cakes in Santa Cruz, California, uses only organic ingredients in her confections. "I stay away from using chemical products and stabilizers in my shortening and frosting. When I make strawberry buttercream, I buy fresh strawberries and puree them myself!"
Meyer also uses locally grown ingredients. "I use Meyer lemons off the lemon tree in my backyard!" she laughs. Ultrafresh flavors are the result: Meyer lemon cake with lemon curd frosting, organic carrots with fresh ginger, whipped cream cake with a touch of almond and vanilla bean—and a reduced carbon footprint because the ingredients aren't trucked in.
Even late-night coffee can be socially conscious. "Use fair trade beans!" recommends Correale.
Eco-Friendly Favors
"Give your guests a kit to plant trees," suggests Charlier. "It's very inexpensive. You can set them up on a table for people to take as they leave, or you can dress the kits up and place them at each place setting."
Brisman suggests edible favors. "People often end up throwing away favors," she says, "but you know they'll eat two cupcakes!"
Charlier prefers making a donation to a local charity on behalf of guests. "Have cards printed up on recycled paper. Consider going through the Idofoundation.org; they help you with the whole process so it's really easy," she says. Beczner suggests checking out online organizations, like sustainabletravelinternational.org, where you can enter guests' zip codes and make a donation to offset the emissions resulting from traveling to and from your event.
Eco Invites
Don't think recycled paper means a compromise in quality, says Amy Branch of Mariella Designs in San Diego. Gorgeous heavy card stocks are now available to brides. Branch's caveat: Since recycled paper doesn't always work best for bright white invitations, she suggests using a solid color as a background instead.
Reduce the amount of paper you use for invitations. Inner envelopes, for instance, may not be necessary. An outer envelope in a good weight should ensure that your invites are delivered intact. Some brides are even choosing postcard RSVPs instead of the standard card and envelope.
Vegetable-based dyes are now Branch's inks of choice. "They're made of soybeans, and you cannot tell the difference at all!"
Brisman suggests trimming the amount of paper products. "Do three dinner menus per table instead of one per person." She also suggests replacing the hundreds of escort cards with a waiter who, with the help of a list, directs guests to their tables.
Green Websites
Photography: Timothy Lee Photography; Girari; Beverly Hills/Michael Norwood Photography; Jan Van Pak Photography; Jan Van Pak.