A wildly romantic celebration comes into full bloom set against craggy red rocks beneath an endless blue sky.
A treasured vintage sepia-toned photograph was the jumping-off point for artist Kristy Rice of Momental Designs, who collaborated with Forevermore Events in St. George, UT to create this naturally stunning scenario. Sand Hollow Resort in Hurricane, UT, served as the venue; the backdrop, courtesy of Mother Nature!
"I'd long wanted to interpret sepia imagery: the tones, dreamy textures and filtered light of a vintage photograph, brought to life with soft-focus, charming details and pops of lush, rosy hues," said Rice.
Vintage white-painted chairs pop against the backdrop's more subdued desert shades. The tablecloth was cut extra long, for better draping.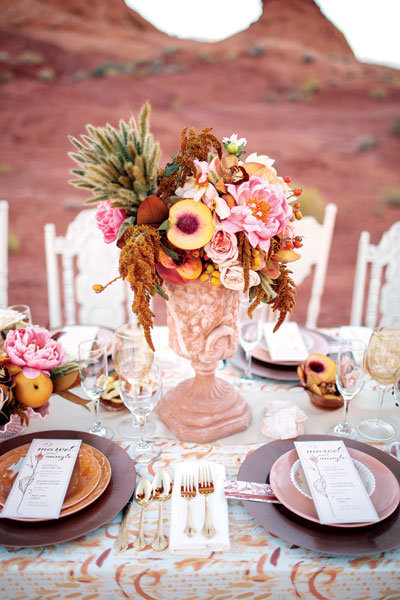 "The locale's dramatic, sun-drenched sunsets inform the reception's color palette. Shades of rose-gold, coral and copper are seen at every turn."  The mismatched white chairs were sourced from Big Day Vintage in Salt Lake City, UT.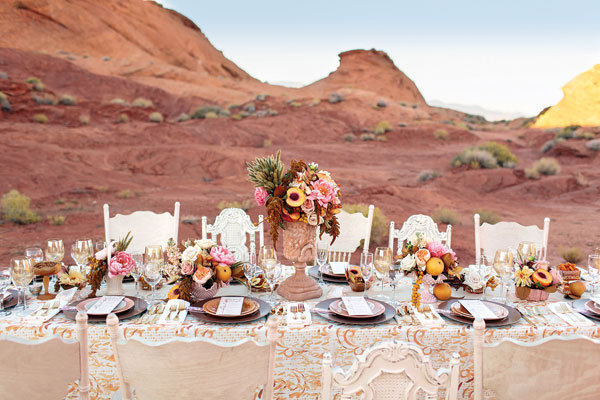 Shimmering table settings with artful menus encourage guests to "marvel and mingle."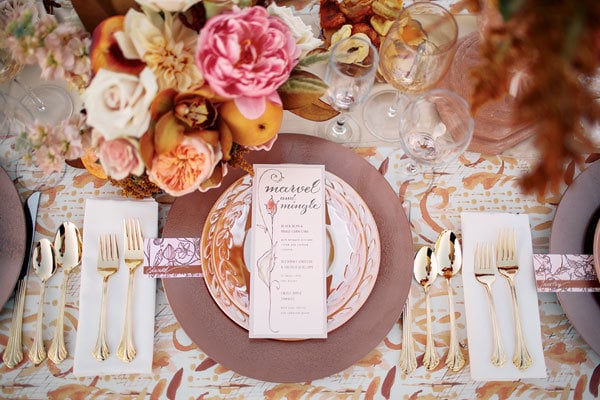 Custom watercolor linens and all paper goods by Momental Designs. Kristy drew an organic floral pattern and crowned the stationery suite with hand calligraphy from MM Ink Studio.
Palm-sized programs feature the couple's names hand-painted on each with watercolor brushstrokes.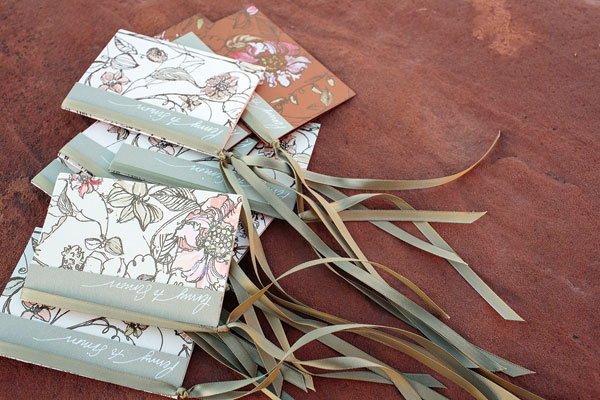 The gorgeous floral designs are by Bloomers in St. George, UT. Here, a clutch of peonies in a hobnail vessel.
A pale pink milk-glass compote holds an arrangement of David Austin roses, peonies and a ripe peach.
The perfectly ombréed cupcakes topped with crystallized ginger, edible glitter and nuts were crafted by 25 Main, a bakery in St. George.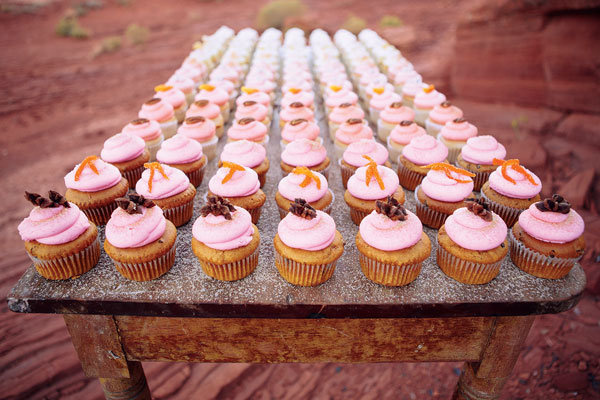 Photo Credit: With Love and Embers